KitchenAid brand of home appliances has over 100 years of experience producing long-lasting products, just like their 5-ply stainless steel pots and pans. This set consists of a 10-inch frying pan, 1.5-quart saucepan, 3 quart 3-quart stockpot, 5 quarts sauté pan with a helper handle and fitting lids. 
KitchenAid pans and pots are suitable for use on induction cooktops and are heat safe for oven use up to 500 °F. Expect superior heat retention with this set of 5-ply clad stainless steel pots and pans that also deliver precise heat control.
The entire set has brushed bases for long-lasting durability and hiding normal wear and tear over the years. Read on to discover some of the features that make the KitchenAid stainless steel pots and pans outstanding.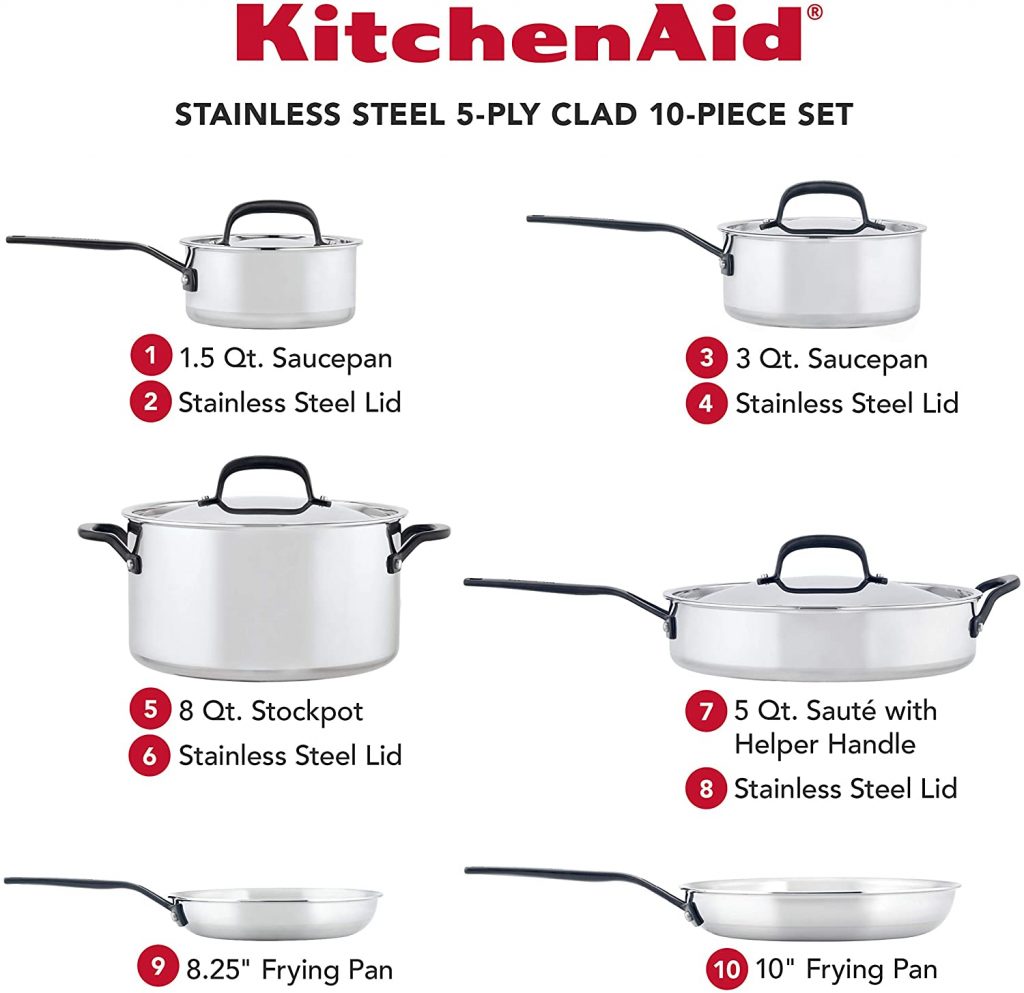 Excellent conductivity
One thing to consider when buying a pots and pan set is the how it conducts heat. The KitchenAid pots and pans are made of five layers of metal that conduct heat evenly from the base to the rim providing precise heating to the entire meal. These layers also enable the pots and pans to retain heat for faster meal preps and eliminating the need to reheat meals before serving.
Durable Construction
KitchenAid relies on 5-ply clad stainless steel to build their heavy-duty pots and pans. These are corrosion-resistant and feature a brushed base for long-lasting durability. These pots and pans have black stainless steel handles that are dual-riveted for long-term use. Besides offering superior heat insulation, the handles are sleek and presentable to make the set more stylish.
Etched Measuring Marks
With KitchenAid pots and pans, you don't have to play the guessing game when it comes to the accuracy of your ingredients. Etched measuring marks on the saucepans and stockpots help measure the required ratios as per your recipes. It's a great feature for the cooks looking for precision in their food.
Induction Compatible
The layered construction of stainless steel makes these pots and pans induction compatible while also providing even heat distribution. The pots and pans and their lids are all broiler and oven safe up to 500°F to serve your creative cooking techniques.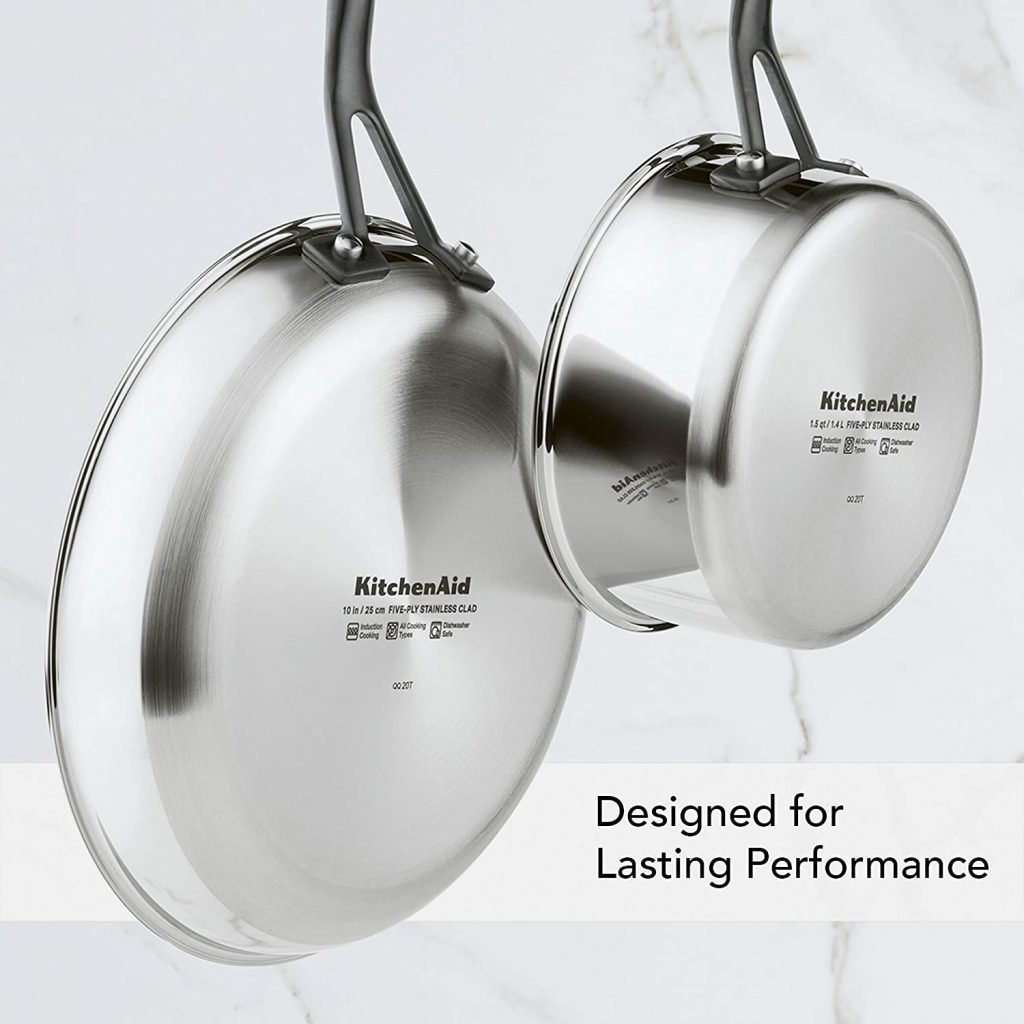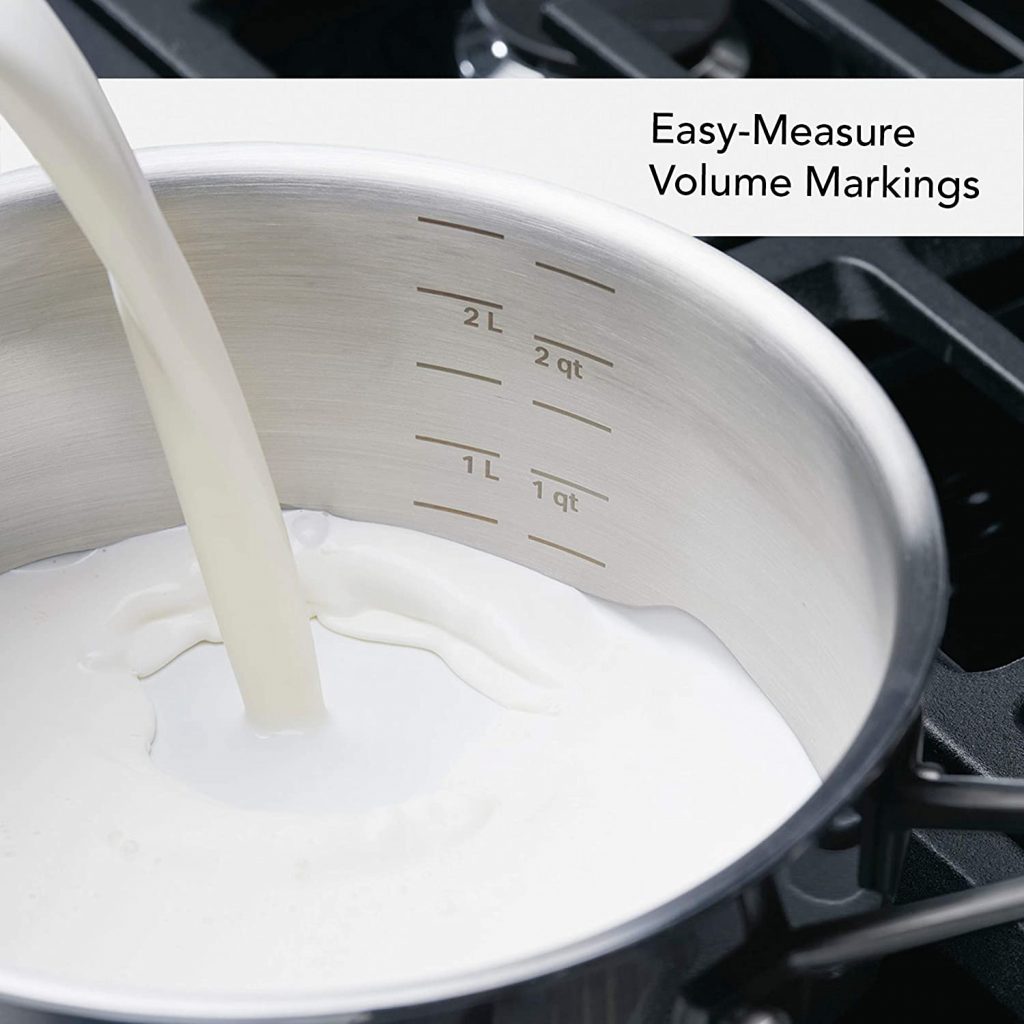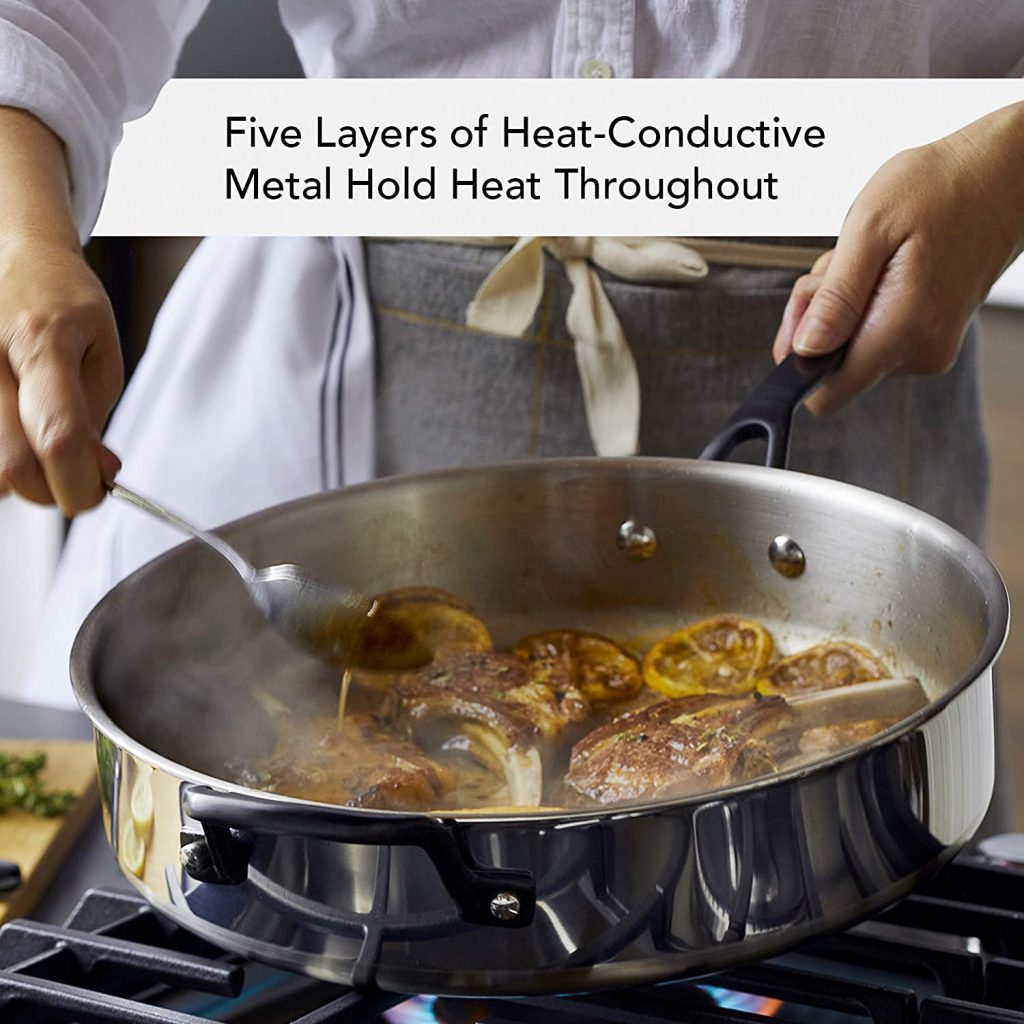 The pots and pans are crafted from 5-ply stainless steel for improved heat conductivity
Features etched measuring marks that simplify measuring out key ingredients in every meal
The sealed rims on each pot and pan prevent corrosion
The set is induction compatible
The handles are fairly narrow for some users
KitchenAid stainless steel pots and pans are a great addition to any kitchen, and the unique black stainless steel handles makes them appealing. You will also appreciate the sealed rims on every KitchenAid pot and pan as it prevents corrosion and makes them dishwasher safe.
KitchenAid pots and pans are compatible with all kinds of stovetops, including induction cookers and ovens. This set of stainless steel pots and pans will transform your cooking and tabletop presentation game significantly.
We highly recommend.