Are you in search of the best toaster oven that can cook just about anything? The Calphalon Toaster Oven is an excellent appliance that cooks fast, saves on space and reduces utility bills. It cooks food perfectly with multiple programs to make it easier to cook any dishes in the kitchen.
It's a great choice for families that love to cook a lot or during the holidays when you need to cook and warm dishes at different temperatures. The quartz heating elements is the main feature of the machine, ensuring quick and even heating.
The machine has received numerous positive reviews for being great-looking, spacious and the fact that it comes with numerous accessories to get you started. Is this something you'd need for your kitchen? Read this Calphalon Cool Touch Toaster Oven review to learn its features in detail.
Quartz Heating Technology
The appliance is a combination of innovative settings and efficiency. Calphalon uses a built-in quartz element that heats up more quickly and can provide 40% more heat than most convection models. Still, it has a cool-touch exterior that stays 75% cooler than most models, making it safe for kids. Besides, you won't have to worry about heating up your kitchen during summer thanks to this cool exterior. The LCD touchscreen and knob controls make it easier to use for everyone.
Large Capacity
If you need a machine that can cook enough food for the whole family, then this is the one. It can accommodate large batches of food including a whole chicken or a 12" pizza. What makes the machine outstanding is the sleek design that fits in most medium kitchens. The dimensions of the machine are 21.6 L x 20.3 W x 5.8 H inches.
12 preset options
Another fantastic feature of the Calphalon Cool Touch is the numerous preset functions that allow you to try out different recipes and techniques. Just with a touch of a button, you can use options such as bake, reheat, toast, roast, broil, defrost, dehydrate, bread proof and keep warm. You can also use food-specific settings for cookies, bagel and pizza. Besides, the machine is designed to program two back-to-back preset at once using the Step Cook Function.
Numerous accessories
The machine also comes with a few additional accessories such as a baking pan, 12-inch pizza pan, wire rack, dehydrate basket and crumb tray.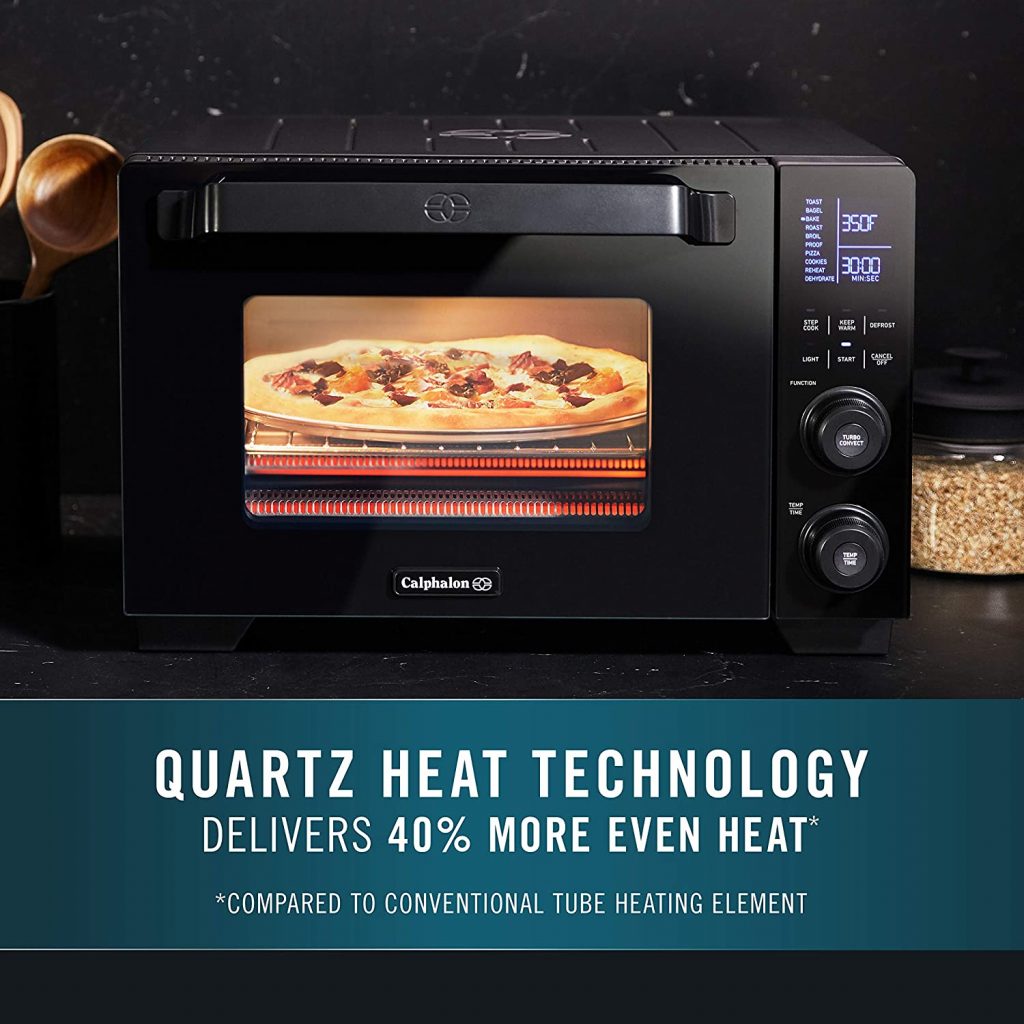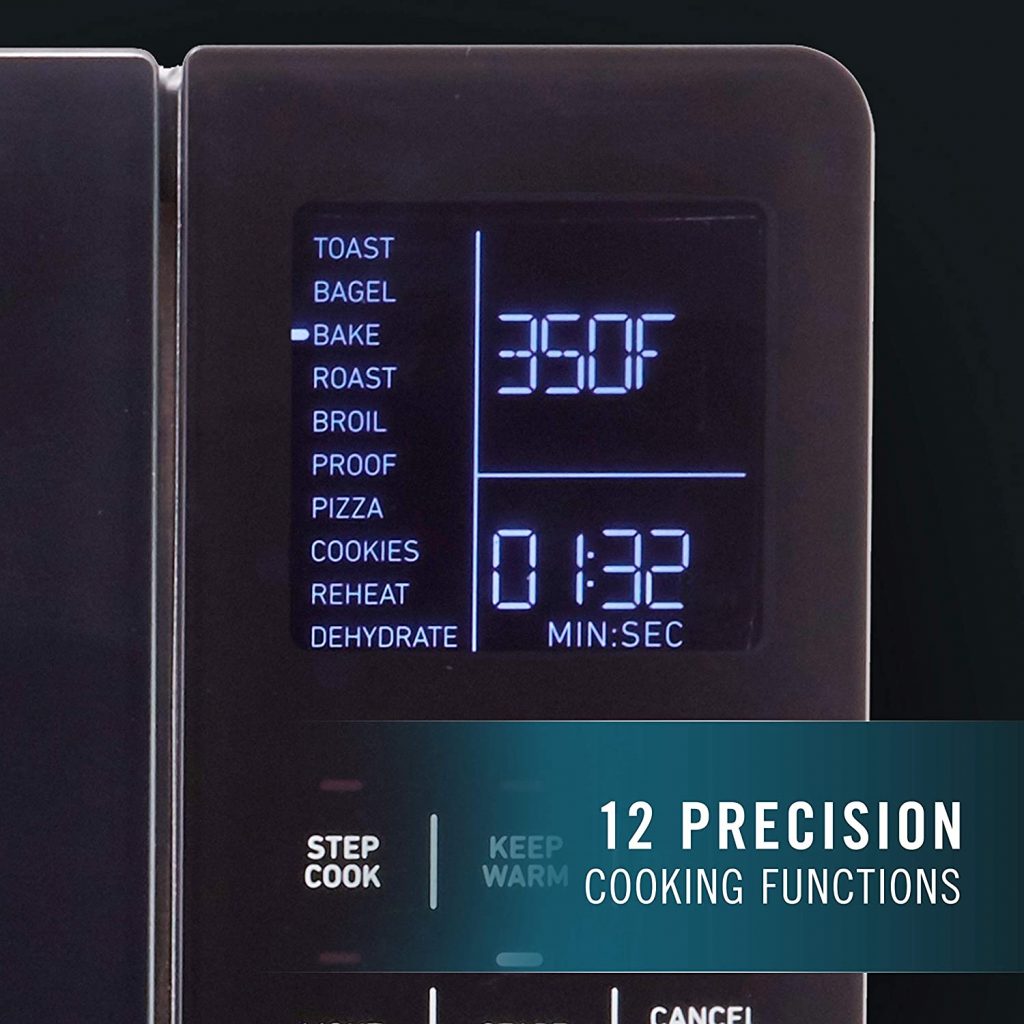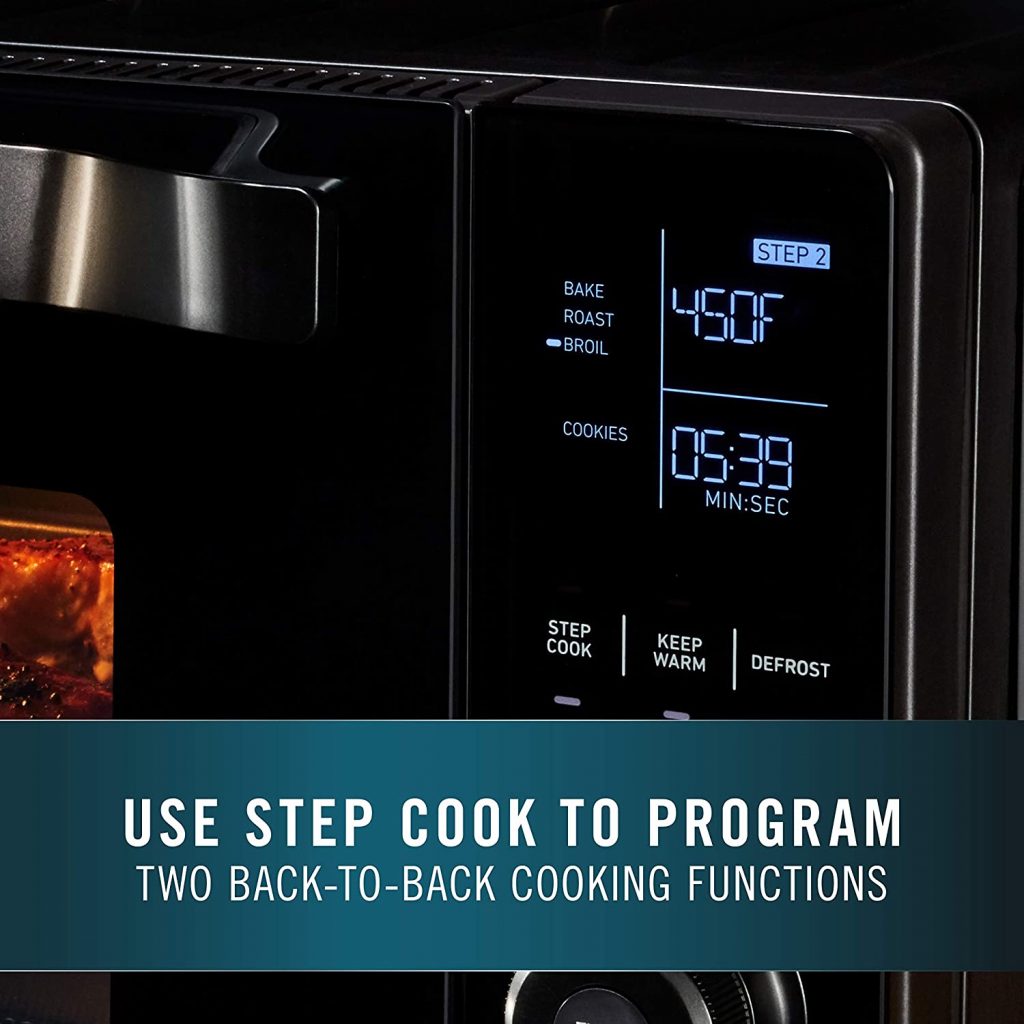 It preheats 20% faster than convection ovens
The exterior stays up to 75% cooler for safety
It offers a large capacity to accommodate more food
It's versatile with 12 preset functions
It lacks an operator manual
In addition to the modern and beautiful black finish, the Calphalon Cool Touch Toaster Oven stands out when it comes to versatility. The appliance comes with a spacious interior to hold large batches of food enough for large families. Users love that it preheats faster with the quartz heating elements and can stay cooler on the exterior. The quality is outstanding and the price is great.