When air fryers first hit the market, most people were a bit skeptical about their ability to stand to the hype. However, in the past two years or so, air fryers have been having a moment on the internet for their proven ability to replicate the delicious crunchy taste of deep-fried foods with significantly little oil.
As the name suggests, air fryers cook by supplying and circulating hot air on the food, producing the juicy and crispy foods you would typically get with deep-fried foods but with very minimal to no oil. Even better, most air fryers will have your meal ready faster than regular fryers, making them an unbeatable addition to your kitchen.
With Hamilton Beach 5.3 Quart Digital Air Fryer Oven, you can enjoy the delicious, crispy, and evenly browned foods without all the unhealthy oils and fats that come with deep frying. The Hamilton Beach digital air fryer is highly versatile and allows you to fry, bake, roast, grill, and reheat a wide variety of foods ranging from frozen fries, chicken to fresh veggies.
Read this review to learn what makes the Hamilton beach digital air fryer one of the best performing air fryers in the market today.
5 Liter Capacity
This air fryer comes with a relatively larger square-shaped nonstick basket that accommodates up to five liters capacity, including a whole 5lb chicken or enough food to serve up to 6 people. This makes it perfect for preparing or reheating everything from small snacks to feeding a large family or a group of friends.
Faster Cooking
With a power capacity of up to 1700 watts, the Hamilton cooks your food faster than a regular traditional oven. It also ensures that air is evenly circulated over the food to deliver juicy and evenly browned food.
Eight one-touch preset functions
The fryer also comes with an in-built digital display featuring eight preset functions: steak, shrimp, chicken, French fries, onion rings, baking, fish, and pizza. This highly automatic system allows you to tap the cooking function you want to use, and the cooking process is initiated immediately. You will surely enjoy how fast and easy you are able to prepare your food with these functions.
Comes with a Timer and Temperature Control
Another notable feature is the manual timer and temperature control system. This function allows you to control your cook up to 60 minutes and the temperature between 175°F to 400 F. After the food is ready, the audible alarm will beep to alert you that cooking time is over and the power shuts off immediately.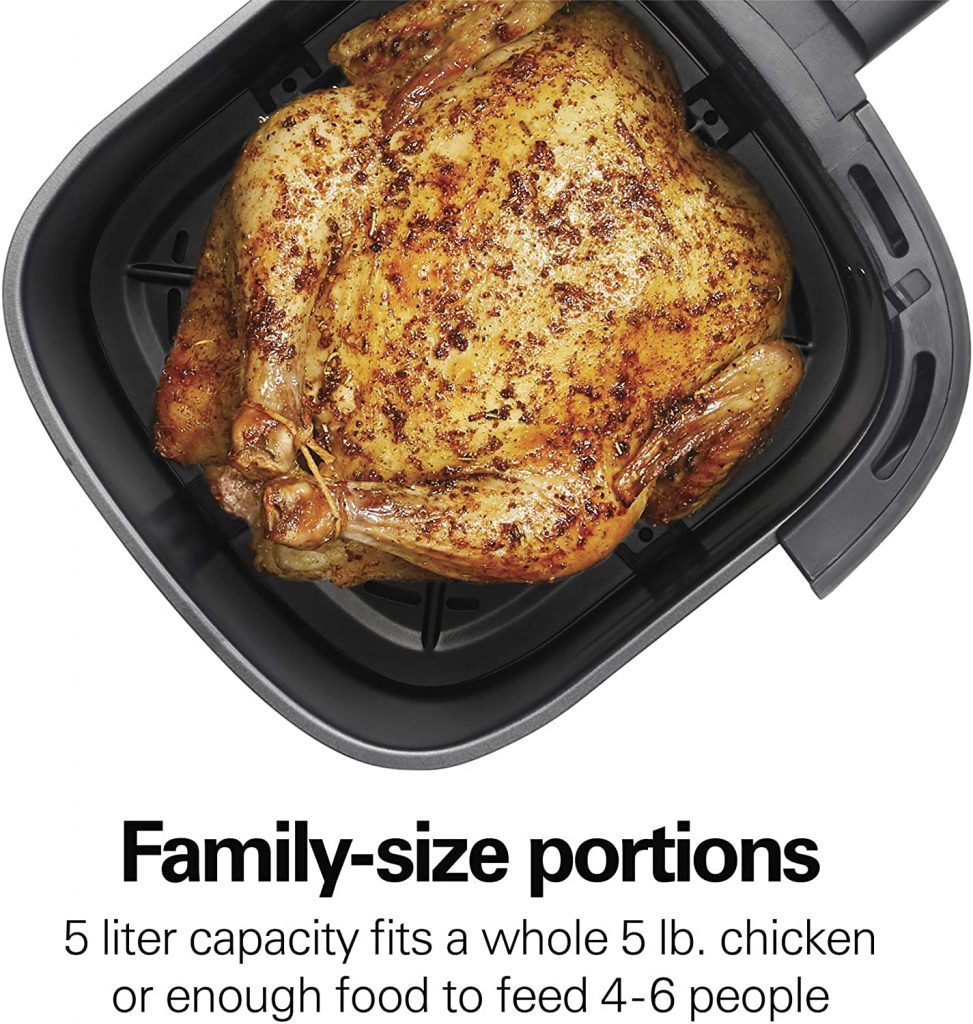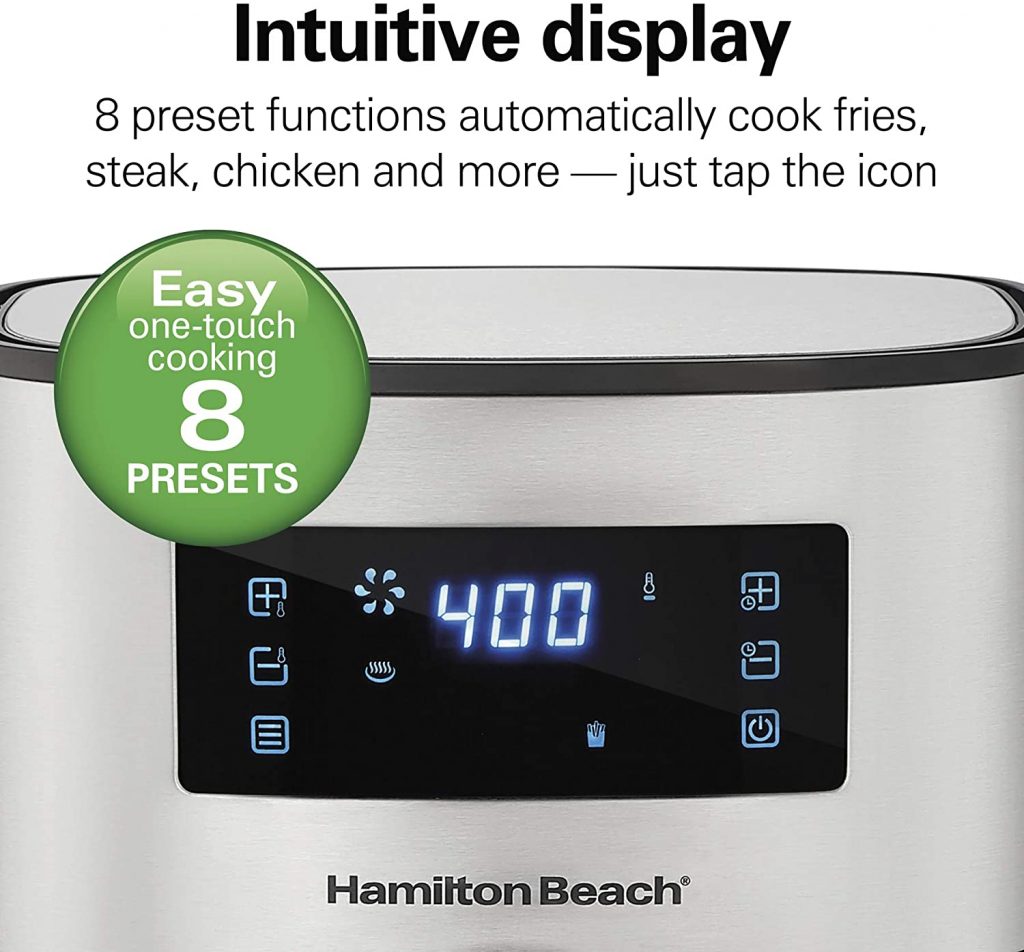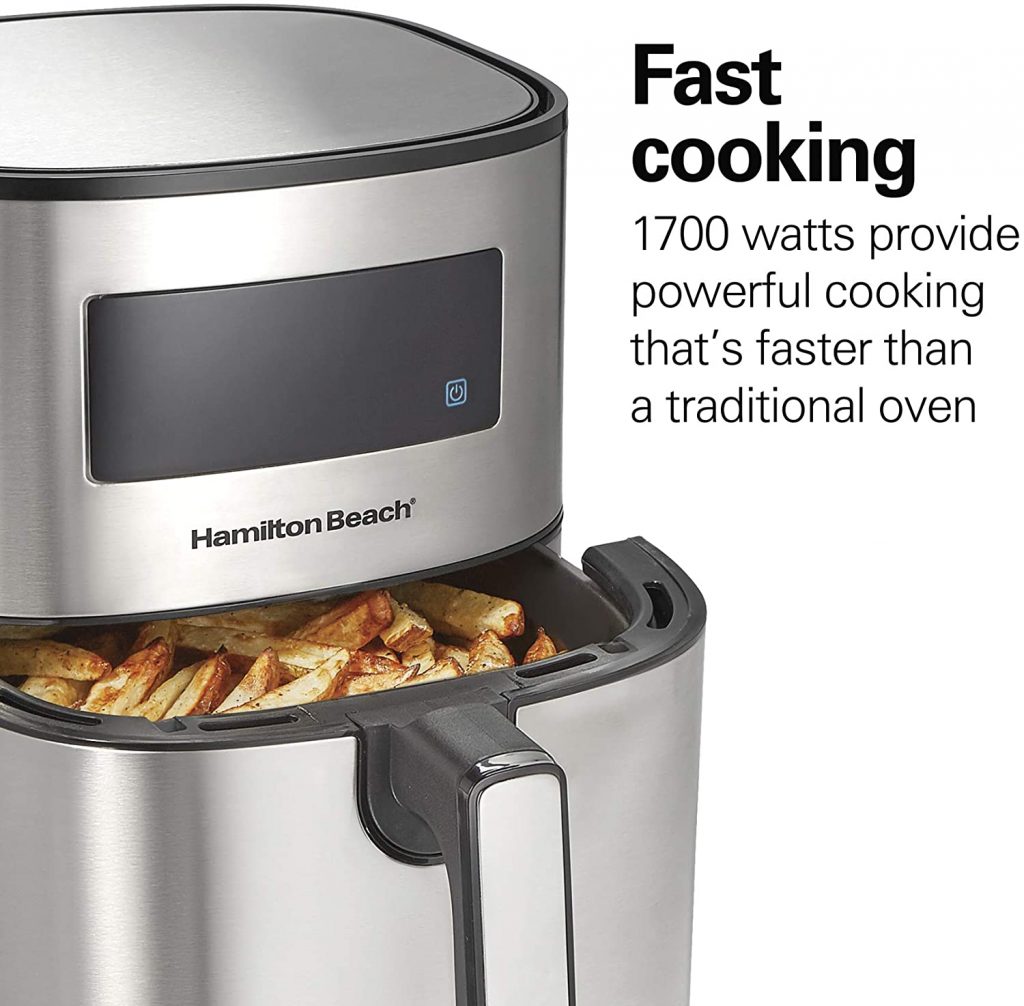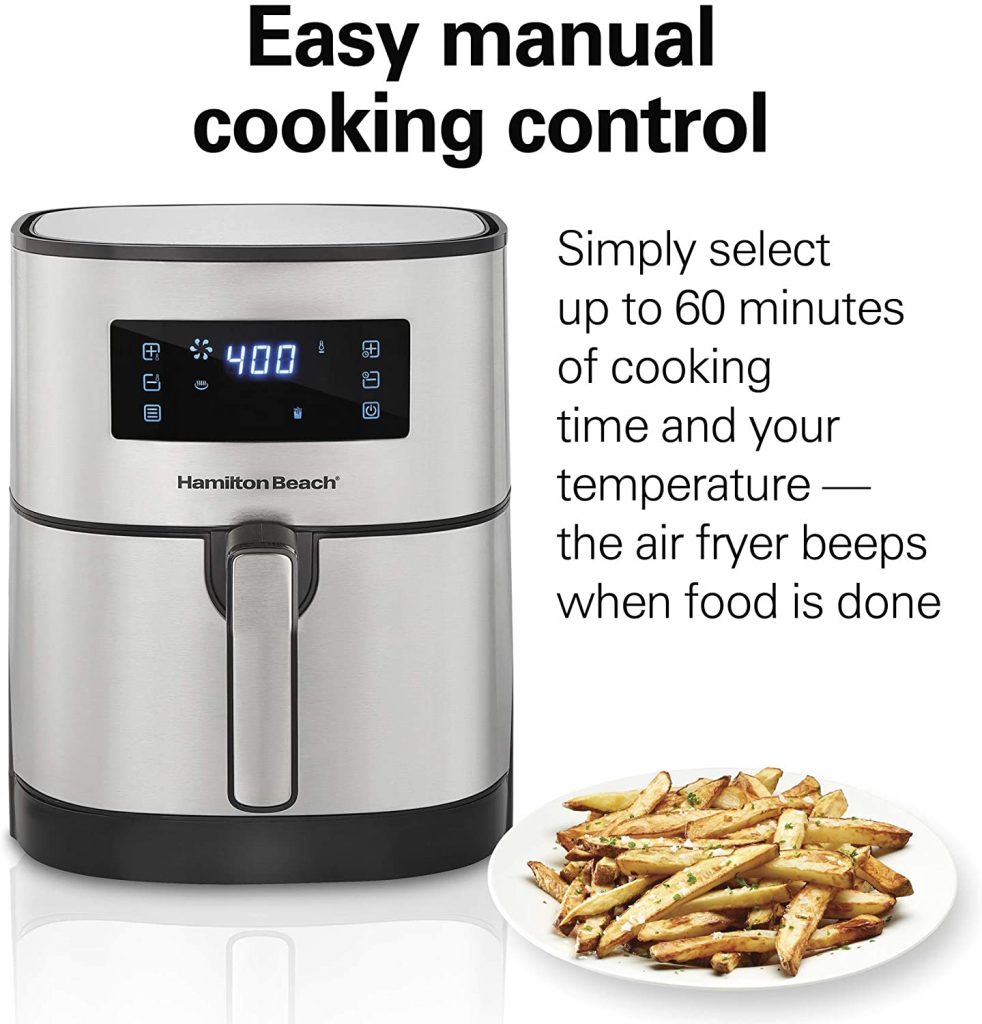 Fitted with a timer
Stainless steel exterior makes it durable
A Nonstick basket is easy to clean
Dishwasher safe
As you can see, the Hamilton beach digital air fryer oven stands to the hype. Enjoy freshly cooked food without all the unhealthy calories and fats of deep-fried food. Even better is that you don't need to worry about the cleaning process as the nonstick removable parts are easy to remove and clean.
Get this Digital Air Fryer Oven to enjoy a healthier, crispy, and delicious meal at the comfort of your home!