Demeyere searing pans are crafted with the goal of serving high demand and busy kitchens without any compromises on quality. The beautifully crafted 10-inch searing pan features a professional quality build with stellar searing and browning capability for the most flavorful food. With the Demeyere 10-inch searing pan, you can always expect tasty meals with just the right touch of caramel while still retaining the succulent braises. 
Moreover, the pan is dishwasher safe and oven-ready for a seamless transition from a stovetop to an oven, especially when dealing with meals requiring a pan-roasting finish. While this pan has shorter sides than traditional cast iron skillets, it's perfectly designed for searing chicken, salmon pork chops, and everything between.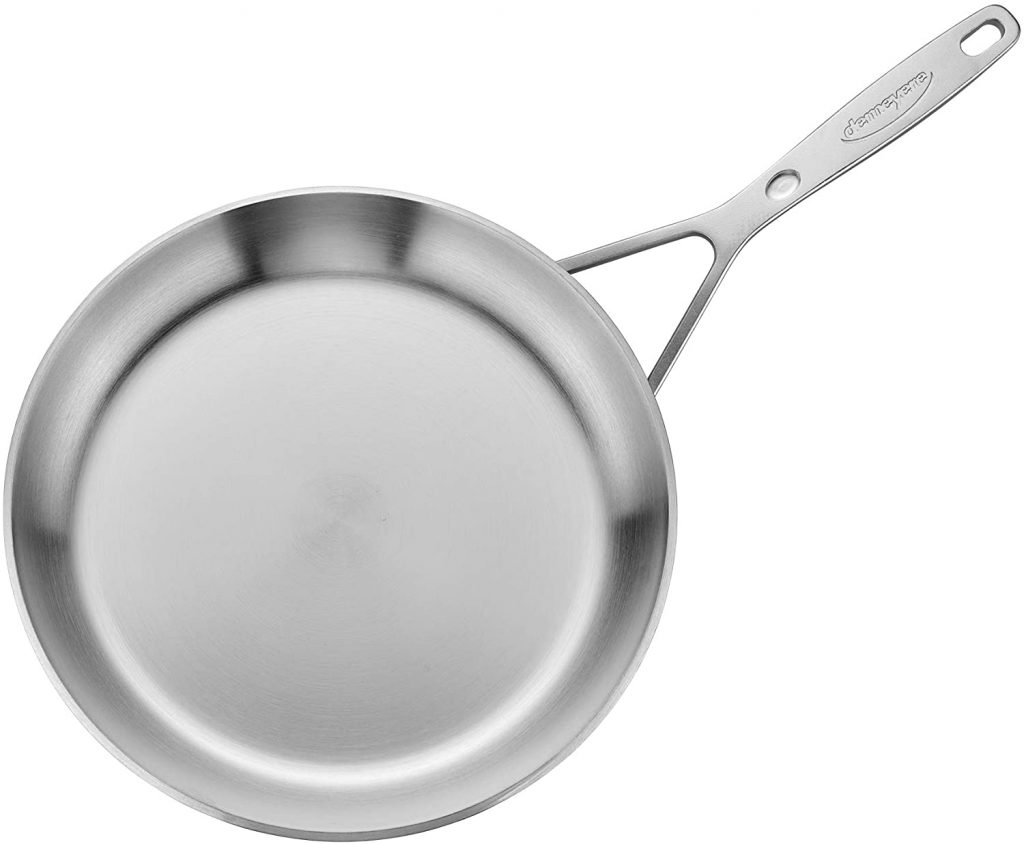 Read on to discover some of the features that make the Demeyere 10-inch searing pan a great addition to your kitchen.
5-ply construction
The 5-ply construction design relied upon to craft the Demeyere searing pans includes an aluminum core encased with stainless steel. This results in superior heat retention, which is evenly distributed to the pan's entire surface, ensuring the meals cook evenly. Besides, this makes the pan extremely sturdy to last for a long time.
Silvinox Surface Treatment
Silvinox surface treatment gives the searing pans a silvery-white finish that remains flawless even after years of use. The surface treatment removes impurities from the surface of the pan, preventing discoloration that could occur with time. It also makes the pan much easier to clean and fingerprint-resistant. The surface treatment also protects the pan from strong acidic foods and harsh detergents applied while cleaning. 
Flatbase Stability
Demeyere searing pans rely on their signature flat base stability to prevent the pan from warping when cooking at high temperatures. The design also incorporates a dripless pouting rim allowing you to quickly pour out the cooked meals without leaving behind a trail of oil and soup drips.
Stay-cool Handle
This searing pan features a stay-cool ergonomic handle made of 18/10 stainless steel that prevents heat conduction from the pan. Besides, the stay-cool handle is securely welded onto the pan, so you will not have to worry about it getting loose any time soon. The design also makes it hygienic without any nooks and crevices where food particles might get clogged up in.
The pan is induction compatible and can also suitable for oven cooking
The pan retains its silvery-white finish even after years of use, thanks to Silvinox surface treatment.
Features five layers of stainless steel and an aluminum alloy core retain heat and evenly distribute it across the entire surface.
The ergonomic handle stays cool when cooking
It lacks a nonstick coating
If you are in the market for heavy-duty searing and then look no further, the Demyere 10-inch searing pan offers unbeatable performance and durability in the entire segment. This pan is the culmination of years of research and development towards perfecting the art of searing and browning foods while retaining their natural flavors. Go ahead and equip your kitchen with this stainless steel searing pan and put its searing and browning capabilities to test.