Join the world of craft coffee and explore new ways to enjoy this age-old drink with the De'Longhi espresso machine. Measuring at only six inches wide, this espresso machine has a compact design that makes it a welcome addition to any countertop, and its stainless steel finish will perfectly fit in with any interior decor. This espresso machine ships with a large filter basket and a professional tamper so you can brew like a pro and enjoy authentic brews from various seasons or geographic regions without any compromises on quality.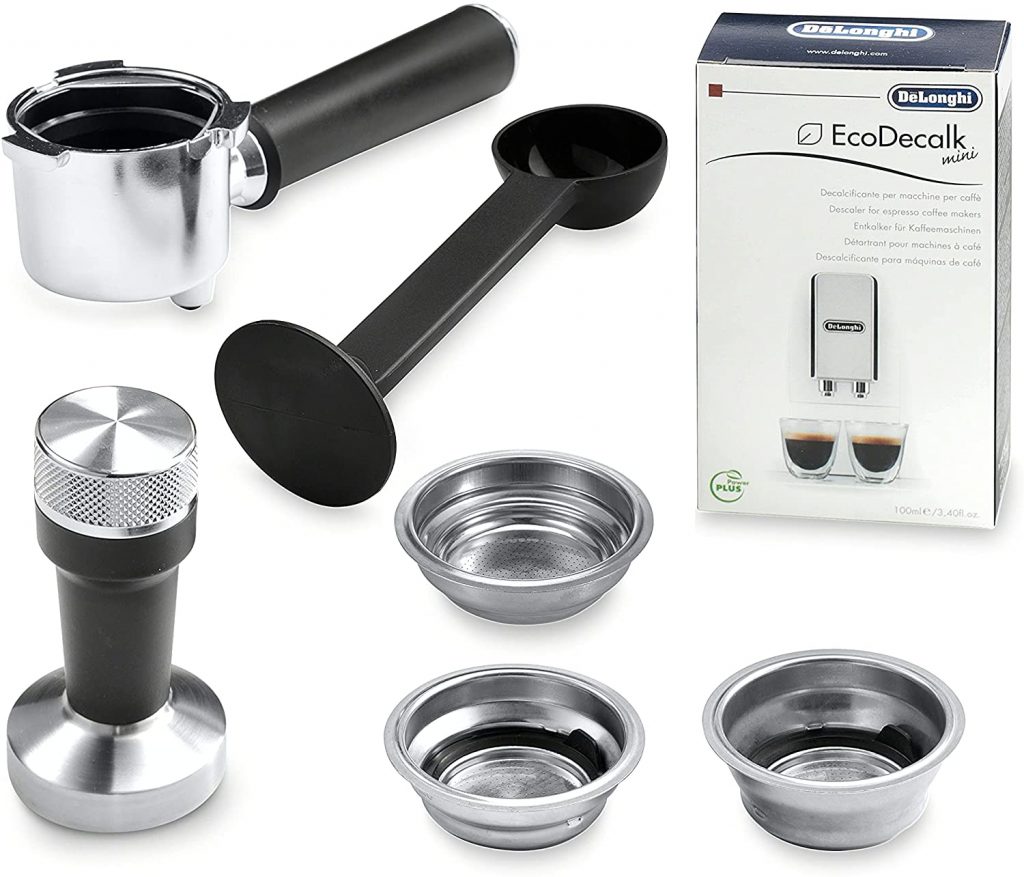 Read on to discover some of the features that make the De'Longhi Dedica Arte espresso machine a must-have:
15-BAR Professional Pressure
De'Longhi relies on a 15 bar pressure level for the ultimate coffee brewing experience. The controlled pressure level ensures that the grounds are packed tightly, which improves the infiltration process allowing the hot water to absorb as many flavors from the grounds with each brew. You can also use the adjustable controls to fine-tune the pressure to personal preferences and quality assurance, especially for people who prefer more concentrated doses.
LatteArt Steam Wand
You no longer need to visit your favorite coffee shop to get that stylish latte or cappuccino, thanks to the LatteArt steam wand. You can use it to achieve the perfect milk texture and frothiness. This works by forcing steam into your milk with controlled pressure to add air which in turn causes it to foam.
Removable Water Tank
The De'Longhi Dedica Arte espresso machine features a removable 35 ounces water tank that's easy to remove and refill. The water tank is also transparent, so you can keep track of the water level and easily reattach it whenever more water is needed to brew your next mug of coffee.
Ergonomic Design
This espresso machine is a combination of function and form to provide a compact design that feels at home on any countertop. Measuring at just six inches wide, you will have no problems with cluttering in your kitchen or during long-term storage. The design also makes it much easier to use, and it's equipped with a flow-stop feature to allow it dispenses right amount, thereby taking out the guesswork.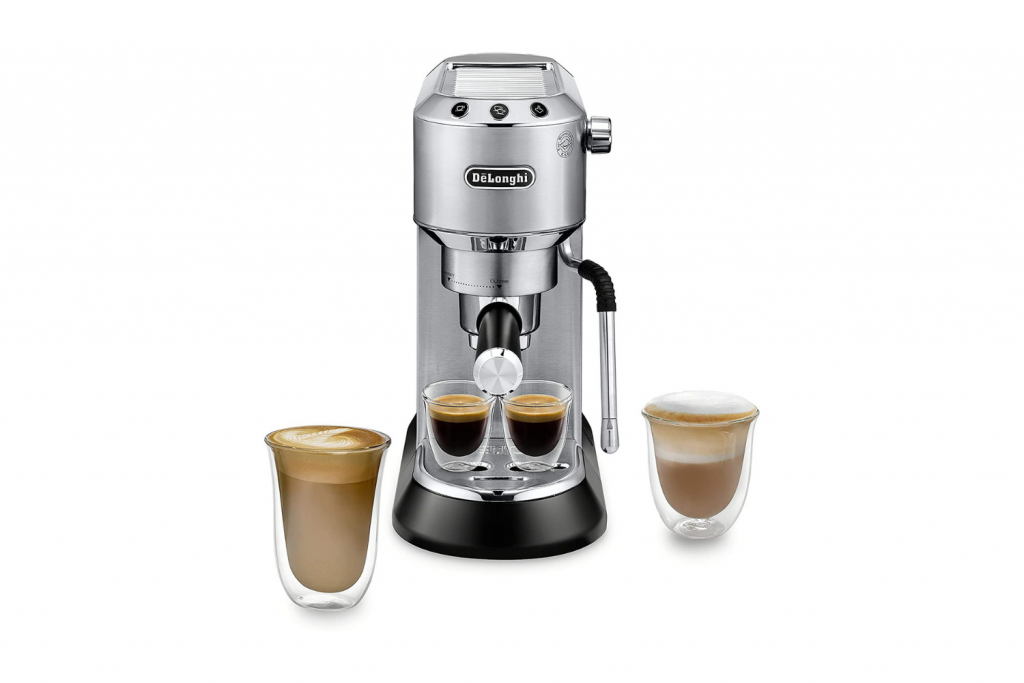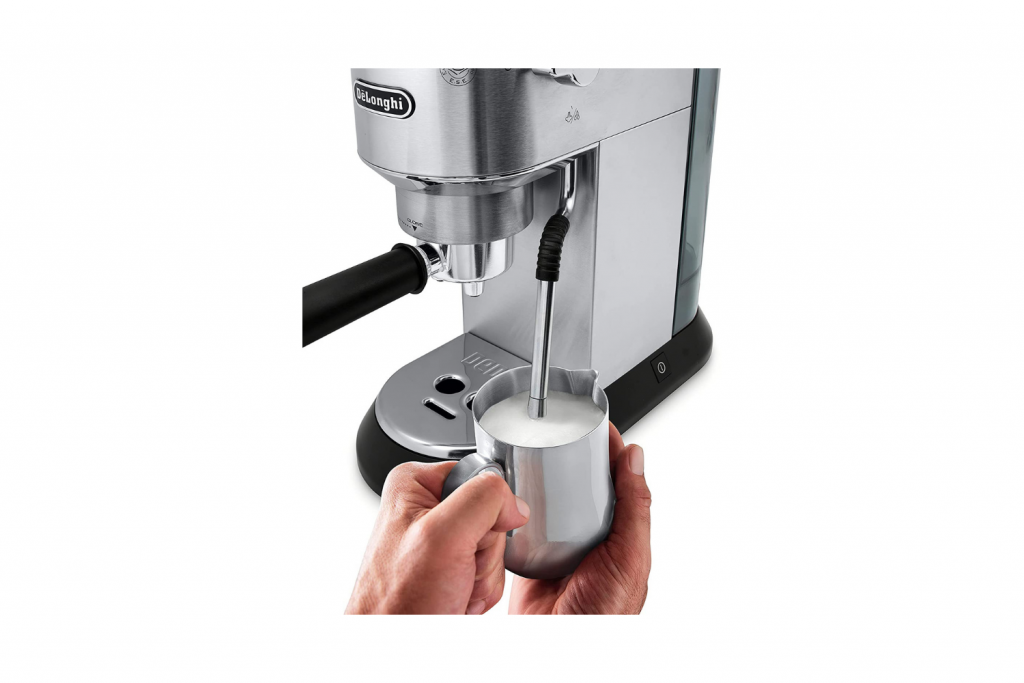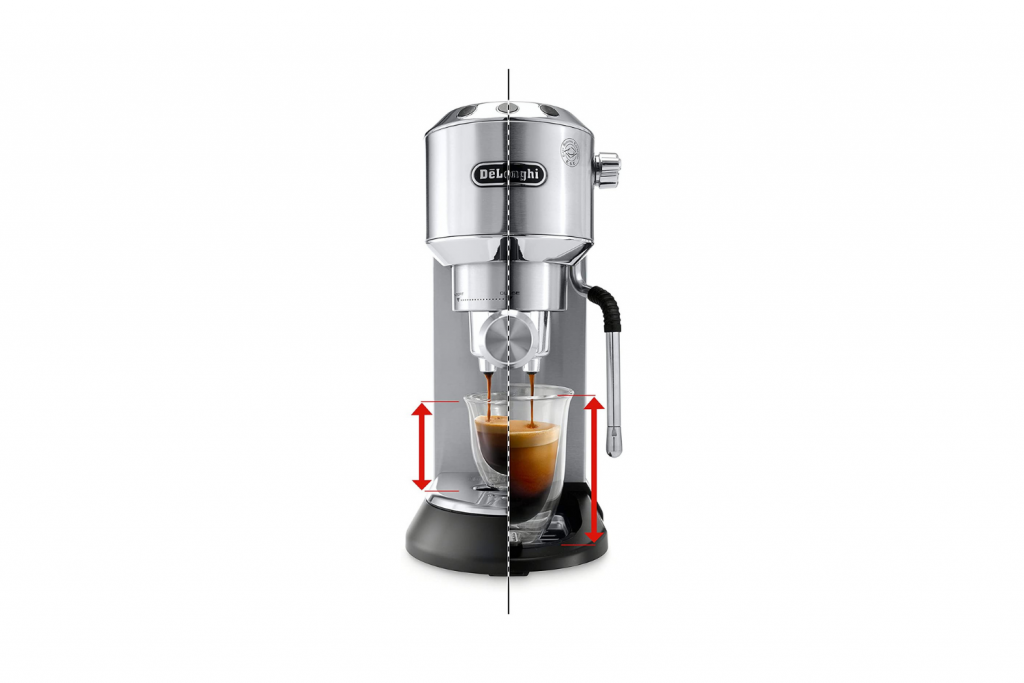 You can adjust the drip tray to accommodate taller mugs for large-sized beverages.
Brews barista-quality beverages with the large filter basket that can hold up to 18 grams of ground coffee.
Ships with a LatterArt steam wand that makes the perfect milk texture for cappuccinos and lattes.
Some customers complained about having trouble getting the lid to the closed position and ended up spilling ground coffee.
De'Longhi Dedica Arte Espresso machine is the perfect addition to any coffee lover's kitchen. From brewing espresso to lattes and mochas, you can expect top-shelf performance from this espresso machine without any compromise in quality. Its stylish design with exclusive stainless steel finish provides function and form without cluttering your kitchen. Get your favorite coffee mug and let the machine do the work for you with its automatic flow stop feature dispenses the right amount of coffee every time.