A fridge is one of the most vital appliances in any home. It helps keep the food fresh and preserves our leftovers while providing cool refreshing drinks on hot days. It is a significant investment, and you need to get it right.
Even so, buying a fridge can be challenging, whether you are saying goodbye to your old one or are a first-time buyer. There are many fridge options on the market, and right from knowing the best fridge brands to choose to unique personal needs such as what size refrigerator do I need for a family of 2? and how to choose refrigerator size, there is a lot to consider. Worry not; here's an in-depth guide to help you make an intelligent decision in choosing the perfect fridge for your home.
Features To Consider in The Best Fridge
Do you have a big family or entertain guests often? If yes, then you need a bigger fridge with significant storage space. On the other hand, a smaller fridge will be better and more energy efficient if you have a small household. The more food you store in the refrigerator, the bigger the fridge size you need. Pay attention to the refrigerator capacity guide to help choose what's ideal.
The fridge size affects energy consumption, with larger fridges often using more energy. As such, do not buy a refrigerator that is significantly bigger than your need since such can lead to higher utility bills.
Another vital consideration is the available space for a fridge in your kitchen. A compact fridge with a smaller footprint is your best option if you have limited space.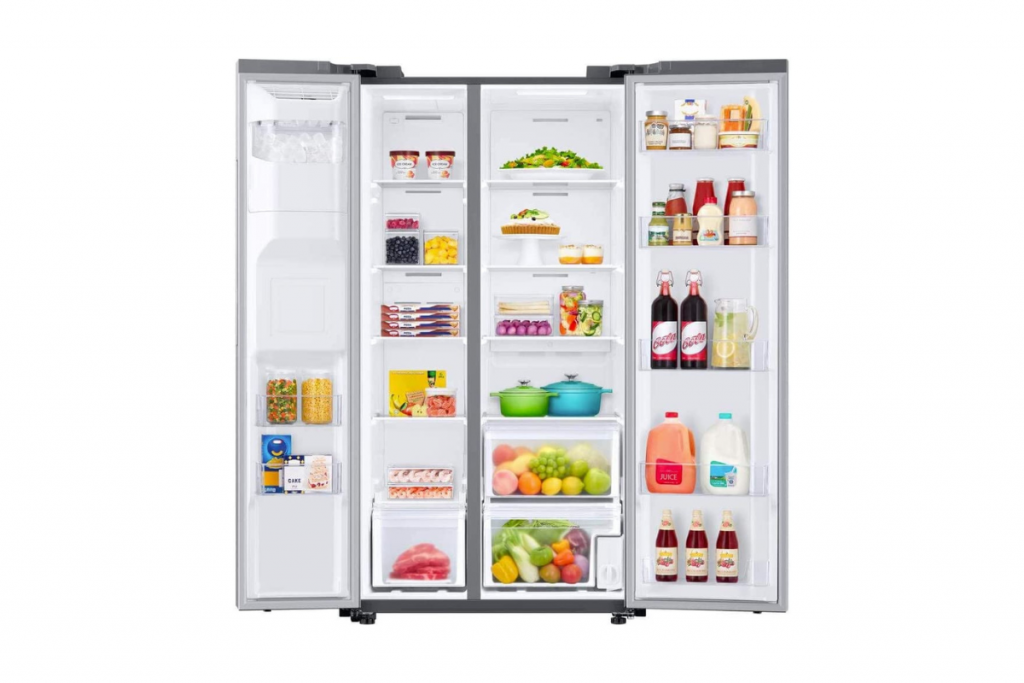 Next, you need to consider the style of the fridge. Are you looking for a traditional top-freezer model or a more modern side-by-side design? Maybe you're looking for a French door model that delivers a wide and spacious freezer drawer on the lower compartment.
Each refrigerator style has pros and cons, and below is a review of each to help you choose one that suits your lifestyle, budget, and preferences.
These are the most traditional and budget fridges on the market. As the name suggests, they have a freezer part on top occupying about a third of the space and a fridge compartment below it occupying the rest of the space.
The main advantage of top freezer refrigerators is that they are space-efficient, offer plenty of fridge storage, are easy to use and maintain, and are more affordable. Even so, they have a small freezer which can also be challenging to access as it is located on the upper part. Most also lack advanced features.
This refrigerator style has a freezer compartment at the bottom and a fridge compartment at the top with bigger storage space. The style makes it easier for you to store and access items. Unlike top-freezer models, these are more modern and tend to have more advanced features. They are also more energy efficient and offer more storage space.
On the downside, bottom freezers tend to be more expensive than top-freezer models. In addition, they are not ideal for people with limited mobility since they require bending to access the freezer.
Tastes keep changing, and if you are looking for a more modern fridge style with top-notch features, you need to consider the French door fridge. This fridge style has two doors that open outward, with the freezer section at the bottom and the refrigerator one at the top. Such provides easy access to both sections.
The French door fridge has ample storage, which is excellent for those needing big storage. It also comes with modern features such as flexible shelving and temperature-controlled drawers. As you may expect, they are more expensive. In addition, their size might not be ideal for those with limited spaces.
As the name suggests, this fridge style has the freezer compartment on one side and the fridge on the other. Like the French door style, it has two open outward doors. Such makes it easy for you to access both compartments. Side by side refrigerator also has plenty of storage in both compartments and comes with modern features such as ice makers and water dispensers.
While they offer plenty of storage, they are often narrow, making it challenging to keep big items. They are also more expensive than bottom-freezer and top-freezer models.
This is the most affordable fridge style and is made for storage in small spaces such as tiny apartments and hotel rooms or for secondary storage. It is more energy efficient but tends to have less storage space.
Energy efficiency is another crucial consideration. An energy-efficient unit uses less energy and can lower your utility bills, saving you money.
Pay attention to those with an Energy Certification star, which is meant to help you identify energy-efficient appliances. One with this certification uses a minimum of 10% less energy than traditional models. Energy efficiency is not only good for your pocket but for the environment as well.
Another energy efficiency feature to look out for when buying a fridge freezer is insulation. Quality insulation is excellent at keeping cold air inside, meaning the fridge consumes less energy since the compressor does not work much. The higher the energy rating of the refrigerator, the better its energy efficiency and insulation.
Lastly, consider your budget. Fridges come at different prices, so determine how much you can spend before buying. Remember that higher costs don't always equate to better durability and quality.
From Samsung fridges and LG refrigerators to Whirlpool refrigerators, there are many brands to choose from in your quest for the best refrigerator brands.
First, consider the brand's reputation in terms of quality, reliability, and customer service. Ask others about their experience, or you may check online fridge reviews and ratings to help you make an informed decision.
The warranty offered by the manufacturer says a lot about their confidence in their product. A reputable refrigerator brand is more likely to produce a unit that will last longer and require fewer repairs, thus saving you money and time in the long run.
The modern fridge is not just about keeping your food cold anymore. With a range of additional features, your fridge can now do so much more than just preserve your perishables. Here are some features to consider when looking for a fridge:
Built-in water dispenser and ice maker: Perfect for those who frequently use ice or need a refreshing glass of water.
Door bins: Allows you to store condiments and drinks conveniently.
Temperature-controlled drawers: Keep your fruits and vegetables fresh and crisp for longer periods.
Adjustable shelves: Customize your fridge's interior to accommodate larger items.
Voice control: Hands-free operation is possible with voice-activated assistants.
Wi-Fi connectivity: Keep track of your fridge's temperature, receive alerts, and control settings from your smartphone.
So, whether you're a busy mom who needs quick access to a glass of water or a tech-savvy person who wants to control their fridge with a voice command, there's a fridge with additional features that will suit your lifestyle.
Choosing the best fridge is a significant investment, and it requires careful consideration of your needs and preferences. Take your time, research, and consider the style, features, size, available storage, and the brand's reliability and reputation. We trust you will find the perfect fridge to keep your food fresh and organized, your drinks cold, and enhance your overall quality of life.