There's nothing users appreciate more than the versatility of the Breville BJB615SHY that combines a blender, juicer, and a "Bluicer." Precisely what is Bluicing? Well, Breville says it means that the appliance can extract juice from veggies and fruits and put it in the blender container. Then, you can detach the juicer, attach the blender and make your smoothie by combining the extracted juice with other ingredients.
You can also use the blender and juicer individually as well, meaning you can either blend or juice. It's a great appliance if you are a fan of both worlds. The good news, it's compact enough to fit on smaller countertops and is easy to clean. You no longer have to choose between buying a blender or a juicer anymore because this unit does it all.
Are you interested in a bluicer? Read the Breville 3X Bluicer Blender and Juicer review to learn more features.
Kinetix bowl and blade system
A unique feature of this Bluicer is the Kinetix bowl and contoured bowl system, which ensure all ingredients are crushed totally. The blades' positioning and angling at the bottom creates a vortex to pull the ingredients towards the center. The design ensures the denser ingredients are lifted away from the blender bucket, so you won't have to pause the blender because of stuck materials.
Cold Extraction System
When the scorching sun is up at noon or afternoon, you need cold drinks more than anything. Besides, if the juice stays cold during extraction, it retains vital vitamins and minerals. Breville designed the Bluicer with cold spin technology that cools down the juice by passing it through a stainless-steel cutting disc with a mesh filter to maintain the drink temperatures at less than 1.80F.
Numerous one-touch programs
The Breville 3x Bluicer has four one-touch programs for Smoothie, Frozen Cocktail, Ice Crush, and Auto Clean. The ice crush one-touch program turns ice to snow for slushes, while the Auto Clean is convenient when you're in a hurry and can't manually clean the appliance. There are also five-speed settings to help you prepare anything from cocktails, smoothies and more.
Compatible with VAC Q
For starters, a Vac Q pump helps to remove any air inside the jug to minimize oxidation of some ingredients for brighter colors and smooth texture. Although you may have to spend extra to get the pump, it's good knowing you can always improve the quality of your drinks.
Space-saving design
This machine is superb in terms of saving the counter space because you use one base blend, juice, and bluice. The pulp bin behind the base is an excellent addition to reducing the space it occupies, which is advantageous for people with limited space.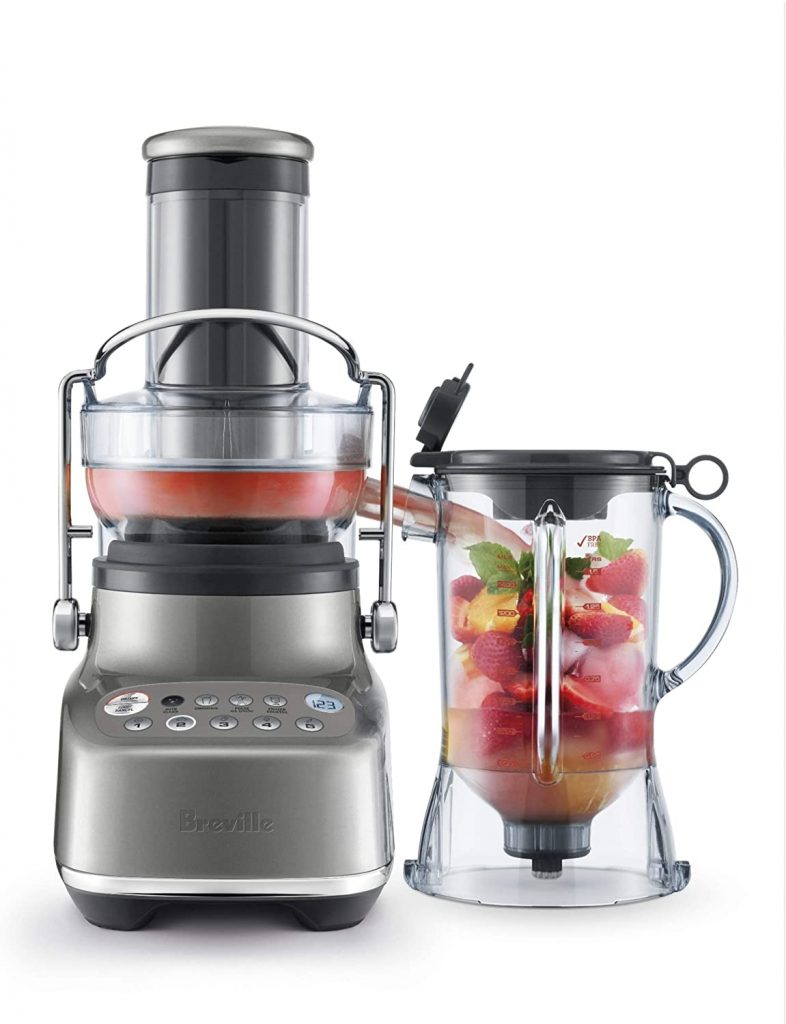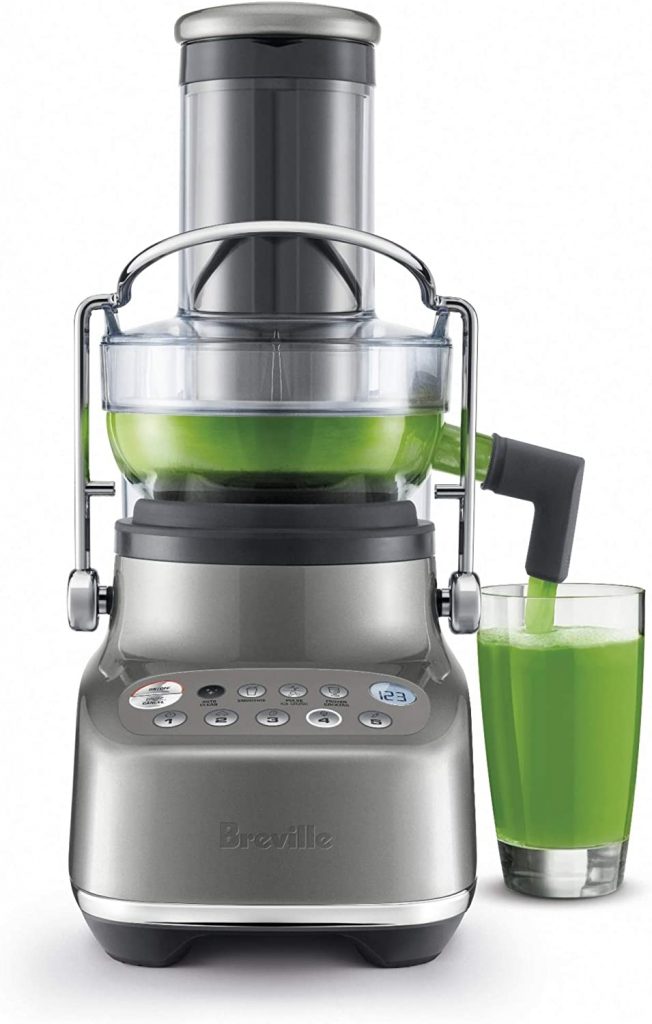 It's highly versatile
Extra-wide 3.5-inch chute
Easy to use with 4 one-touch programs
It has a compact design
It's expensive but worth it
Many reviewers love the Breville 3X Bluicer for versatility, ease of use, space-saving design, and appearance. Also, there's no need to cut whole fruits and veggies, thanks to the 3.5-inch chute that juices directly into a jug. The manufacturer also offers a 2-year warranty is also a good sign that the product is high quality.
If you can spend extra on quality, it's definitely a worthy investment.