Zwilling kitchen appliances and cookware brand has built a great reputation through consistent quality, and their latest long slot toaster continues to uphold this reputation. The toaster features a sleek design that feels perfectly in place on any countertop with its matte black finish. With extra-wide 1.5" slots, this toaster can fit four slices of toast or bagels. 
Zwilling toasters offer three automatic programs and seven browning levels for additional control over how crispy and flavorful the toast can get. The soft-lift function lifts lifts the slices out of the toaster effortlessly. If this is a machine you'd need, read on to discover some of the incredible capabilities of the Zwilling long slot toaster.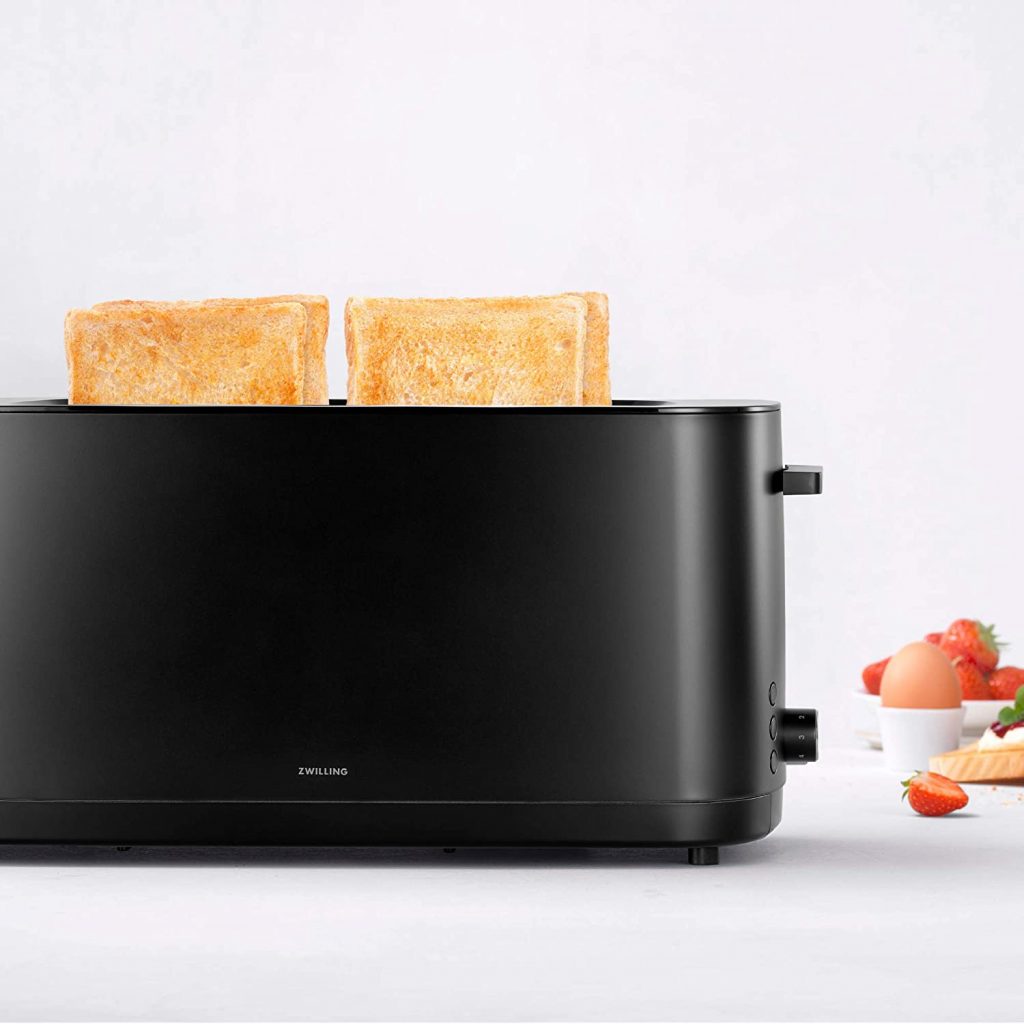 Touch Controls
Zwilling long slot toasters are equipped with fingerprint-resistant touch controls and a hidden display to navigate the various toasting modes available. The touch controls gives this toaster a modern design that fits naturally with any kitchen decor. Besides, it's easy to use for anyone.
Easy to clean
This toaster features hygienic, seamless surfaces that are easy to clean up after use.  The removable parts are also easy to clean and put back together. A sliding crumb drawer is also included on the lower part of the toaster to collect the bread crumbs for much easier cleanup.
Cool-touch exterior
Zwilling relies on an energy-efficient design in the cool-touch exterior that keeps the toaster's outer surface cool to the touch even when the toaster has been running for a while. This is accomplished by insulation and equipping the toaster with a stainless steel exterior that is corrosion resistant. The toaster also features an automatic switch-off function that kicks in once the toast cycle ends to prevent burnt your toast.
Custom presets
This toaster features seven custom presets for all your browning and toasting needs. These automatically adjust the four heating elements to provide a balanced heat distribution on all surfaces while toasting. This allows you to take advantage of the precise browning controls and bread slice centering. The Zwilling long slot toaster can automatically defrost and reheat bread slices or bagels using the three pre-set custom features.
Integrated cable winder
When it comes to long-term storage, this toaster ships with an integrated cable winder to roll up the cable and prevent entangling during storage.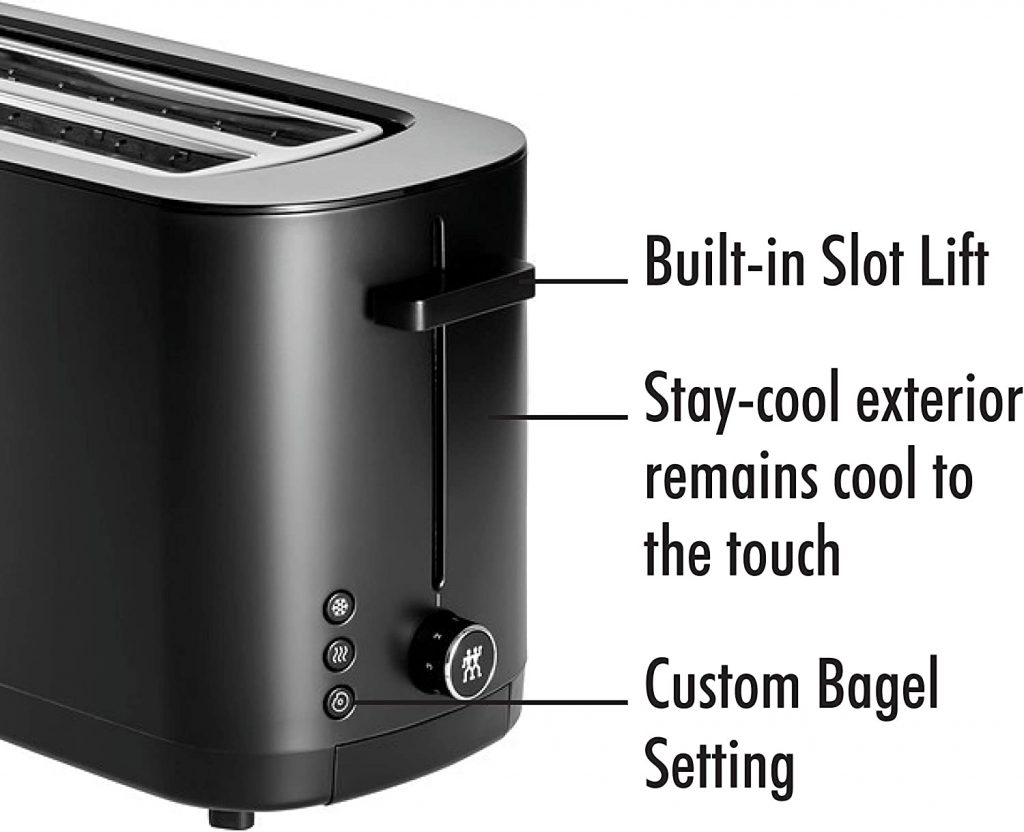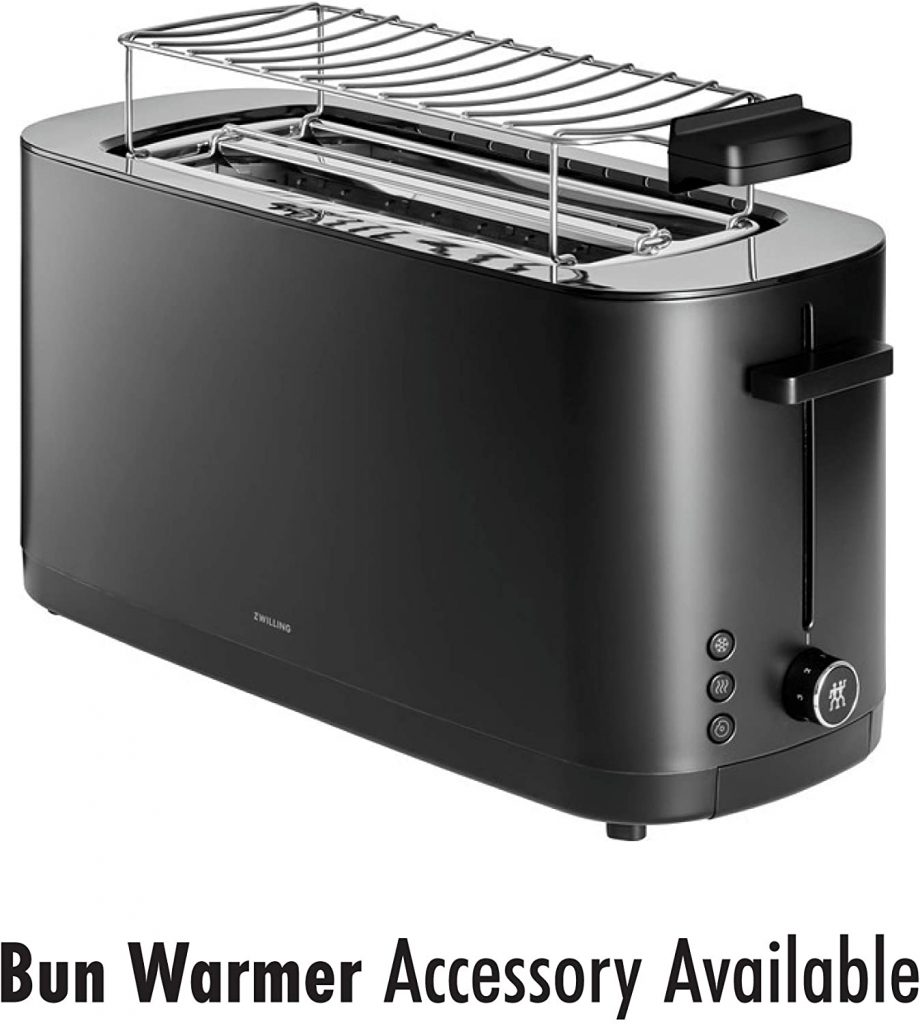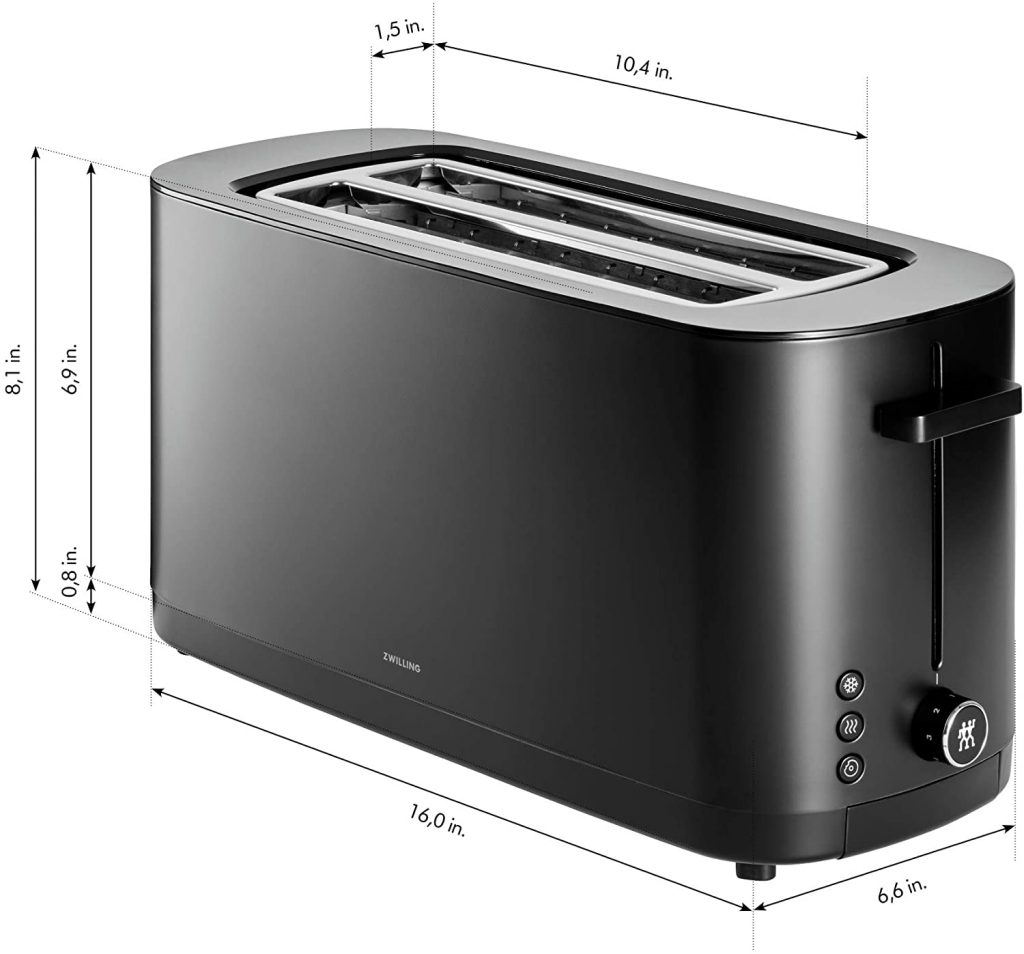 Automatic shut-off function prevents burnt toast.
The soft-lift feature gently pops up the toasted slices, including the small-sized ones
Integrates with a cable winder for convenience during storage
The exterior is designed cool to touch
It's easy to clean
Some bread crumbs still manage to fall outside the crumb tray, making it hectic to clean the interior
The Zwilling long slot toaster features a fresh and sleek design that is aesthetically pleasing and is an excellent addition to any modern kitchen. This toaster evenly browns toast and artisan-style bread into crispy on the outside while retaining a soft interior. Moreover, it's backed by one of the industry's longest product warranty that extends to five years.