Zwilling is a German knife manufacturer with over 290 years of cutlery production. The firm believes in laying a foundation for cooking with passion by equipping all kitchens with innovative new products like their Zwilling pro 7-pc knife block set.
These knives are made to perfection with the aim of revolutionizing your culinary world with durable products backed by premium quality that's monitored at every step of the production process. Zwilling cutlery is crafted in Germany, and the manufacturer relies on a single piece of high-carbon stainless steel to forge each blade.
Their blades are also ice-hardened and hand-honed for durable sharpness. Besides, they feature a curved bolster that ensures proper handling and precise control while cutting. Read on to discover some of the features and benefits that make the Zwilling Pro 7-pc knife block set a great addition to your kitchen countertop.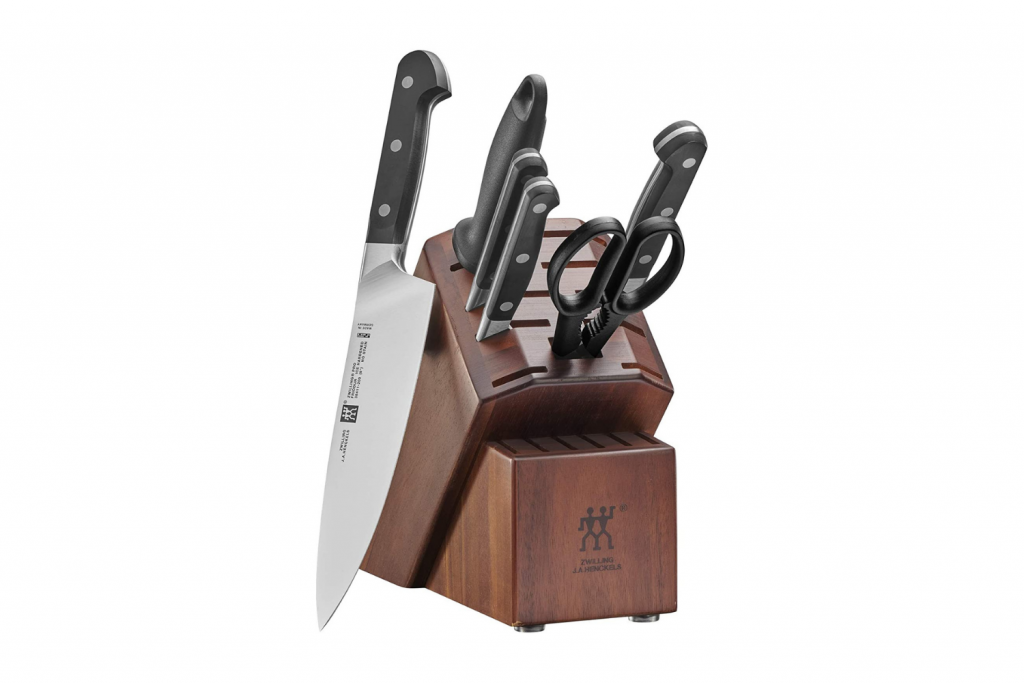 Superb quality
Zwilling relies on German stainless steel to manufacturer all of their knives for increased durability. The metal is corrosion-resistant and provides unmatched cutting power as well as an edge that never goes dull. Most users love the moderate weight the knives provide.
Self-sharpening Block
The block set is specially designed to include self-sharpening slots with ceramic honing wheels, which automatically sharpen the knives. Every time you take out a knife or place it back into the slot, it slides along the built-in ceramic wheels, which sharpen the knife's edges. You'll never have to do anything to maintain the sharpness.
Ergonomic Handles
Zwilling knives rely on a time-tested design and triple-rivet build that encourages tireless cutting and ensures that the handle never gets loose. The lightweight handles seamlessly transition to the blade providing the necessary balance while cutting. A curved bolster in the design supports pinch grip with the index finger and thumb for less fatigue and safe cutting.
Innovative design
The blades included in this set feature a broader curve towards the front, which facilitates rocking back and forth motion while cutting. The entire length of the blade is also used during cutting, preventing the gradual wearing out of just one section of the blade. The forged construction provides increased durability. The stained ash wood base and aesthetic appeal to any kitchen countertop and is also durable.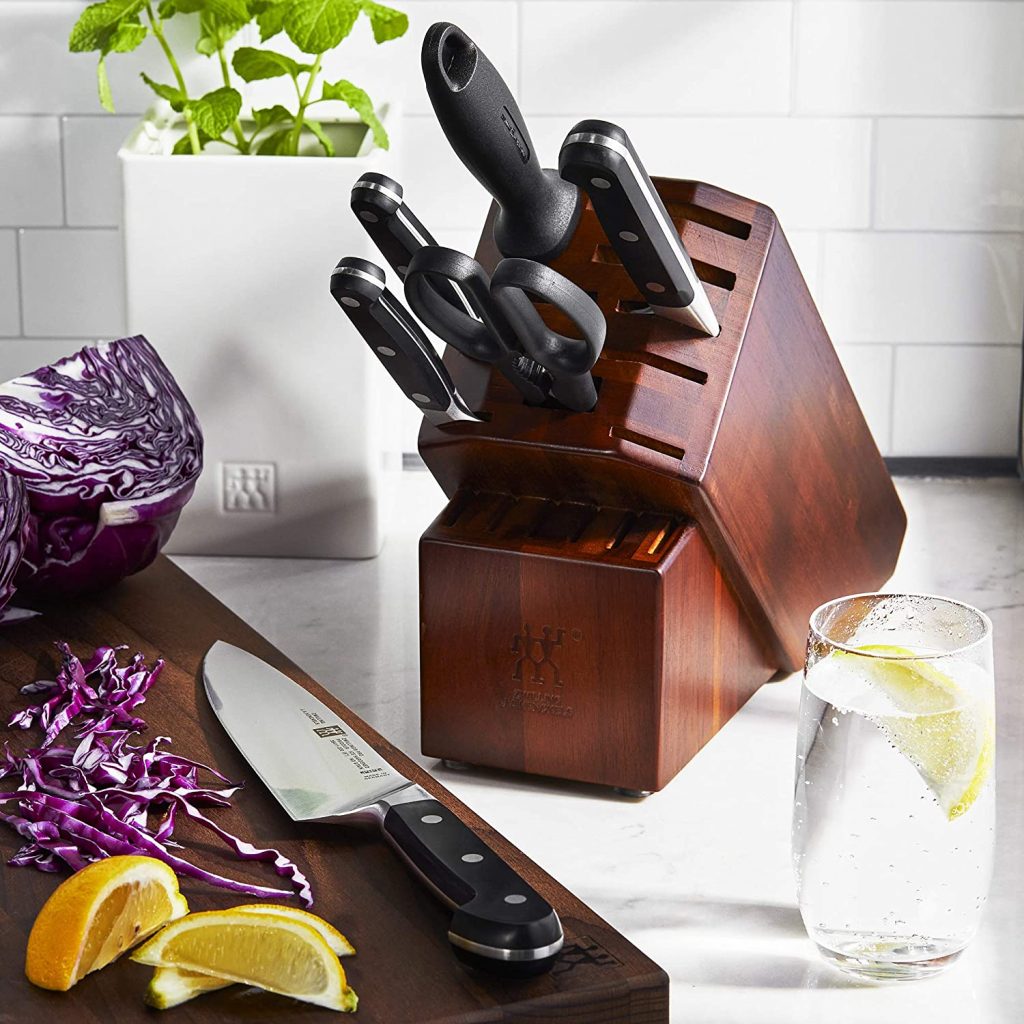 The set includes all kinds of knives
It comes with a self-sharpening block
The knives feature ergonomic triple-riveted polymer handles with a comfortable grip
Stylish brushed stainless steel cap that's aesthetically pleasing
The self-sharpening slots feature is not present on all variations; be sure to check before ordering
Zwilling Pro 7-knife block set is tailor-made to fit all your prep cutting needs in the kitchen. This set of knives offers exceptional value for your money, and they are high quality for long-term use. The block set is also aesthetically pleasing and naturally fits on any countertop. Go ahead and level up your knife and cooking game with this set of Zwilling knives.