When you're in a hurry and need a quick cup of tea, waiting for water to boil can feel like it's taking forever. This is where an electric kettle comes to your rescue. With so many electric kettles on the market with tons of features, it can be hard to choose one that combines functionality and design. Not anymore.
The Zwilling Enfingy Cool Touch cordless kettle features a minimalist design and has the right features for your convenience. At a glance, you will notice the use of more hygienic materials such as stainless steel. Zwilling is among the few brands that have moved away from plastic materials for consumers' health safety.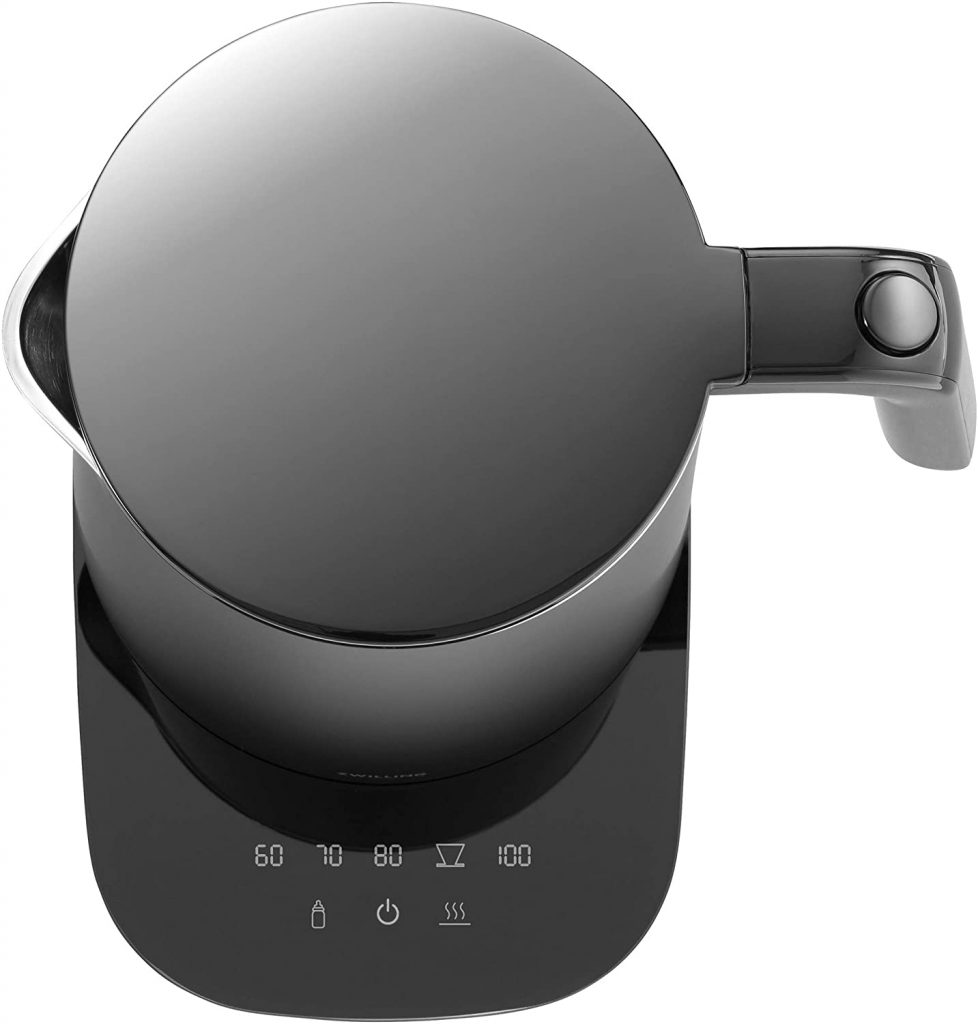 Does this electric kettle sound like something you'd need? Read this Zwilling Enfingy Cool Touch kettle review to discover more features.
Double-walled body
This digital kettle comes with a double wall design which is a really good feature for keeping the exterior cool to prevent burning your hands. So you can carry it around and make your coffee in the kitchen, deck, sunroom and even your bed. Besides, the design ensures water stays hot longer so you can travel with it and make instant coffee and tea whenever you need it.
Large lid opening
Another nifty feature of the Zwilling Enfingy is that the lid opens to a 700 angle, making it safe for you and your kids if opened while the water is steaming. The lid is fairly simple to open using a push button that springs out effortlessly. In addition, the curved spout makes it easier to pit with no splashing.
Keep warm function
In addition to a double-walled design, the keep warm function is an excellent feature for those who aren't satisfied with just one cup of tea and may need a second one in a short space of time. It's also vital for those who may forget they set the kettle to boil. The keep-warm can hold water temperature for up to 30 minutes.
Ideal temperature selection
Green tea fans no longer have to worry about not attaining the ideal water temperatures. This is because this device features a groundbreaking temperature control system that heats water to your liking – for green teas, white teas, oolong teas, and herbal teas. You can choose between 6 temperature settings with just a touch.
Large capacity
Need a large kettle to prepare tea for family or guests? Look no further. This kettle has a large 50 oz. capacity, which is excellent for serving a group. The kettle is also easy to clean, thanks to its seamless stainless steel lining that has a stain-resistant bottom and a wide opening. In addition, the handle is large and ergonomic, making it easy to control the direction of water flow.
Safe and energy-efficient body
Offers six preset programs
It has a large lid opening
It offers a large capacity for a group
Easy to clean
A few users said it holds the heat for a short time
Overall, this kettle is a decent acquisition with 6 temperature presets, German build, and offers a large capacity. The Zwilling Enfingy kettle is simple and looks elegant on any counter. Water stays warm for some time, meaning you can have a few cups of tea without getting up from your desk. Better yet, it's 100% food-grade stainless steel with an ergonomic handle that should fit in hand with easy grip. We highly recommend it.