Secura is one of the most popular cookware developers for air fryers. This brand has been developing quality products with unique features to bring convenience to the kitchen. With 1700 watts of power and 6.3-quart capacity, the Secura electric air fryer can deliver food for medium and large families of 4 to 6 people.
It's a great choice for those who love fried foods but want to use less to no oil and fat contents. Overall, the Secura air fryer offers some decent features and functionality, making it one of the best air fryers in 2021. Read its features below.
Fast and efficient
The electric air fryer boasts 1700 watts of power and combines that with convection technology to circulate hot air fast with a minuscule amount of oil compared to conventional ovens. It's worth noting that food cooked in the Secura air fryer has 85% less oil than foods fried through traditional methods without losing the delicious taste and crispy texture. The appliance also features an air outlet to prevent overheating and prolong the lifespan of the appliance.
User-friendly controls
The air fryer comes with a digital touch screen menu that is simple to use and offers convenient operation for an amazing cooking experience. There are nine preset buttons that come with the appliance to give you control over various dishes such as steak, fish, drumstick, bacon, vegetables, French fries, desserts and keep warm. You can also set your desired time and temperature to get the desired results. It also comes with a built-in pre-heat which heats up the unit before you start cooking for faster results. The variable temperature control ranges from 1800 to 4000, giving you total control of your food.
Large capacity
With the Secura electric air fryer, you can do more than just fry. It comes with a 6.3QT (6 litres) square removable non-stick basket that offers an enormous capacity to cook the whole family, a few guests or even a small house party. Despite having a large basket, it has a small footprint, making it great if you are looking for a compact air fryer to fit in your small counter space. Its dimensions are 14.9 by 12.8 by 14 inches. Furthermore, there's a bonus grilling rack and four skewers to allow you to expand the capacity and cook more food each time.
Easy to clean
Clean up is one of the key considerations for most kitchen appliances. This air fryer has a non-stick basket that features a non-stick coating to makes it easier to clean either manually or using a dishwasher. Besides, the materials used to make the appliance are BPA –free, FDA compliant and ETL listed.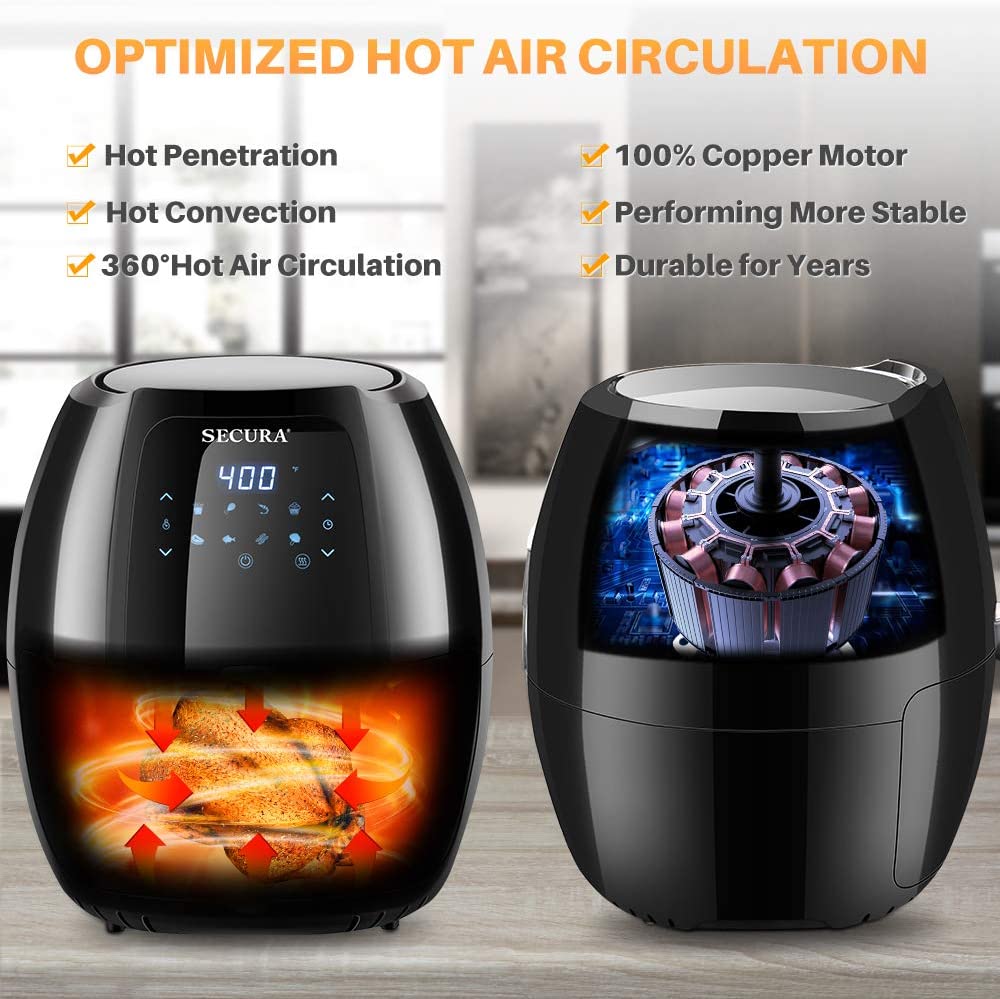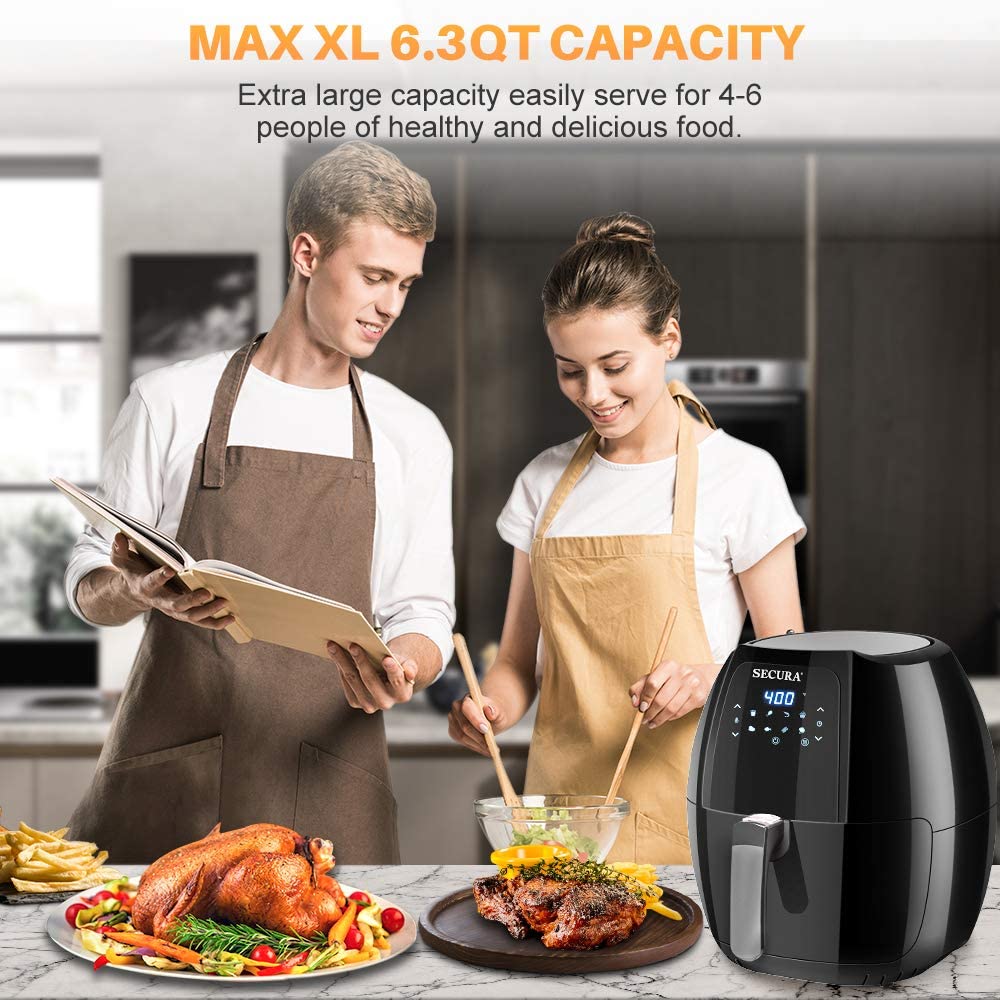 It's fast and efficient
Easy to use controls
It offers a large capacity
The non-stick surface offers easy cleanup
The instruction manual is not detailed enough for absolute beginners
If you need an air fryer that can do more than just fry, you would appreciate the Secura's versatility. The machine offers a large capacity for the whole family and a small footprint for tight spaces. The non-stick basket allows for easy cleaning, and you can choose to use a dishwasher to clean it. It's the perfect healthy gift for your food-loving partner, dad, mom, and friends.