When you are looking for a microwave oven to use at home, there are 3 things you are likely to be looking for – a sleek design, smart cooking options, and consistent, delicious results. Have you looked at this Panasonic Microwave Oven? If not yet, please do. It's a powerful microwave that won't take lots of your counter space and ideal for busy individuals and small families.
The machine comes with a 1.6 cubic feet capacity and 1250 watts of power. The inverter feature transforms the machine from a typical microwave to a functional cooking tool that cooks food more evenly while keeping it warm until time to eat. No more guessing at cooking times and power levels because this microwave oven regulates the power and time based on the cooking sensor reading.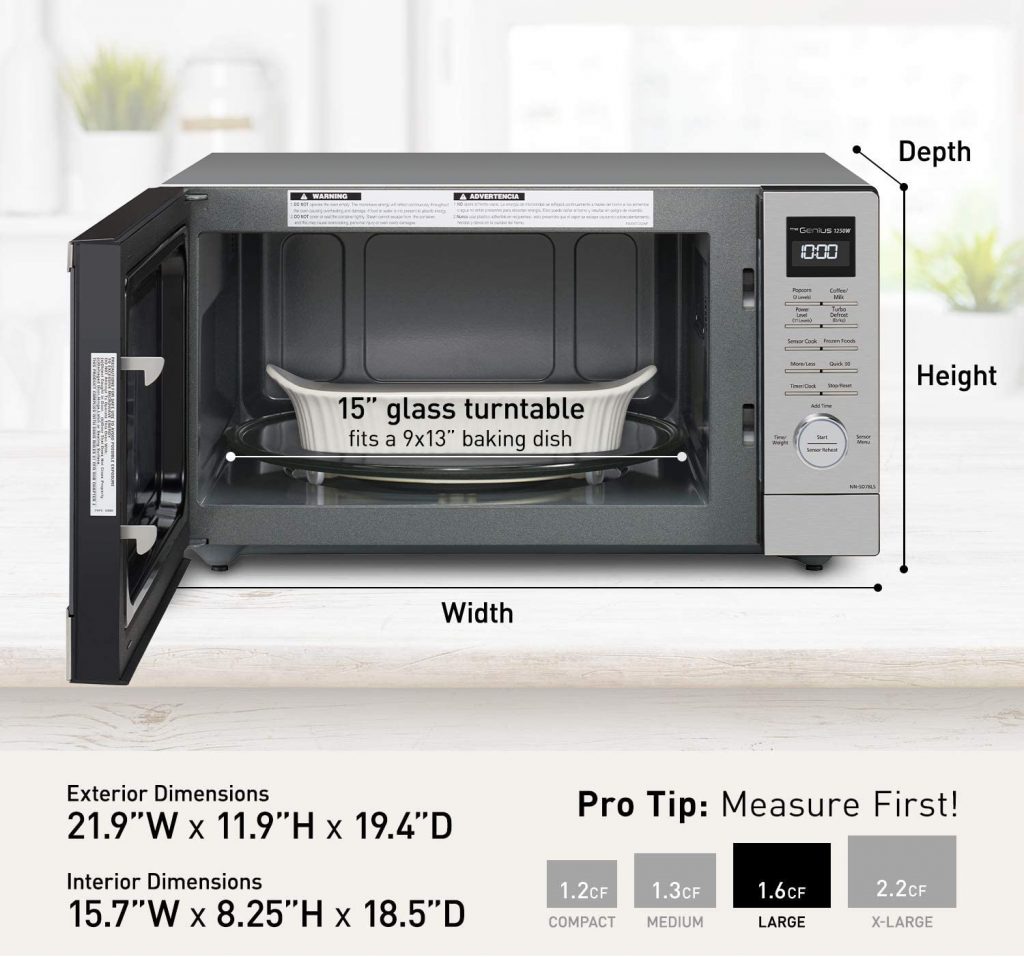 Here are some of its main features:
Patented inverter technology
The problem with most traditional microwaves is that heat fluctuates a lot, which results in overcooking or uneven cooking. One of the most outstanding features of the NN-SD78LS is the inverter technology that keeps the output at 50% to enhance the cooking. It works by turning the power on and off to ensure the optimal temperature is reached. The benefit is that food cooks more evenly without burnt edges and a frozen middle. Apart from cooking food better, technology makes cooking times shorter. Lastly, the spectacular inverter technology helps you save up to 50% of energy to reduce power usage.
Genius Sensor technology
The Panasonic microwave oven ensures food comes out perfectly by maintaining the ideal level of moisture. Thanks to the genius sensor technology, the oven cooks food thoroughly by using a sensor that eliminates guesswork by notifying you when the food is perfectly cooked. The sensor technology also makes this oven heat food moderately without affecting the texture and taste.
Turbo defrost
Use this machine to defrost foods like rice, frozen pasta, canned vegetables, and frozen dinner meals. The turbo defrosts feature speeds up the defrosting process, and the keep warm feature ensures that food stays warm until it's ready to be served.
Large room
The Panasonic NN-SD78LS has a 1.6 cubic feet interior capacity with a large turntable to cook more food for large families. The capacity can accommodate a full chicken and full-size dinner plates, so you don't have to worry when you have 4 or 5 guests.
It has a sleek design to fit most counters
Has a large interior capacity to accommodate more food
Ensures food is cooked evenly
It's versatile – can defrost, bake, cook, and much more
The machine is relatively noisy
For anyone looking for a high-quality microwave, the Panasonic microwave oven with a genius sensor is an excellent option for you. It's constructed with sturdy stainless steel, and the 1250 watts of power can cook fast and efficiently. If you like thoroughly heated meals, hot breakfasts, easy-to-prepare dishes, and fast snacks, this microwave offers enough power.