Cuisinart CWC 8-bottle private reserve wine cellar promises to ease the process of wine storage with the added benefits and convenience. The technological sophistication of this cellar all goes towards preserving your wine's flavor by maintaining ideal temperatures.
With the touch of a button, you can adjust the temperature between 39 °F to 68 °F that's maintained by a thermoelectric cooling system. The Cuisinart CWC 8-bottle private reserve wine cellar features a modern stainless steel trim that's stylish on any kitchen countertop.
Read on to discover some of the amazing features and capabilities that make the Cuisinart CWC 8-bottle private reserve wine cellar a must-have.
Eight bottle capacity
With this wine cellar you get an eight bottle internal capacity lined with three contoured chrome racks. These are well spaced to hold either 750ml 0or 1500ml wine bottles making it a must-have for wine lovers. The contoured rack design ensures that the cold air circulates freely in-between the bottles keeping them consistently cooled.
Thermoelectric cooling system
The Cuisinart CWC 8 bottle private reserve wine cellar relies on a state-of-the-art thermoelectric cooling system that operates at near-noiseless levels. Unlike traditional cooling systems found in standard coolers, this system consumes much less energy. Thermoelectric cooling systems also provide a constant cooling effect without any sudden changes which can affect the wine flavor.
Touchscreen controls
With easy-to-use touchscreen controls, you will have no trouble operating this reserve wine cellar. The main menu allows you to set the temperature level at the touch of a single button. You can also use the touchscreen to customize the interior light brightness.
LED temperature display
This wine cellar features an LED temperature display that constantly displays the interior temperature for easier tracking. This is located right above the triple-pane viewing window. The soft interior lighting provides a clear view into the racks while minimizing the amount of light that escapes.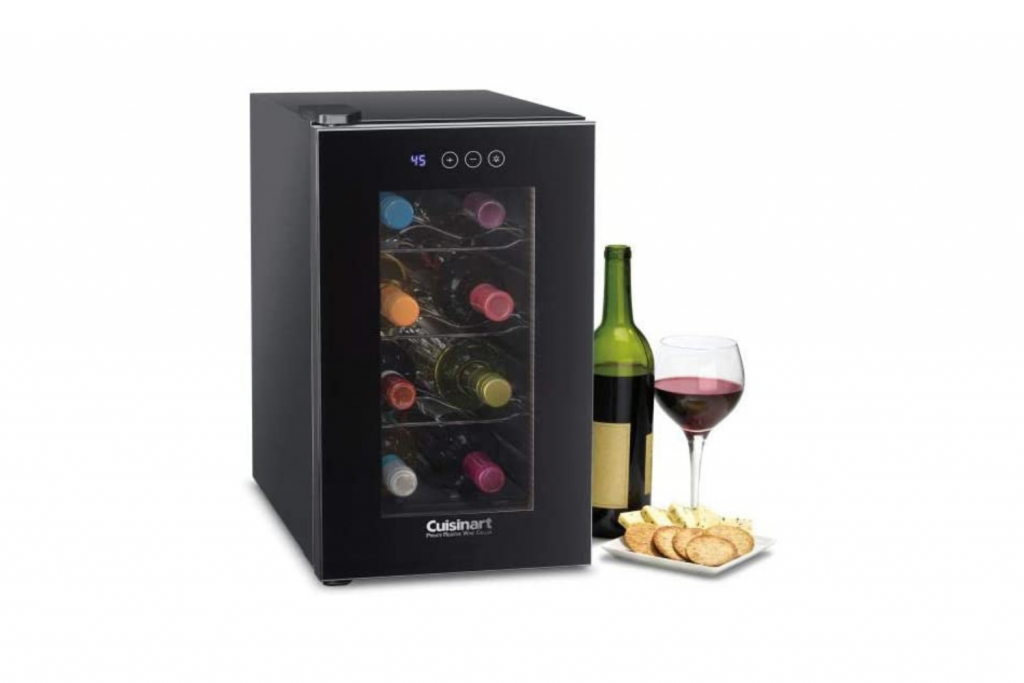 The wine cellar has adjustable feet. 
The exterior features a designer stainless steel trim 
The cooling system is efficient and almost noiseless, making it a great addition to any room that requires quiet operation.
Some customers complained about the lack of additional color trims other than metallic black.
The Cuisinart CWC 8-bottle wine chiller does a great job when it comes to preserving wine flavor and keeping all your bottles chilled. This unit is designed to save space, and the contemporary design with a sleek stainless steel trim fits perfectly with any interior decor. The adjustable feet make it possible to store the wine cellar on the floor or even on the countertop without any worries about its stability.
Its internal capacity can hold up to 8 champagnes, whites, and reds while effortlessly maintaining the ideal temperature.  If you are looking to preserve your wine bottles in style without any sacrifices in power usage and noise output, this wine chiller is the best choice in the market at this price point