Get the power of a modern and durable countertop oven from an established brand to take your cooking experience to a whole new level. This dual convection oven from KitchenAid is constructed with sturdy stainless steel to serve you for years to come. The product is high tech and comes with a built-in-temperature probe to enhance cooking for better results.
Additionally, it is compact and sleek to fit most kitchen counters while adding a modern look to your kitchen décor. The streamlined profile and the chrome knobs also add some elegance to your kitchen countertop.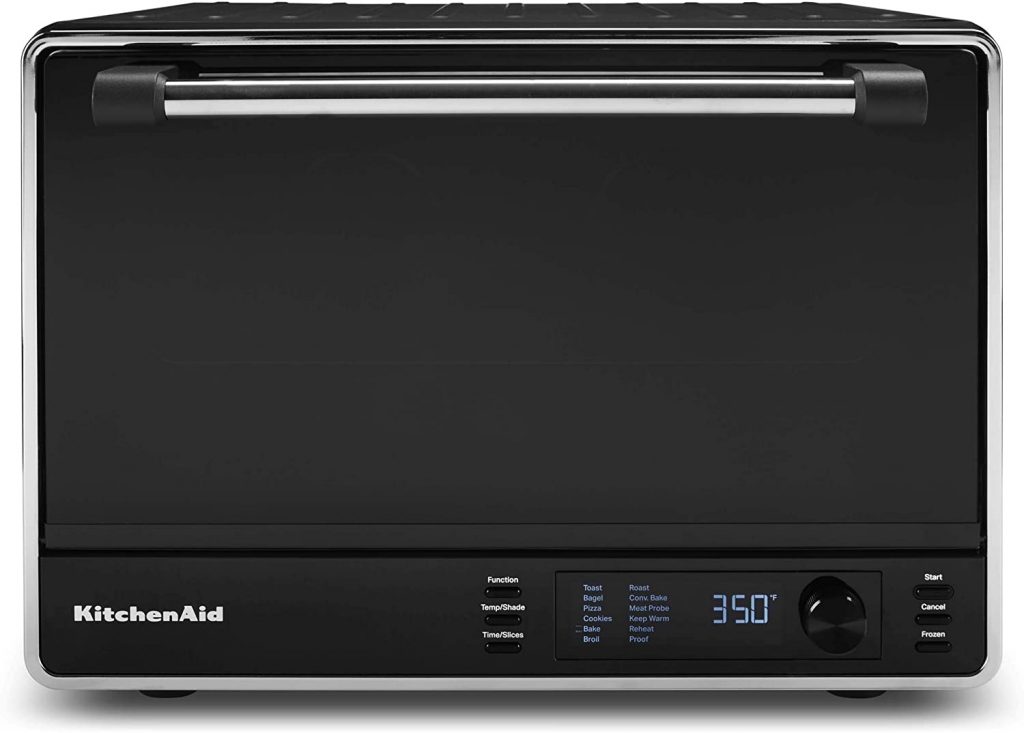 To find other benefits of this oven, read the rest of this KitchenAid dual convection oven review.
Large interior design
Featuring the dimensions of 16.4 x 18.5 x 13, this toaster is large enough to cook two whole 3lbs chickens at once. Thanks to its generous capacity, you can cook all you want, including pizza, crisping cookies, broiled dishes, and toast. This makes it ideal for big families and a couple of friends as well.
Highly versatility
When it comes to versatility, the KCO255 convection oven ticks all the right boxes. It offers 12 preset functions to create extraordinary meals. You can cook chicken entrees, bake delicious cookies for dessert and broil salmon. For those who are cooking enthusiasts, this machine can elevate your home kitchen for tastier delicacies.
Highly customizable
Featuring a built-in temperature probe, this toaster is designed with the user in mind. This technology allows you to gain more control when cooking to give you perfect results at each cooking stage. Thus if you have a couple of guests, the KitchenAid oven is an ideal partner that won't disappoint.
Thanks to the dual convection bake, this machine can cook chicken up to 20% faster to help you save time.
Easy to Use
Most oven toasters possess some excellent features but are complex, but this is not the case with 12 preset counter oven. This product comes with a digital display to enhance usability by providing labeled buttons and knobs. It also features an interior light for at-a-glance updates that allow you to keep track of the cooking progress without disturbing your dish.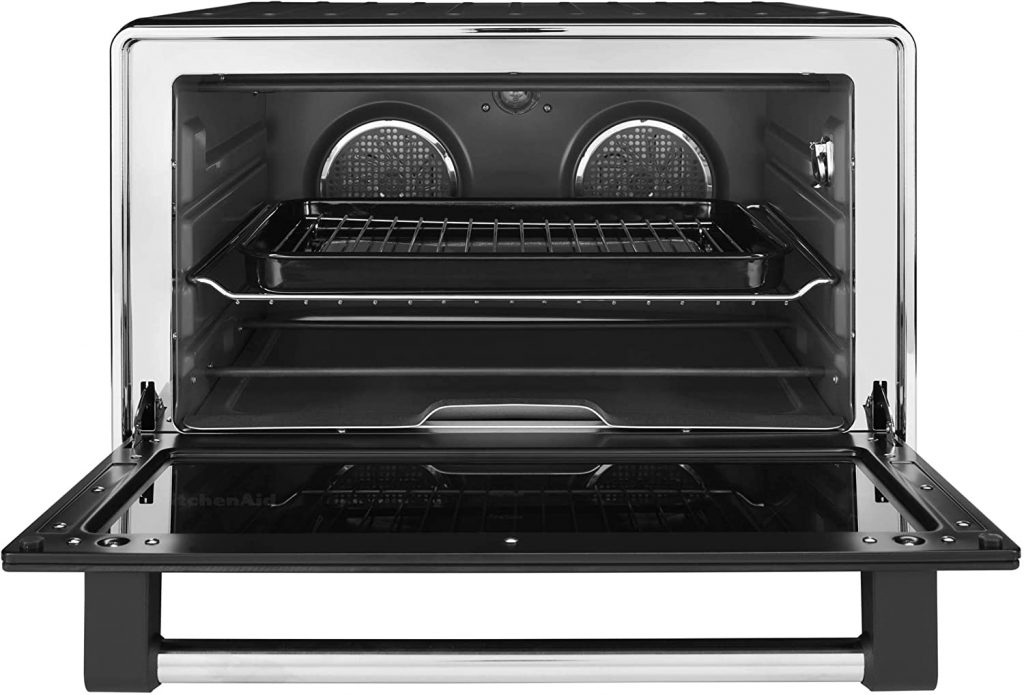 It has a large interior capacity
Easy to use and clean
Food cooks about 20 % faster
Food is cooked evenly to deliver excellent taste.
The digital display is easy to use
Some customers complained that it is a bit noisy
If you are on the lookout for a toaster oven to elevate your home kitchen, the KitchenAid KCO255 is your ideal option that won't disappoint. The 12 preset functions offer you fantastic cooking options for an enjoyable cooking experience. Besides, it's very easy to use the machine even for absolute beginners. Large families can even bake two whole 3lbs chickens at a time to help save on time.