If your kitchen space is limited, an air fryer toaster oven can be an excellent option for toasting, defrosting, baking, air frying, and more. These appliances come with even-heat distributing technology to promote faster cooking while ensuring food is crispy without using added oil. This way, they reduce fat content in fried foods by up to 95%.
Multitaskers in the kitchen will love the Hamilton Beach Sure-Crisp Digital Air Fryer Toaster Oven that's spacious and perfect for smaller apartments where space is essential. You really are getting your money's worth because you are going to use this countertop oven for many years to come.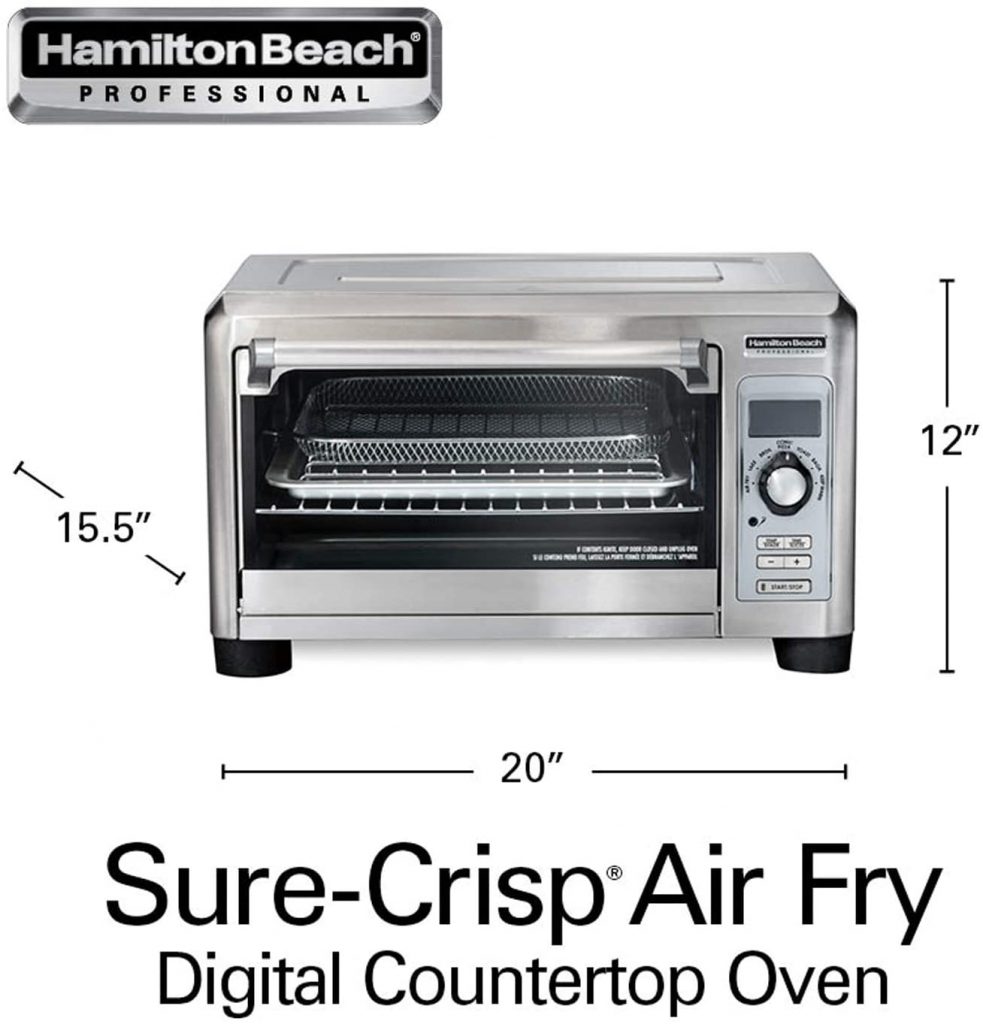 Read the Hamilton Beach Sure-Crisp Air Fryer Toaster Oven review to learn its features.
Sure-Crisp Air Fry Function
This function gives you even browning by circulating hot air so that food comes out just as crisp and golden but without the grease. It can be ideal for the cook who loves making oil-free pork dumplings, French fries, sweet potato fries, and so much more.
Multifunctional design
Those who have wanted to try out different recipes every day can prepare 7 seven different meals from Friday to Friday using this appliance. There are seven versatile settings, including toast, pizza, bagel, bake, broil, and warm feature. You can also adjust the temperature for suitable results every time.
Extra-Large Capacity
For a large family looking for the perfect toaster oven to cook family-sized meals, then this appliance is a great option for you. The large 1 cubic feet interior can hold a 12" pizza, 6 lb. chicken, up to 6 slices of toast, or a 9" x 13" pan. Hamilton Beach designed the appliance with rack positions to accommodate different cooking needs.
Premium Digital Controls
The Hamilton Beach Sure-Crisp is designed for precise cooking with a digital control panel containing an LCD screen display. The temperature probe is a nifty feature – if you are busy rescuing your roast the very minute it hits the temperature, just set the degrees lower than it should and leave it for the after cooking. When the time is up, the oven shuts off automatically. Most users appreciate how easy it is to use this machine even if you have not used a similar appliance before.
Useful accessories
The company includes useful extra additions to enhance the cooking experience, including a mesh air fryer basket, temperature [robe and drawer, broil rack, bake pan, and removable crumb tray. You can use the air fryer basket on the upper rack with the broil rack or pan below to catch the drippings.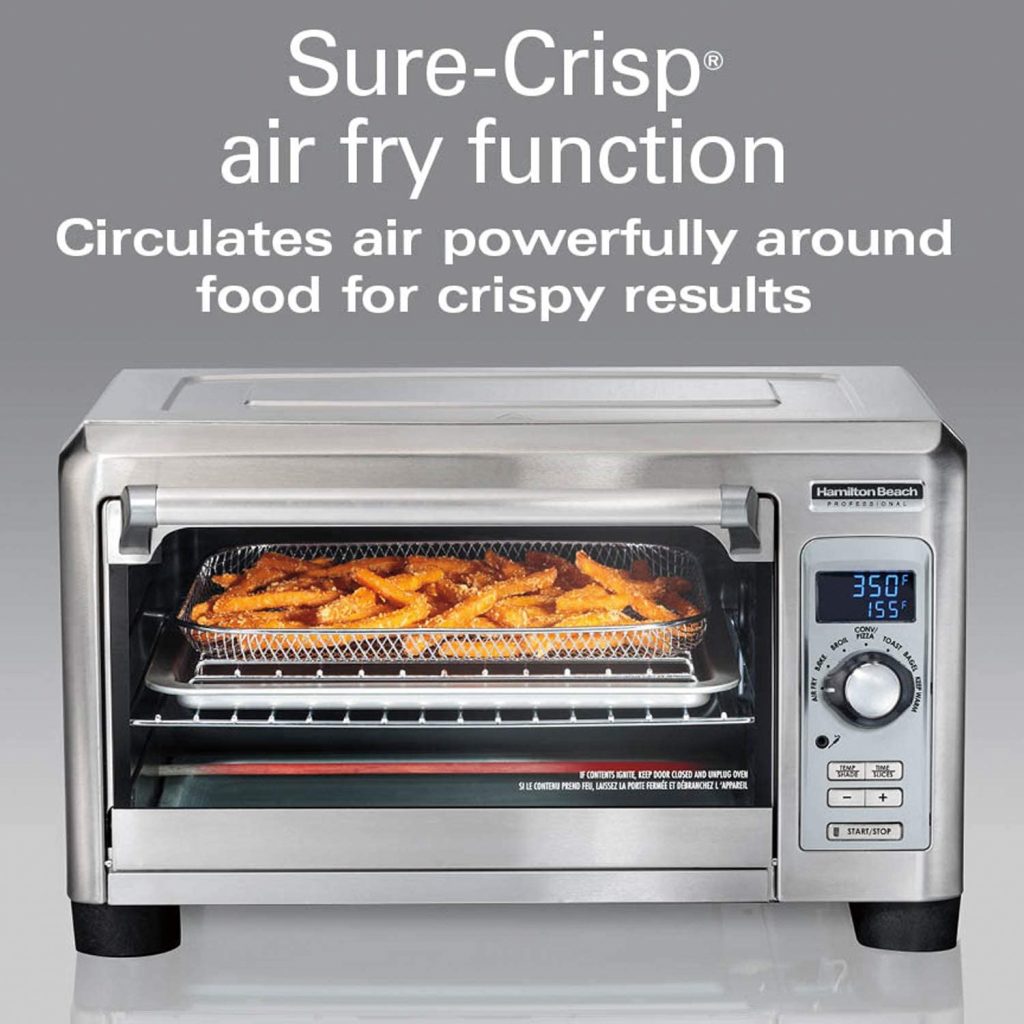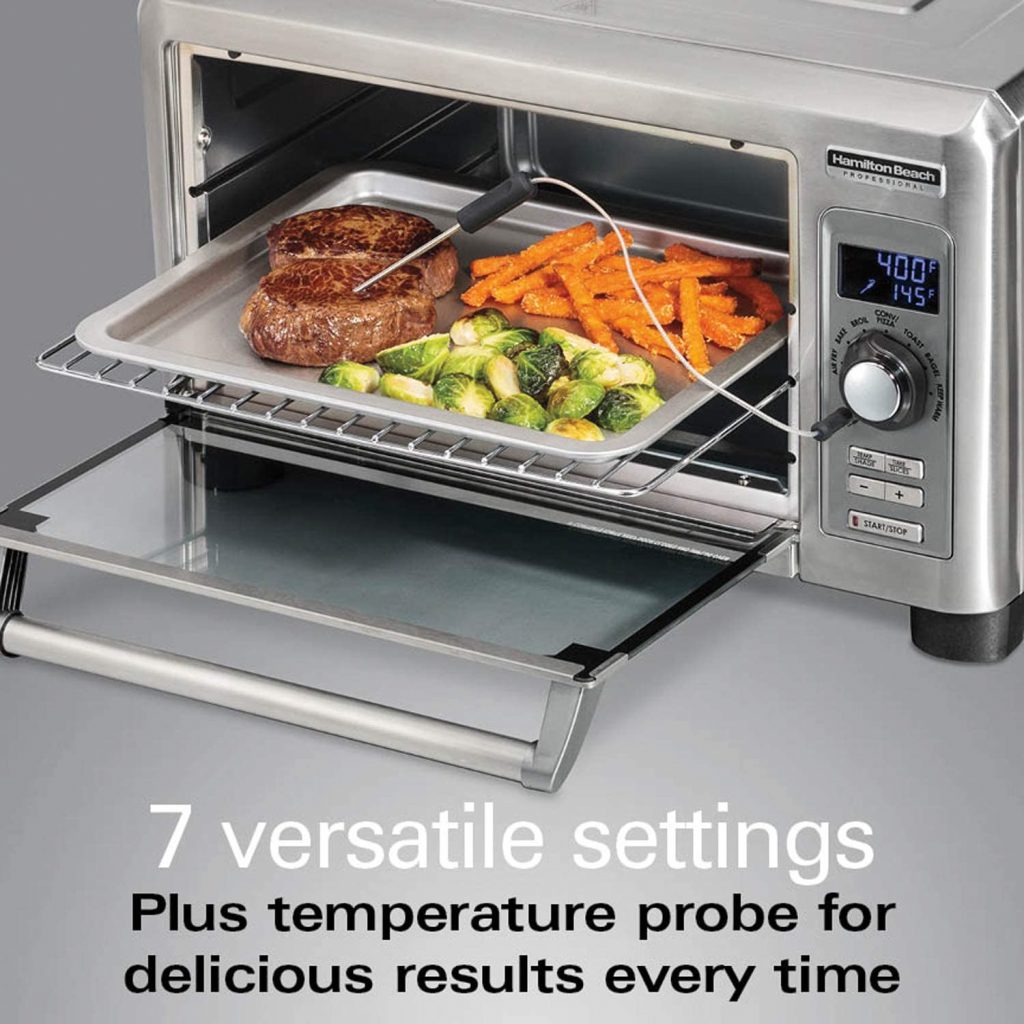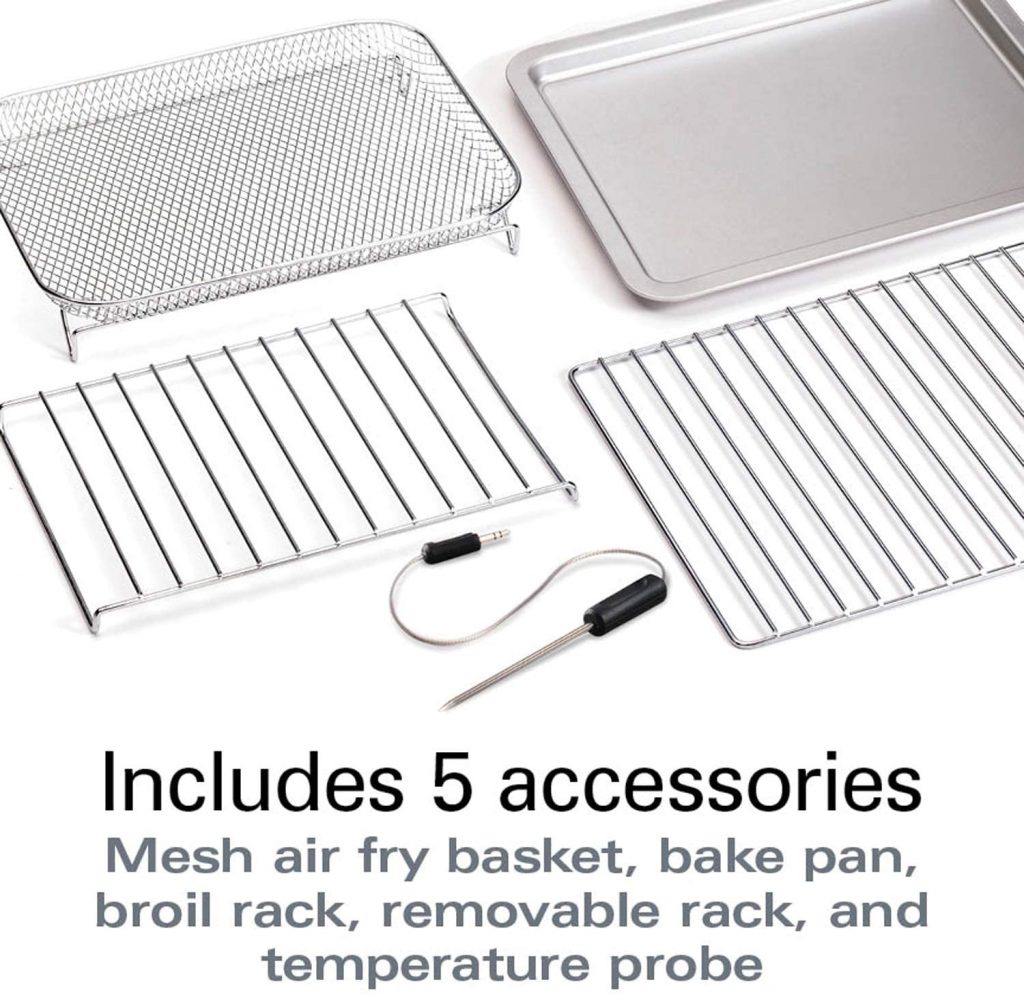 The sure-crisp function circulates air powerfully around food to ensure crispy results
It has seven versatile settings for multifunctional cooking
It can prepare family-sized meals
It provides excellent cooking performance
It offers great value for money
The Sure-Crisp Toaster Oven is easy to operate, cooks well using the temperature probe, and can prepare a variety of dishes. Whether you want to make biscuits, bake desserts, or pizza, this can do the job perfectly. Besides, the long-lasting stainless steel offers years of durability, and the 1500 watts of power along with a convection fan ensure even cooking without hot spots.
The price is great for the value you get. Highly recommend!