Do you want to cut down your intake of cholesterol while enjoying your tasty fried foods? Do you want to toast, dehydrate, bake and air fry in one single appliance? If you answered yes, then an air fryer oven is what you need right now. The Hamilton Beach Air Fryer Convection Toaster oven is a modern kitchen appliance that can cook a wide variety of food with less oil.
It's the best air fryer toaster oven for large families featuring dimensions of 15.83 L x 16.93W x 20.43H. You can utilize this spacious interior by fitting a pound of chicken wings, 2 bags of frozen French Fries, a large 12" pizza and other snacks. No preheat is needed for this machine allowing you to start cooking right away.
It can reduce cooking time significantly and save energy, offering a more efficient way to improve your culinary experience. Read this Hamilton Beach Air Fryer Toaster oven review to discover its features.
1800 watts of power
This machine features a powerful 1800 – watts motor, which delivers speedy results. Apart from reducing cooking times significantly, the food comes out in a crispy finish without the use of oil. Besides, it preheats in a matter of seconds to save you time and minimize electricity usage.
Versatile functionality
Unlike most machines, the Hamilton Beach's is versatile enough, featuring a multi-functional air fryer toaster oven combo that can do other tasks such as bake, broil and keep warm. Given its size and affordable price point, this Hamilton Beach air fryer is extremely innovative and versatile.
Roomy interior
It has an enormous capacity of 0.75 cubic feet, which is ideal for large families that want to cook large batches of chicken wings, fries, pizza and other favorites. Besides, there are two rack positions to allow you to stack more food or cook two different dishes simultaneously.
Easy to clean
Even though only a few parts are dishwasher safe, virtually all the components of this toaster oven are really straightforward to clean. A nonstick interior allows food to slide right off with ease, meaning you don't need to worry about internal accidents. Besides, when crumbs begin to collect, you can slide out the tray for easier cleaning.
Valuable accessories
Another big bonus with this air fryer toaster oven is the high-quality accessories you get. These include a metal mesh basket, a bake pan, a broil rack, and two rack positions. The basket fits the upper rack with the pan and broil rack below to catch crumbs and drippings.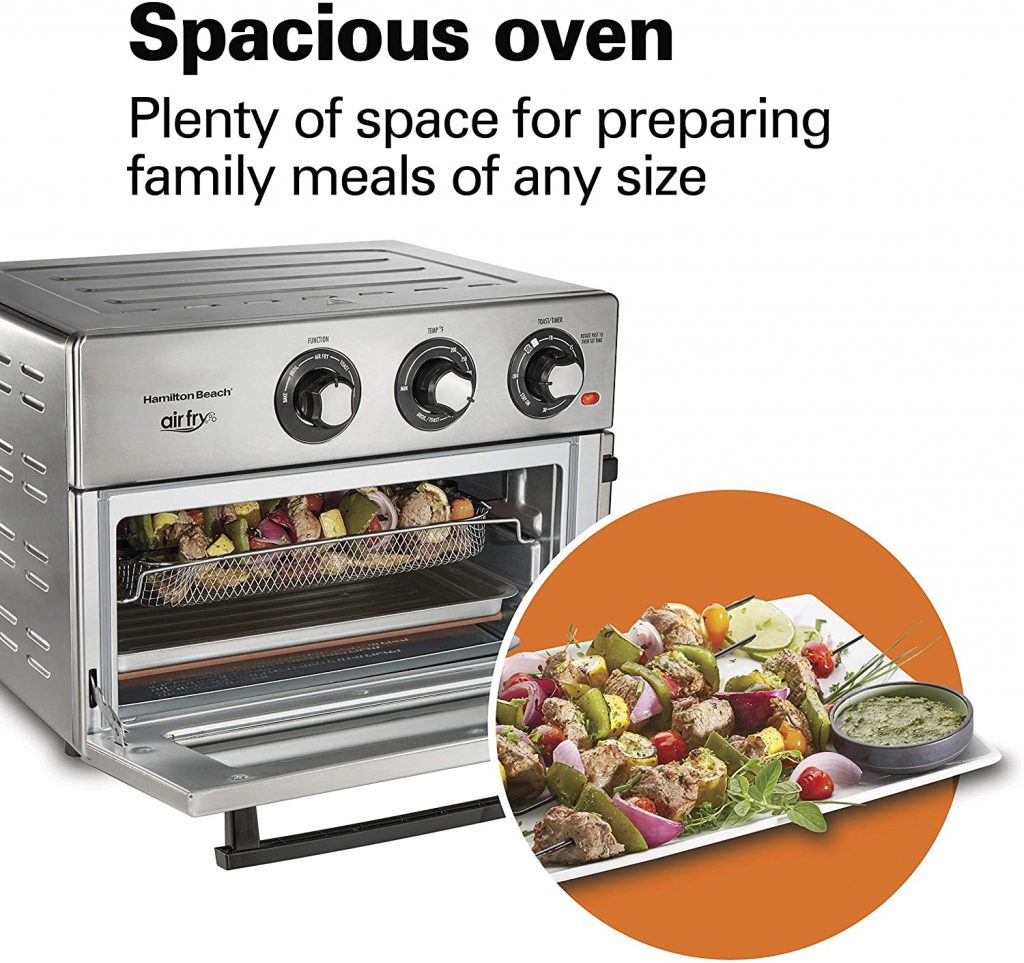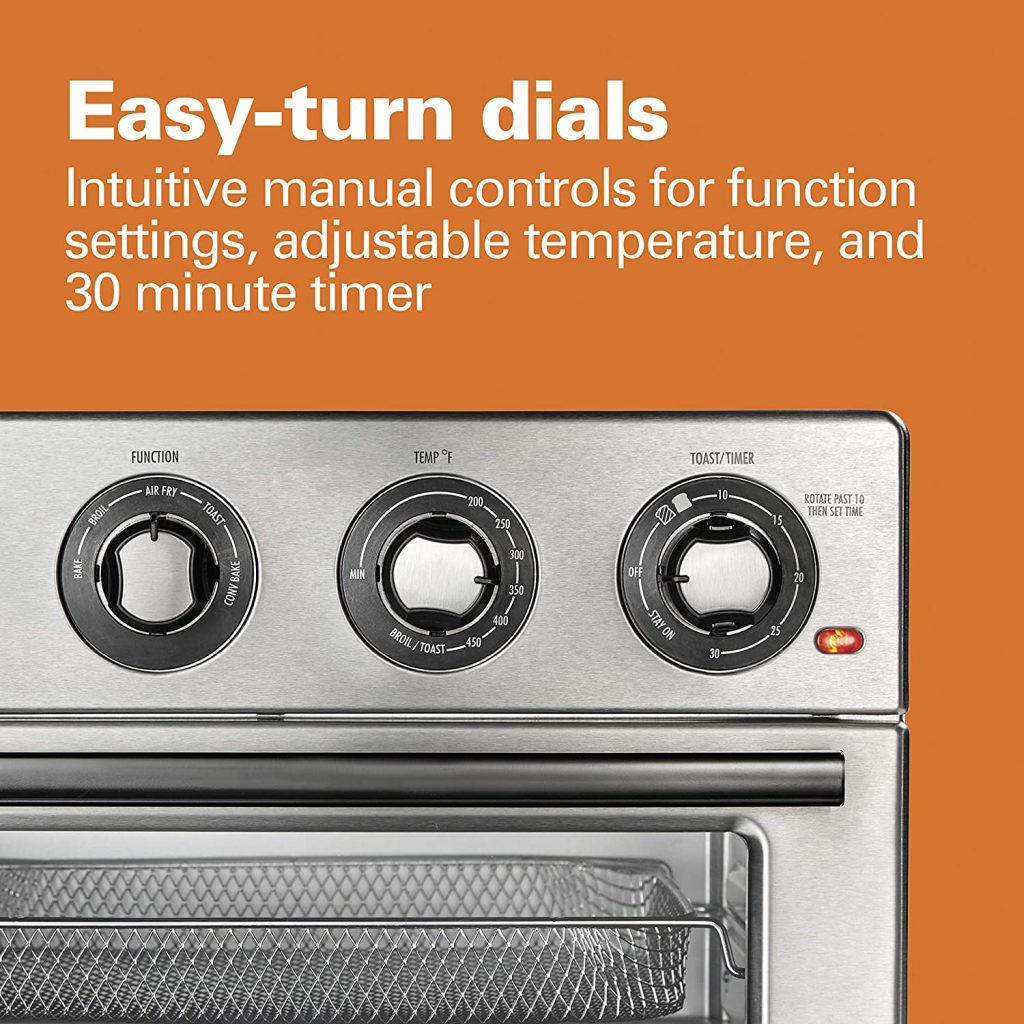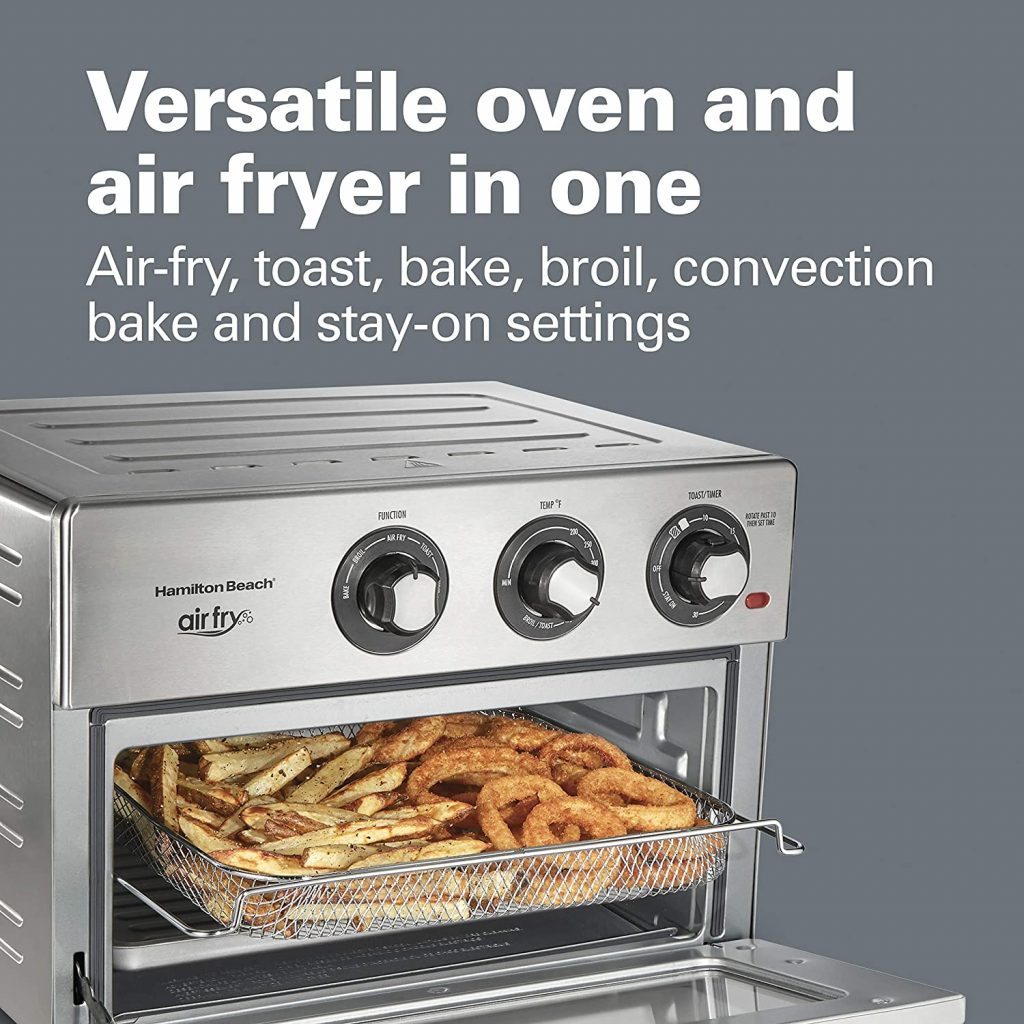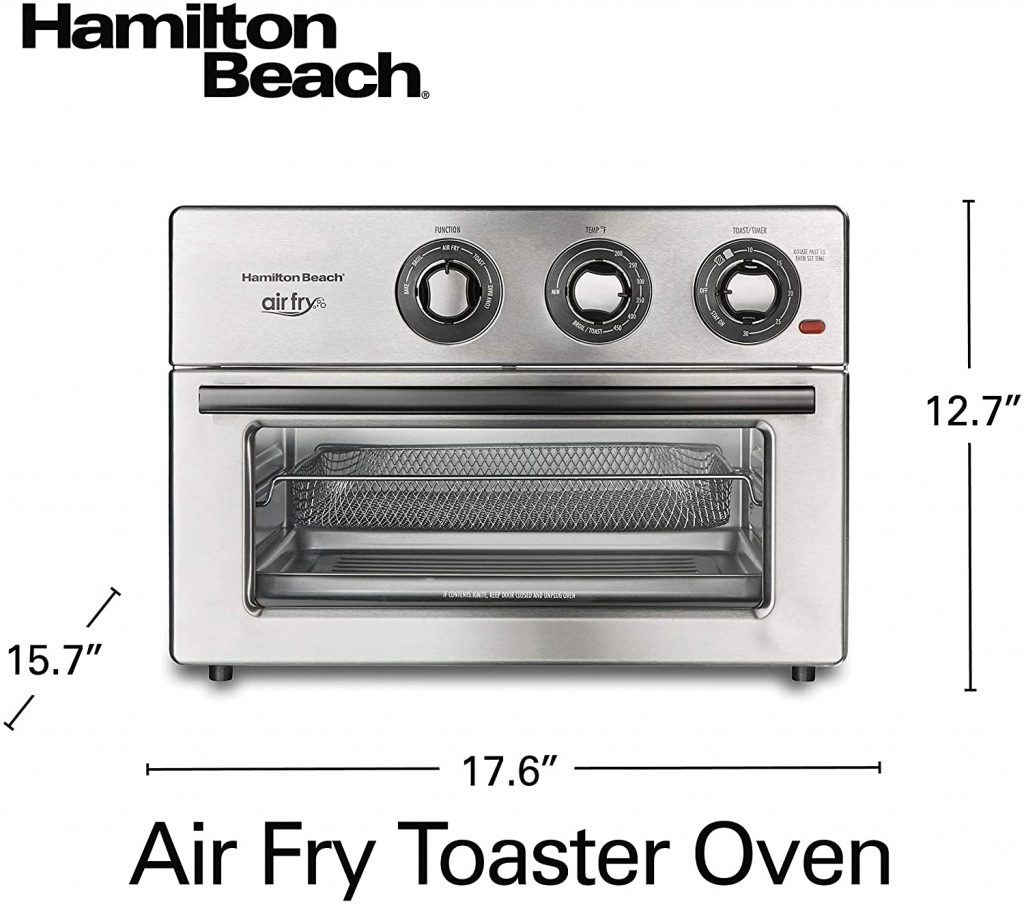 The machine is highly versatile
It has a spacious oven for large meals
It's easy to clean
Offers helpful accessories
It might take up an ample counter space
Are you stuck weighing different air fryer toaster ovens? Go with the Hamilton Beach Air Fryer Toaster Oven that comes at a decent price point. If space is not a problem for you, Hamilton Beach Air Fryer Toaster Oven will help you prepare large servings for the whole family. Besides, cleanup is straightforward with the removable trays and a nonstick surface. We highly recommend it.