Air fryers have become the latest kitchen trend in the past couple of years, thanks to their incredible ability to replicate the delicious and crunchy taste of deep-fried foods with minimal oil. Besides, some air fryers can also be used to roast, bake and grill a wide variety of foods. These versatile appliances allow you to prepare your own crispy fries from scratch and prepare a ton of other foods you would normally deep fry without the unhealthy oil.
But with so many models available in the market, choosing the best air fryer that satisfies all your deep-frying needs is not a straightforward task.
The GoWISE USA 7-Quart Air Fryer & Dehydrator is easy to operate and promises crunchy and tasty snacks without unhealthy oils. The fryer comes with a single basket that gives you 7 quarts cooking capacity, making it perfect for feeding a family of up to six members or whipping up some snacks for a small house party. The fryer can comfortably cook up to 4-5 burgers, two pounds of fries at a go without heating up your kitchen.
Apart from space, the GoWISE USA 7-Quart Air Fryer & Dehydrator has other outstanding features that make it one of the best air fryers in the market.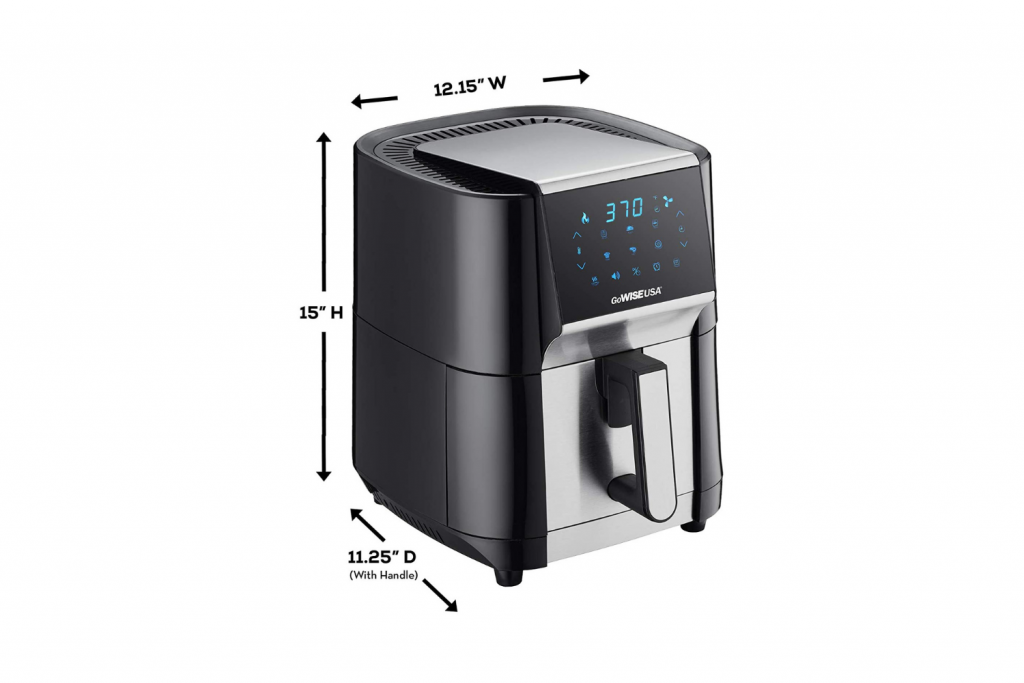 Read on to find out why
Multipurpose functionality
The GoWISE electric fryer is highly versatile, with an amazing ability to perform a variety of kitchen tasks, including flying, baking and roasting, and grilling different foods with very minimal oil. Additionally, the fryer provides up to eight cooking presets, including air fry, bake roast, keep warm, broil, grill, preheat, and dehydrate. The preset functionality also allows you to regulate the temperatures and time per your cooking needs.
Compact design
The compact square design featuring a stainless-steel surface thereby giving your kitchen top a modern and exquisite look. The fryer also features a touchscreen control panel that enables you to start cooking at the simple touch of a button. The removable heavy-duty and nonstick pan and crisper tray makes the fryer durable and also makes the cleanup process easier and quicker
Dehydrating and preheat functions
Unique to this fryer is the dehydrating tool. The tool allows you to control the temperatures and time, allowing you to enjoy fresh food up to 24hrs after being prepared. What's more, the fryer comes with three adjustable stacks that will enable you to prepare more servings.
The preheat function allows you to preheat your food to the temperature of your choice. All you need to do is select preheat and choose your choice temperature until the fryer beeps to indicate the achieved temperature set.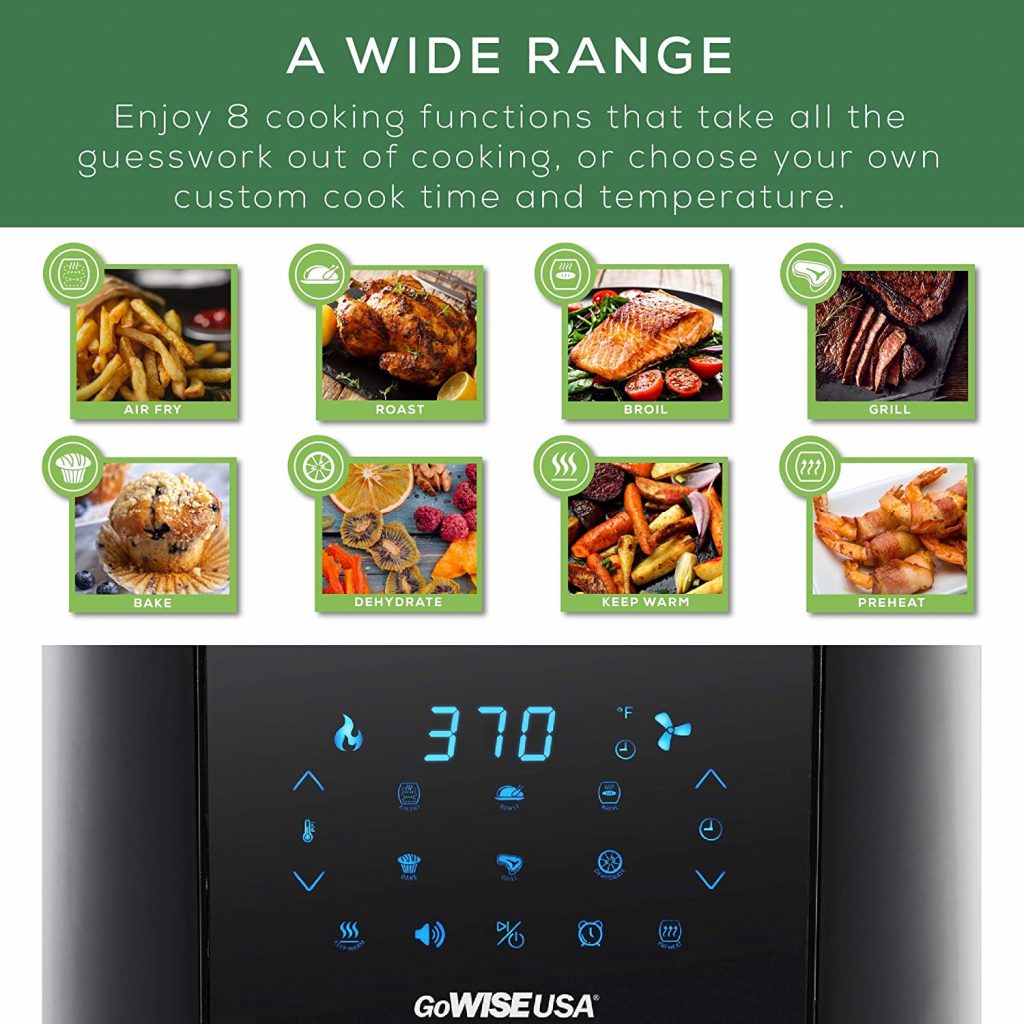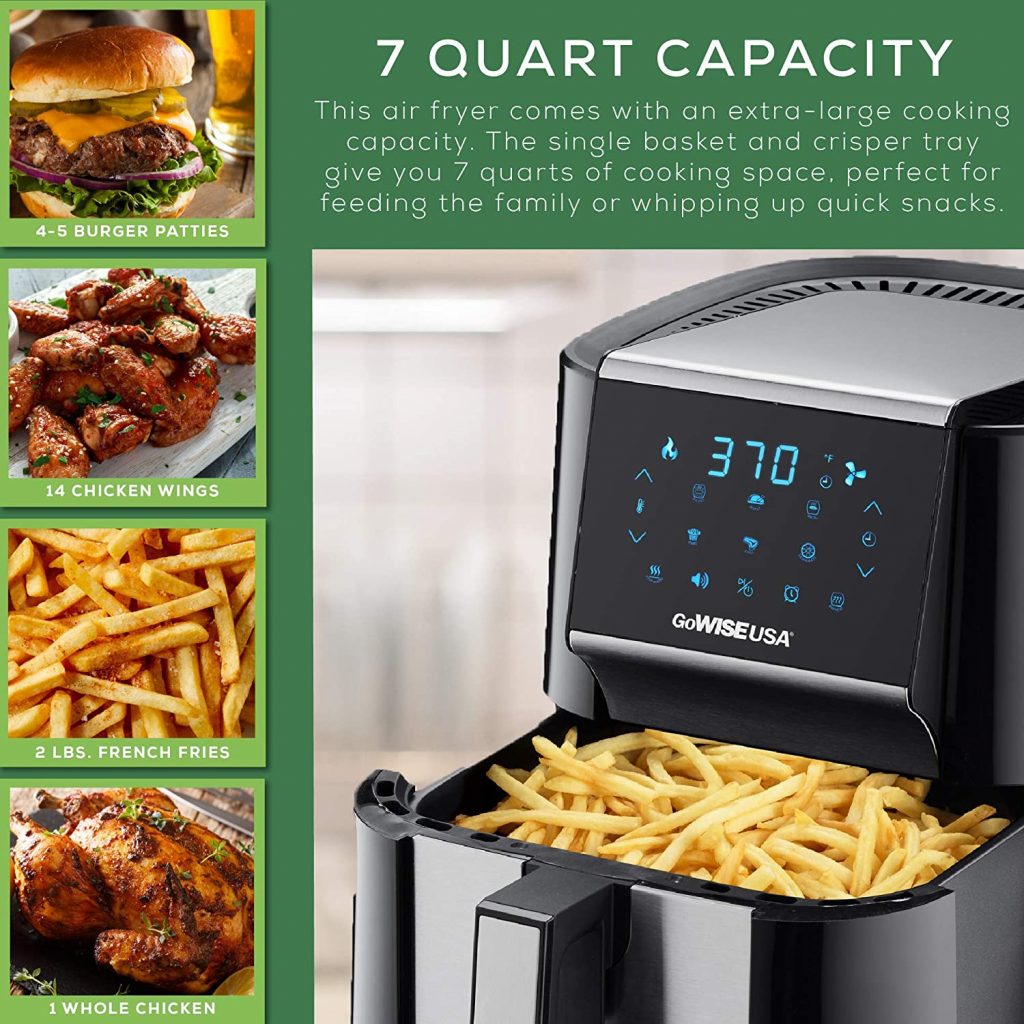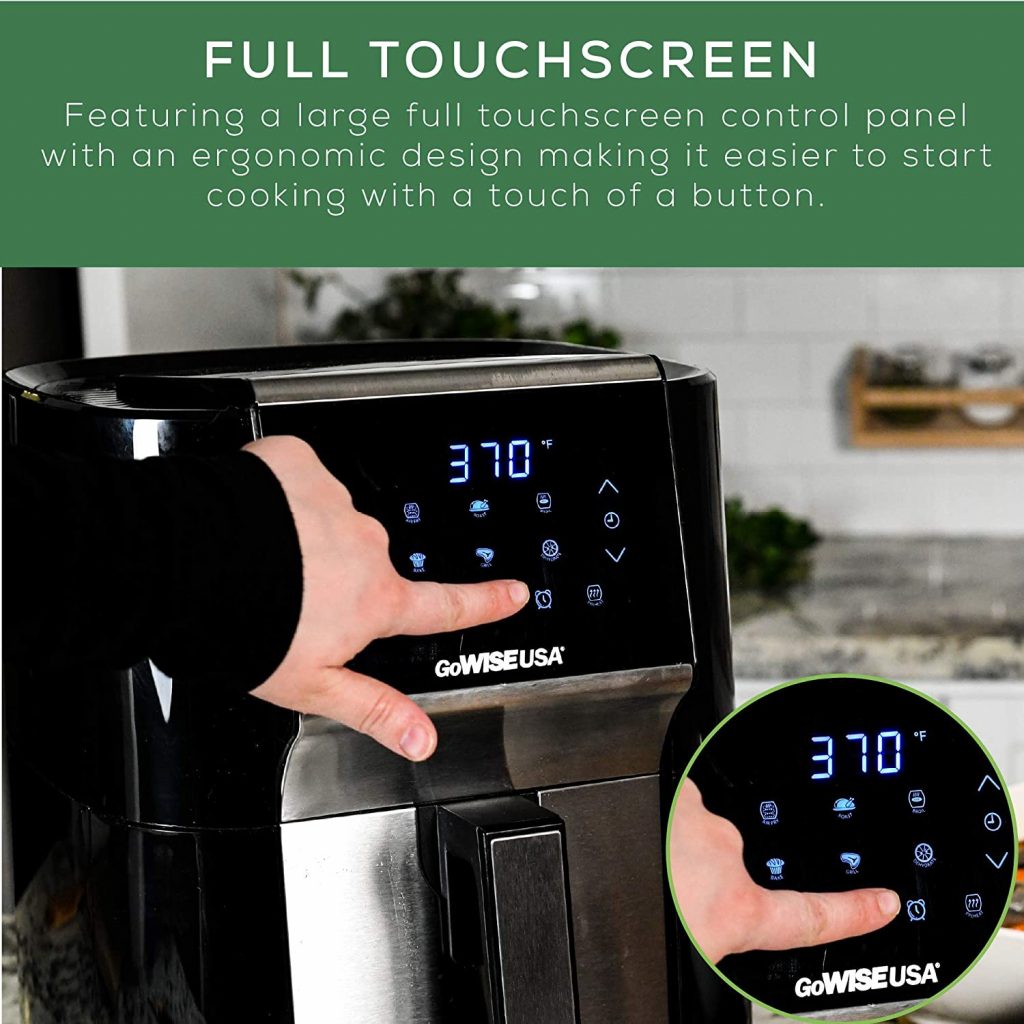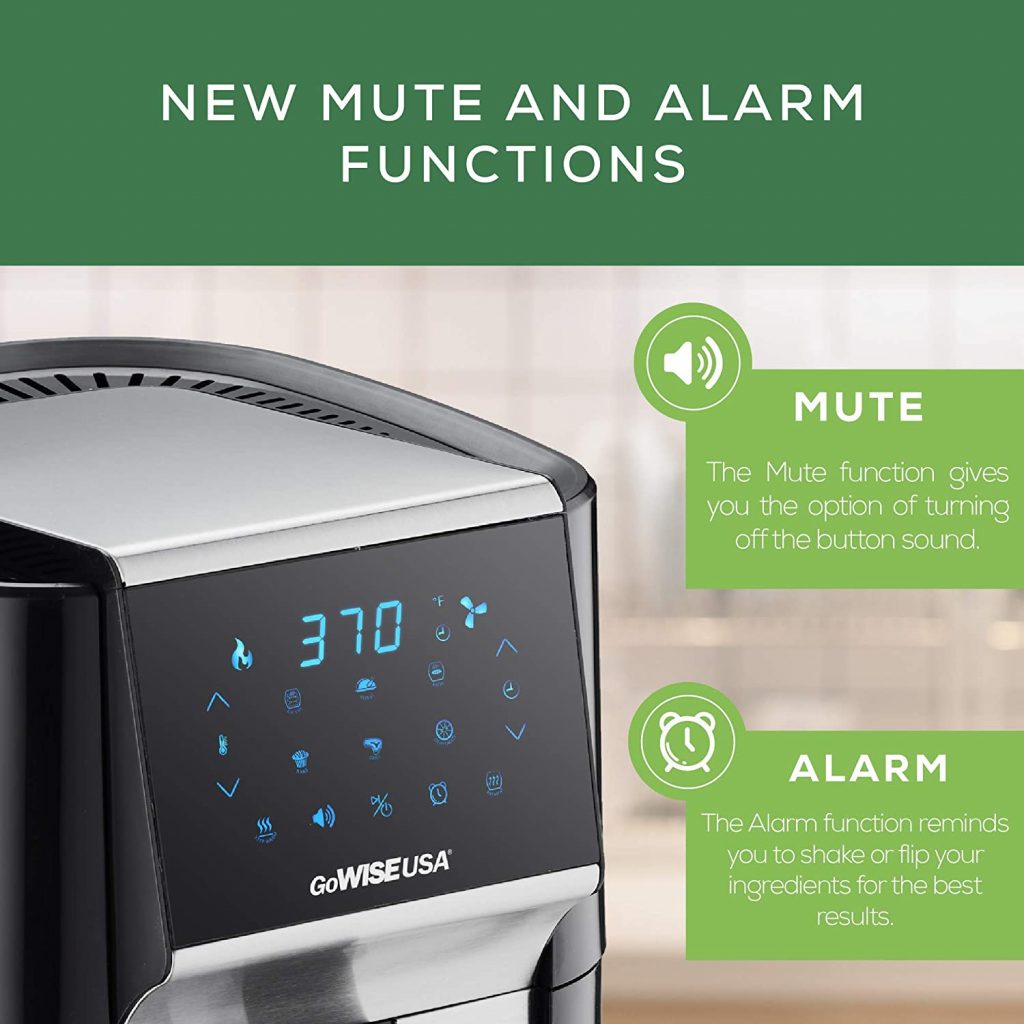 Larger cooking capacity perfect for large families
Ability to prepare a meal faster
Very easy to use and clean
Compact design
Includes a free recipe book with up to 100 fully tested recipes
Are you looking for a fryer that will perfectly serve your large family? You should consider the GoWISE USA 7 Quart Air Fryer. This easy-to-use air fryer promises to upgrade your cooking experience while upholding your healthy lifestyle. Even better, the fryer comes with a 30-day money-back guarantee that allows you the opportunity to test the performance.