There are so many delicious foods out there, but these fried foods are the most flavorful.
The French fries, brownies, crisps, and so on.
The problem is you end up consuming too much unsaturated fats and oils, which is bad for your health in the long run.
But what if you could enjoy crispy foods that taste deep-fried without actually deep frying? This is exactly what an air fryer is all about. Instead of using a traditional deep fryer, an air fryer uses hot air to get the same taste but with less to no oil.
The GoWise electric air fryer is one of the best 7-quart air fryers for family or a small house party. It has a larger basket to hold 2-pounds of fries, a whole chicken, or an 8-inch round cake.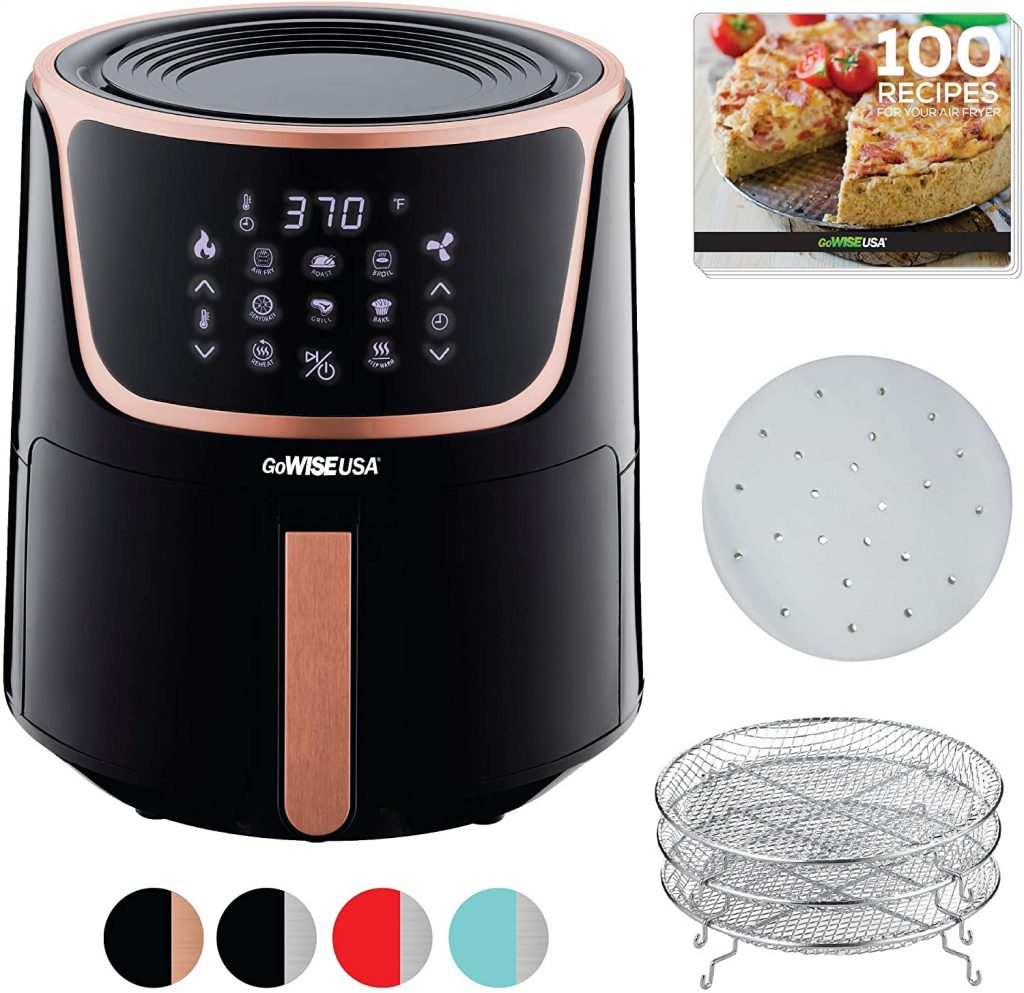 Is this an appliance you'd need? Read on to discover more GoWise 7-Quart Electric Air Fryer features.
Numerous functions
The GoWise Air fryer can perform several tasks such as roasting, broiling, baking, grilling, dehydrating, reheating, keep warm, and air frying. With these eight functions in one appliance, you will not only save on space, but it will also allow you to try countless recipes in your kitchen.
Faster cooking
Having an appliance that can save you a few minutes every day is a bonus in this ever-busy lifestyle. GoWise designed this appliance with an effective cooking mechanism that involves super-hot air to cook food faster.
Beyond the faster cooking, the appliance features a locking mechanism that ensures no moisture escapes to retain flavor and does not need oil. This means you get healthy and tasty food that's crispier with a golden brown finish.
Food Dehydrator function
The air fryer can be used as a food dehydrator tool, a unique feature that allows you to preserve food nutrients. This function works pretty well in saving food by removing any moisture through evaporation, which helps prevent mold, yeast, and bacteria.
The GoWise air fryer with dehydrator has an impressive temperature range of 900F to 1700F with a timer from 2 – 24 hours. From beef jerky to dried herbs, the dehydrate setting will ensure you get the crunchy taste you crave whenever you need it.
Easy operation
The machine comes with smart preset programs that regulate the temperature and time depending on the recipe. In addition to the preset options – air fryer, broil, bake, roast, grill, and keep warm, you can also use the control screen panel to adjust the temperature and time depending on your needs.
Easy cleanup
Overall, the appliance does not require regular cleaning because of the non-stick basket and racks. Besides, the parchment paper is a great addition to the air fryer, making cleaning much easier.
It cooks relatively fast
Features a sturdy build
Offers a large capacity
The control panel is easy to use
Has a relatively larger footprint
If you need a large air fryer for a large family, then this GoWise machine won't disappoint. However, it can take up large counter space, so you need to consider whether you have it. The good news is the numerous functions you get in one appliance to cook a variety of foods. You also get a recipe book to help you start off using the electric air fryer right away.
It's worth it.