You are a big fan of crispy food, but the problem is you dislike the unhealthy fats and oils in them. If this sounds like you, you may consider getting an air fryer for cooking meals without oils. These are healthier than fat fryers and offer quicker heating than traditional and convection ovens. If you do not have one and might be in the market for the best air fryer for a large family, this article is for you.
Both the experts and consumers prefer the GoWISE USA electric air fryer because it provides an extra-large cooking capacity that can accommodate an 8-inch round cake, 2-pound of fries, or 14 chicken wings. It provides three stackable racks that can cook enough servings for a whole family of five or six or whip up snacks for a small house party.
Besides space, there are a few more outstanding features of the GoWise 7-quart electric air fryer oven. Read on to find we picked this as your top choice and how it will improve your kitchen.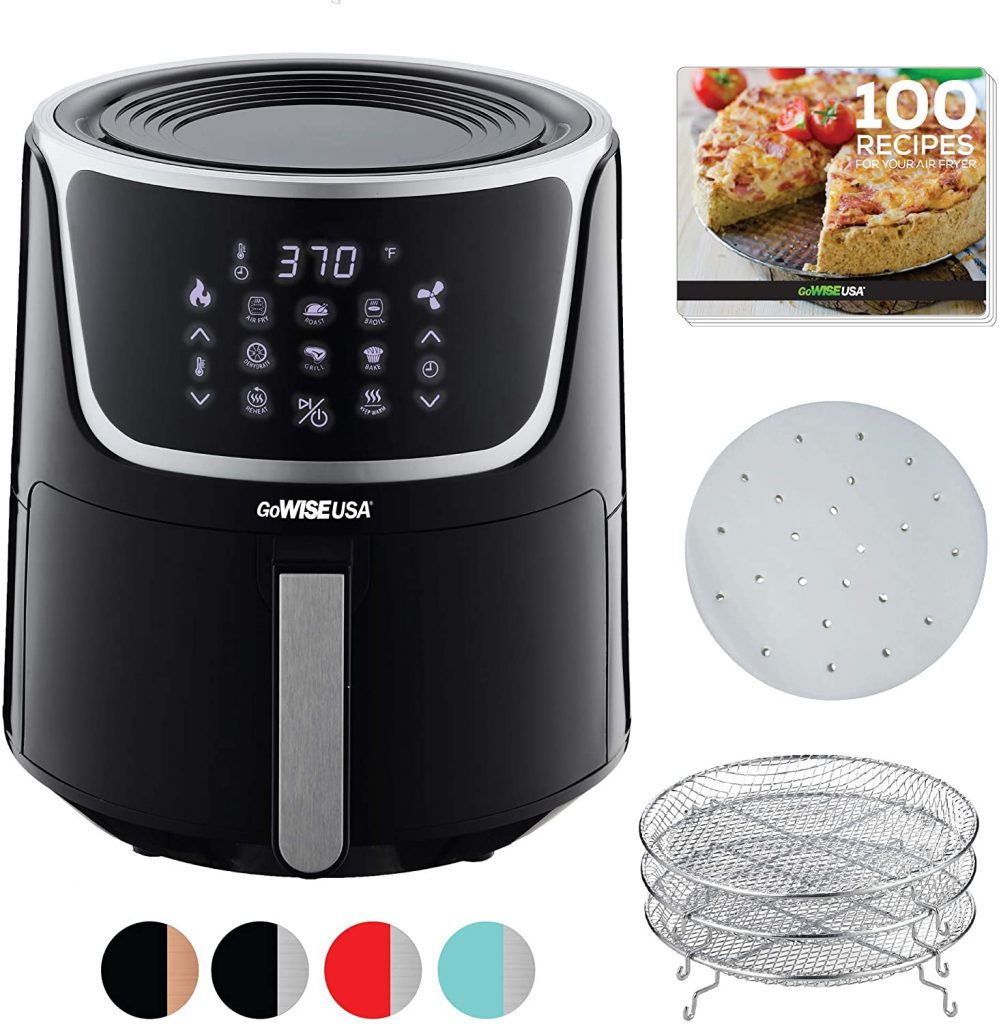 Highly versatile
The GoWise electric air fryer is extremely versatile and can perform a variety of tasks including frying, grilling, roasting, baking, and can prepare all your kinds of meats without oil and fat. Plus, the air fryer comes with eight cooking presets for your favorite meals like chips, fish, steak, chicken, meat, and so on. You can choose them or adjust the temperature and time manually using the digital control panel.
Easy to use
The smart preset programs make it easier to choose the temperature and time for those who are new to air frying. The programs include air fryer, boil, roast, bake, grill, and keep warm. For home cook enthusiasts, the LCD touch screen panel has plus or minus icons where you can adjust the temperature and time to your liking. The oven offers a high-temperature range of 1200F to 4300F.
Dehydrate function
You can also use this air fryer is a dehydrator tool to preserve the nutrients in food and extract moisture to eliminate the growth of bacteria and yeast. The dehydrate function works pretty well with a temperature range of 900F – 1700F and a time of 2 to 24 hours. This is useful for drying veggies, beef, fruits, nuts, herbs, and other products. Using the dehydrate function will ensure a crunchy taste in food.
Faster cooking
The GoWise USA 7-quart electric air fryer with a dehydrator uses a rapid air circulation technology that uses super-hot air to cook food faster and get even results. Besides faster cooking, another advantage of this appliance is the locking mechanism that ensures no moisture or nutrients are lost. This gives your fried food a delicious golden brown finish with minimal or no oil. You get a wide temperature range of 180 degrees to 400 degrees Fahrenheit. A great bonus with the GoWise USA air fryer is you can increase temperatures in 5-degree increments, which saves time.
It's built using sturdy materials
Easy to operate LCD control panel
Provides faster cooking
Offers a large capacity
It takes relatively more space
The large capacity of this air fryer makes it a top choice for large families. Be advised that the extra-large capacity means it has a relatively large footprint. Ensure that you have an open spot on your kitchen countertop. If you can overlook this, the GoWise 7-quart electric air fryer dehydrator will simply upgrade your kitchen experience. The package even comes with a comprehensive recipe book containing over 100 recipes to try out with this gadget.