What do Donuts, French fries, nuggets and onion rings have in common? They all taste best when they are fried. The good news is, you don't even have to visit the nearby restaurant to enjoy them. Thanks to convenient air fryers, you can prepare your favorite fried foods in minutes. Unlike deep fryers, air fryers allow you to enjoy fried foods without the unhealthy fats and oils.
The De'Longhi Rapid Crisp air fryer is one of the best air fryers in the market that has received positive reviews from customers. Its unique duo heat technology cooks food evenly and fast and gives the perfect crispiness to your food. Plus it's big enough to feed a family of four.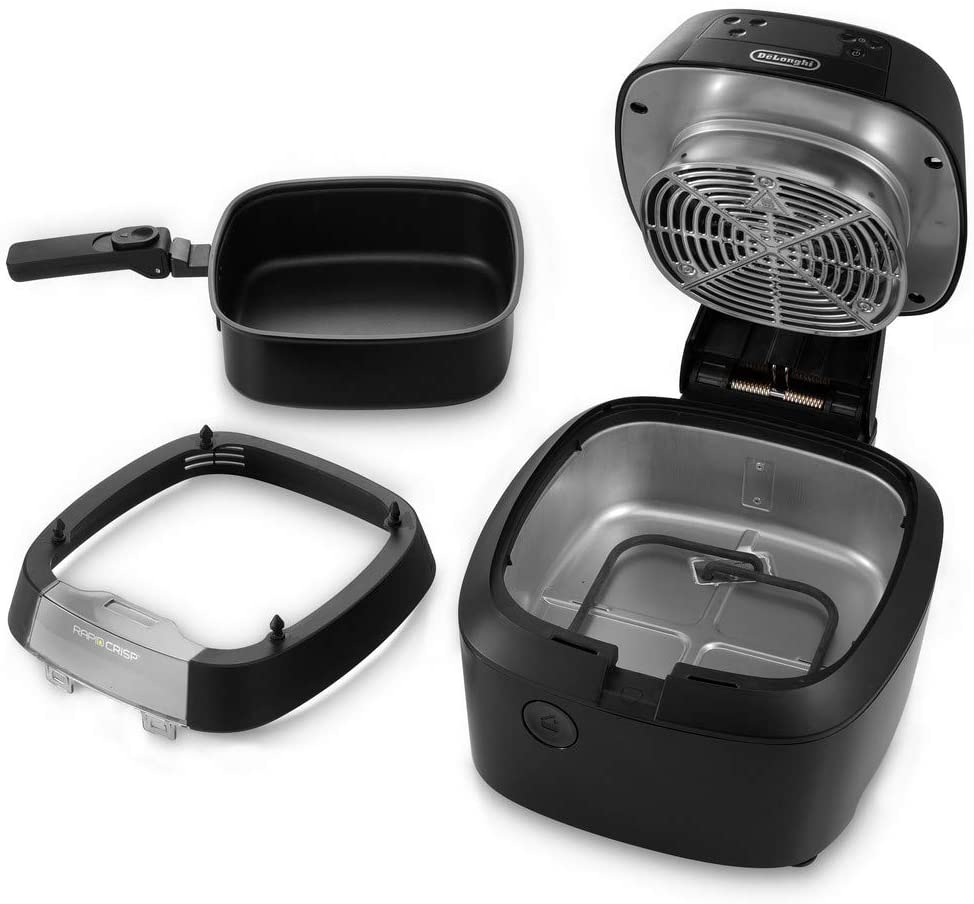 Read on this De'Longhi 4-quart air fryer review to learn more features.
Duo Heat Technology
The Duo Heat technology is one of De'Longhi's outstanding features that makes it so efficient in cooking various dishes. The technology utilizes two heating elements on top and bottom to provide both convection and radiant heat. As a result, the machine ensures your food is browned without added oils and cooks 20% faster than similar models.
Large 4-Quart Capacity
One thing to consider when buying an air fryer is whether it can hold enough food for your family. If you have a spouse and kids, the De'Longhi Rapid Crisp can keep up with the demand, featuring a large 4-quart capacity. The large basket can allow you to make large batches every time for up to 4 people. The machine can come handy if you have teenage kids who can eat just about anything.
Better visibility
There's no need to disturb the cooking process, thanks to a unique 3600 degrees visibility window that lets you keep an eye on what's cooking without opening the machine. In fact, most customers prefer to get this De'Longhi air fryer for this feature alone.
Easy Clean up
Cooking is enjoyable but who wants to clean all the time? Don't worry because this device will require less clean up. The model has a scratch-free coating that is not only durable but also very easy to clean.
Multiple preset options
The De'Longhi Rapid Crisp cooks a huge variety of foods from fish, meats, pies, pizza and cakes. Fortunately, it locks in the taste and texture so your food comes out delicious without appearing greasy.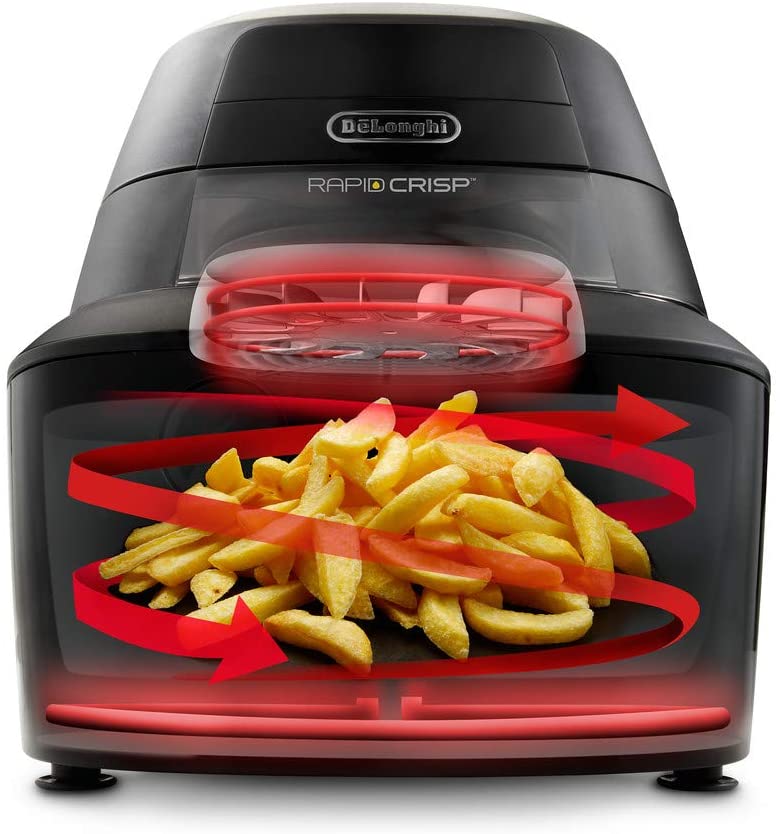 It provides faster cooking without excess fat
Comes with a unique viewing window for better visibility
It's easy to use and clean
Can cook a variety of dishes
The windows gets hot during cooking
Has only four preset temperatures that makes it hard to tweak the temperature for a recipe
DeLonghi is a reputable brand in Europe for producing beautiful and modern machines. This air fryer is suitable for large families, featuring a generous 4-quart capacity. Although it's a bit bigger, the size is perfect cooking a whole chicken, fries, wings, steaks and potato. It's also straightforward to clean and easy to use.