Cuisinart is a fan favorite when it comes to small kitchen appliances such as food processors, blenders, coffee makers and of course cookware sets. If you are looking for the best pots and pans, you might be wondering which one is best for you needs. The Cuisinart Smartnest Set is a high-quality set that does not discolor, alter flavor or react with food.
It's built to last for many years, featuring a high-grade stainless-steel construction with riveted handles for durability. The first thing you will notice about the test is a functional design with a classy appearance that goes well with any kitchen.
This set includes the following pieces:
5-quart saucepan with lid
3-quart saucepan with lid
5-quart sauté pan with lid
6-quart stockpot with lid
8" skillet
10-inch skillet
Lid organizer rack

Read on this Cuisinart N91-11 Smartnest Set review to learn more of its features and decide whether it's the right set for you.
Side nesting tabs
The set features an advanced cookware system that minimizes the space needed to access the store pots and pans. The cookware can effortlessly nest together with secure tabs to keep your cabinet organized.
Lasts a lifetime
Cuisinart designed this set to last for a lifetime by using a stainless-steel construction that's indestructible. Furthermore, the ergonomic handles have been rivetted to add strength and make them durable. The manufacturer also provides a limited lifetime warranty which is huge.
Tempered glass lids
Glass lids have many advantages, but may seem delicate. Fortunately, this set comes with tempered glass lids that have a stainless-steel frame to make them more durable. Besides, a glass lid allows you to check the progress of the food without opening the pot or pan. The lids are designed to fit tight to lock in heat and moisture for maximum flavor extraction.
Compatible with any cooktop
Another benefit of this set is that it can be used on any cooktop including induction stoves. The pans heat up lightning-fast and can retain heat well which is great for sauteing and searing. Besides, the pans are oven-safe up to 5000F while the glass lids can be used on temperatures of up to 3500F. The set is also dishwasher-safe allowing you to pop them into a dishwasher for simple cleanup.
Measuring marks
A handy feature of this set is the measurement marks on pots that takes away estimation. Cuisinart includes a measuring scale on the interior side of the pots in both cups and liters. This allows you to easily follow any recipe.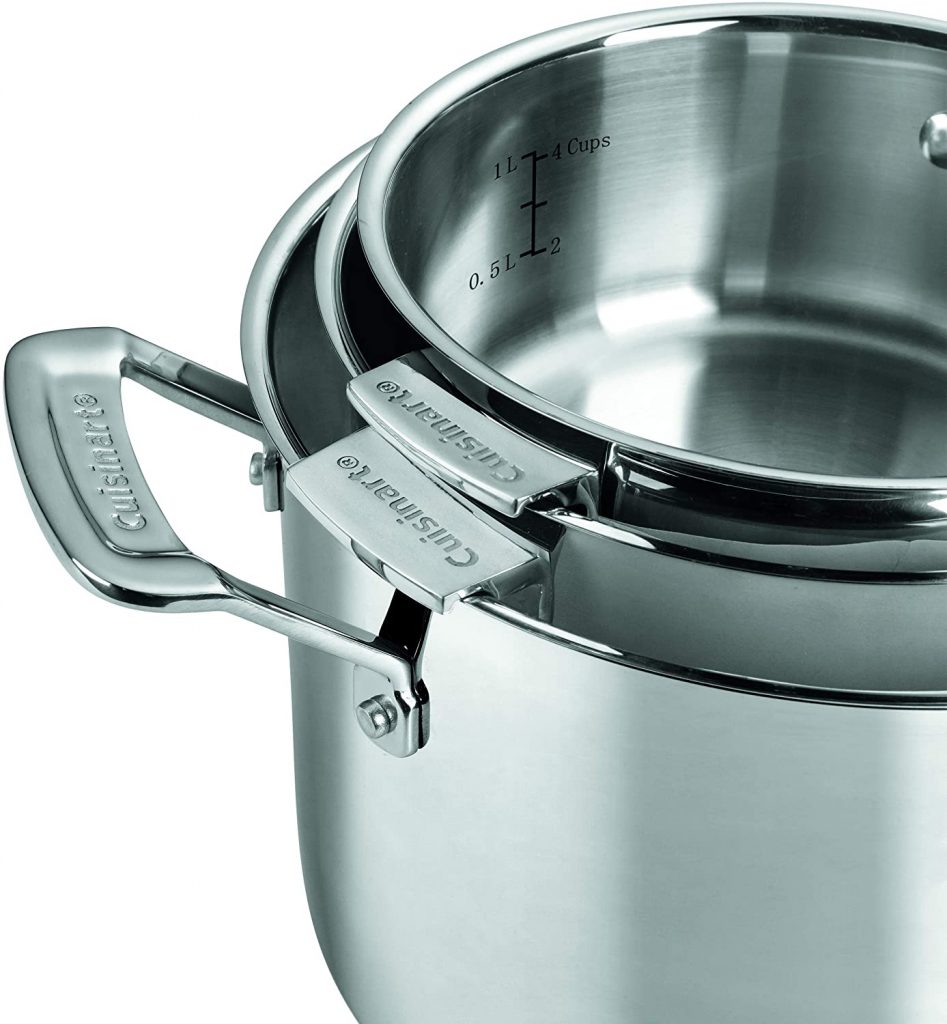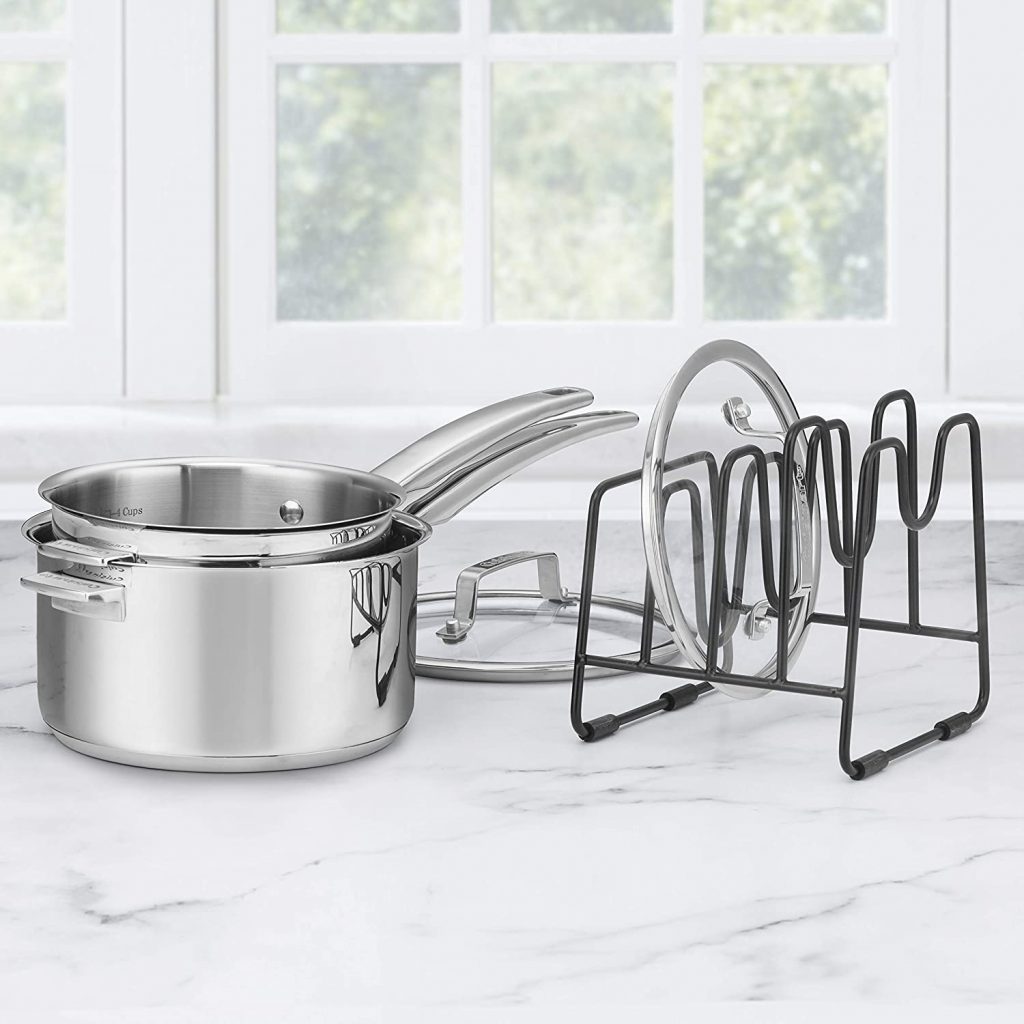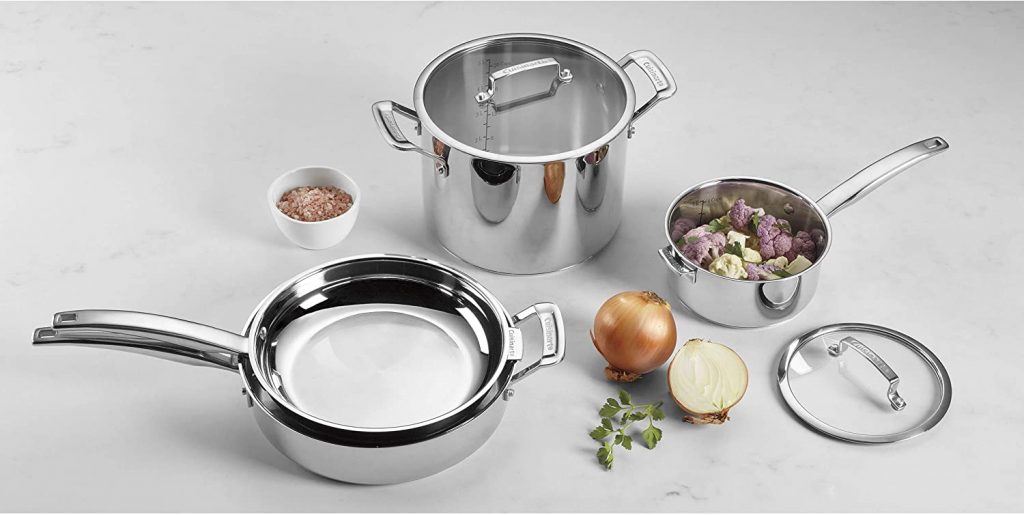 It's highly durable
Comes with nesting tabs for easy storage
Tempered glass lids lock in all the moisture
Comes with a lid organizer to store lids
It's dishwasher-safe
While this set is not the least expensive, it does provide many pieces and the superior build will stand the test of time. Most users love this set, saying how well-made it is as well as the stackability.
The nesting tabs are a cool addition for people with limited kitchen space. Also, you can easily cook food with precision, thanks to the measuring marks on the inside of pots. It's a great set for a small to medium family.