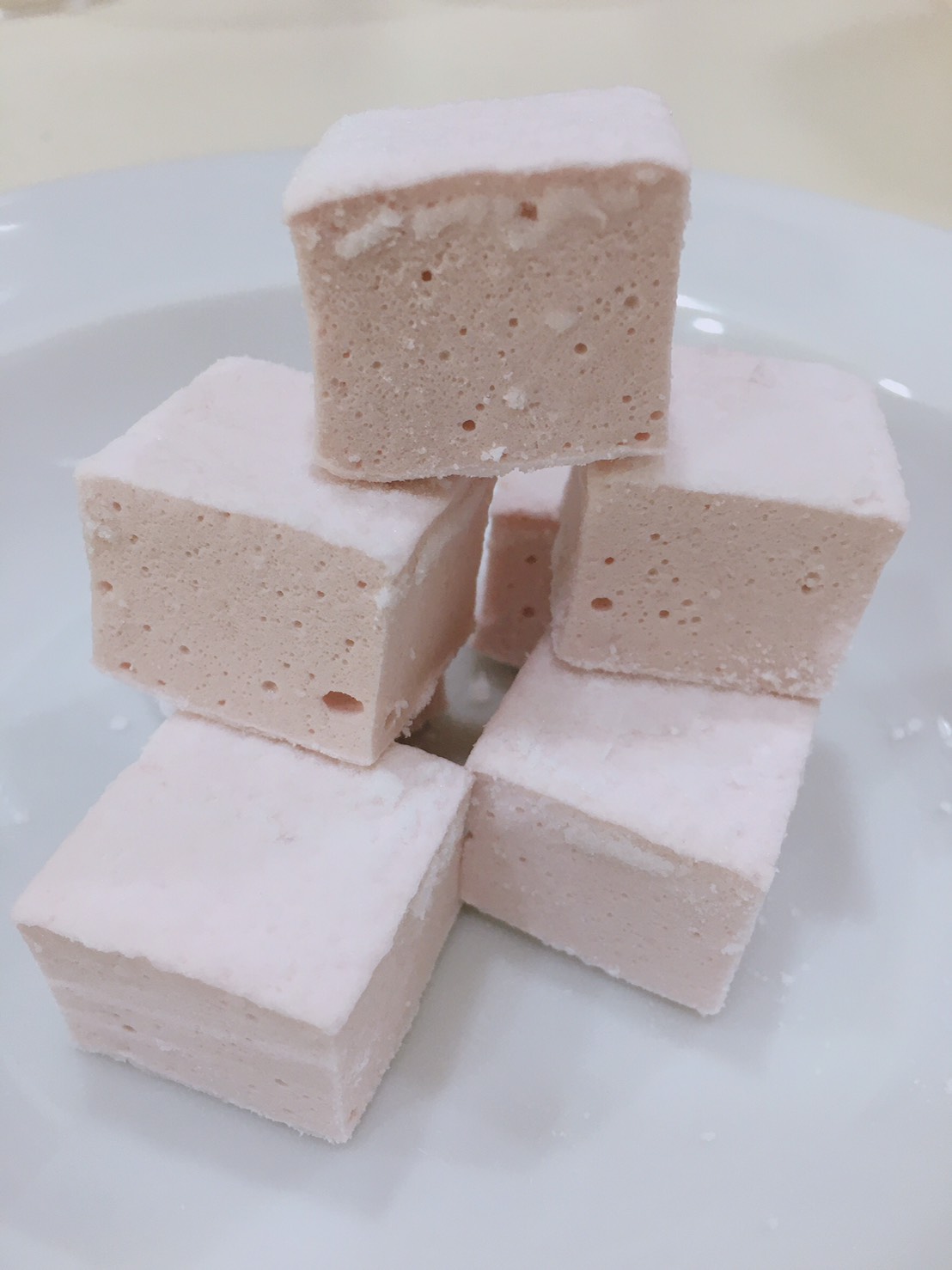 Cranberry Marshmallow
Marshmallow is one of the popular desserts with kids. These are soft, fluffy, springy and so easy to make. We can make various marshmallows with a different juice. Now we are going to make cranberry marshmallow. Let's do it.
Ingredients
180

c.c.

cranberry juice

100

g

castor sugar

2

leaf

gelatin

1

tablespoon

lemon juice

25

g

cornflour

25

g

icing sugar
Instructions
Soak gelatin in cold water for 5~6 minutes. Once soft, lift from the cold water.

Add cranberry juice, lemon juice and castor sugar in another bowl. Heat the sugar syrup until reach 240°F (115°C), then remove from the heat.

Pour the sugar syrup into the softened gelatin. Whisk the sugar syrup gently to let the gelatin dissolve evenly.

Beat the syrup mixture with a hand blender on low speed for 1 minute. Then turn the speed to high to mix for 5~7 minutes until smooth. (You can see the base start to pull away from the sides as thick strings.)

Combine cornflour and icing sugar. Mix well and shift on the prepared container (or pan). Pour the marshmallow mixture into the container and shift the cornflour mixture again on the marshmallow mixture surface. Allow to set in the fridge for about 1~2 hours.

Cut the marshmallows into individual portions with an oiled knife and dust with cornflour mixture.

Serve the cranberry marshmallows. Finish and enjoy
Notes
You can use any kind of juice you like.
This recipe only can be made with gelatin. Agar doesn't suit this recipe.
Store the marshmallows in an airtight container. Normally you don't need to store it in the fridge. But if your country has a warm and wet climate, I suggest storing it in the fridge. 
Tools & equipment you may need