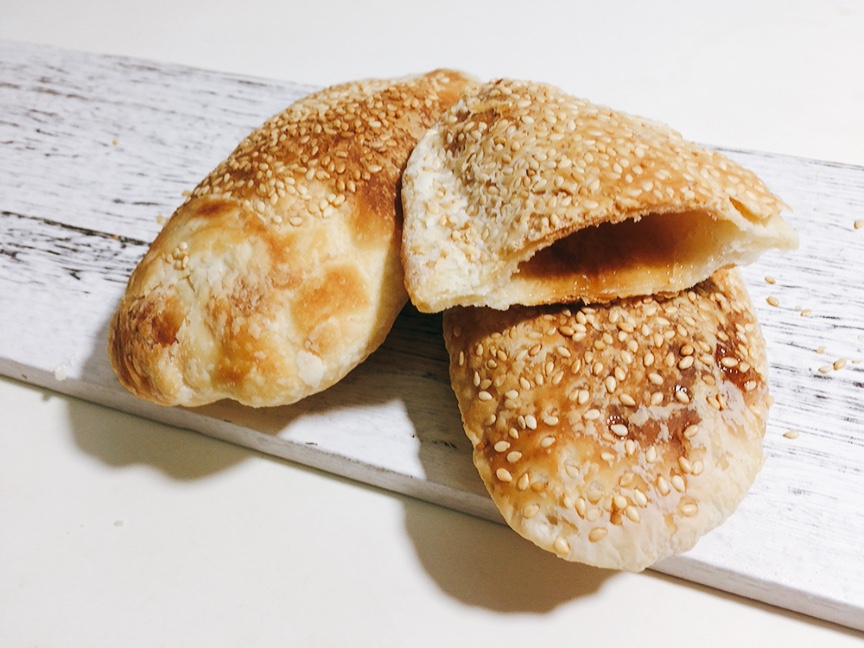 Sweet Clay Oven Rolls / Sweet Sesame Flat Bread
Clay oven roll is one of the traditional foods in Taiwan. It is a variety of baked flat and crispy bread with sesame on the top, often served with fried breadsticks or egg inside as breakfast. Some people like the sweet flavor one has a thin crispy layer and slight sweetness center. It's also popular because of the aroma of freshly baked bread and crisp texture. Everyone should try this tasty recipe.
Ingredients
Dough
470

g

all-purpose flour

(Plain flour)

3

g

salt

100

ml

hot water

(90°C / 195°F)

200

ml

water

20

ml

vegetable oil
Pastry dough
160

g

all-purpose flour

(Plain flour)

80

ml

vegetable oil
Other
A little sesame seeds

Sugar
Instructions
To make the dough. Add all-purpose flour, salt, and hot water in a mixing bowl. Roughly stir the flour quickly with chopsticks.

Add water and oil to the mixing bowl and stir by hand until the mixture forms a dough. Cover the surface with cling wrap and rest the dough for 30 minutes.

While waiting time, we can make pastry dough. Add vegetable oil to a nonstick frying pan on medium heat. Add all-purpose flour and mix until combined. Place aside.

After the dough rests for 30 minutes, divide the dough into small pieces (about 35 g) and cut pastry dough into equal parts (about 7 g). Knead the dough into a small circle, place a pastry dough filling in the middle, and wrap the dough around the filling. Repeat the same with the rest of the dough and pastry dough.

Flatten the pastry dough and roll it up. Flatten and roll up again. Repeat these two steps for each small dough.

Preheat the oven to 250°C/480°F.

Roll the dough into a small circle. Place one teaspoon of sugar filling in the center of a piece of dough. Fold in the edges to cover the filling and dip the top into sesame seeds.

Use a rolling pin to plate the sesame dough into half-inch thick and place on the baking sheet. (Sesame face up).

Bake for 12 minutes in the preheated oven.

Serve the Sweet Clay Oven Rolls. Finish and enjoy
Notes
Generally, you don't need to keep it in the fridge. But if your country has a warm and wet climate, I suggest storing it in the fridge and toasting it before you eat.
Tools & equipment you may need