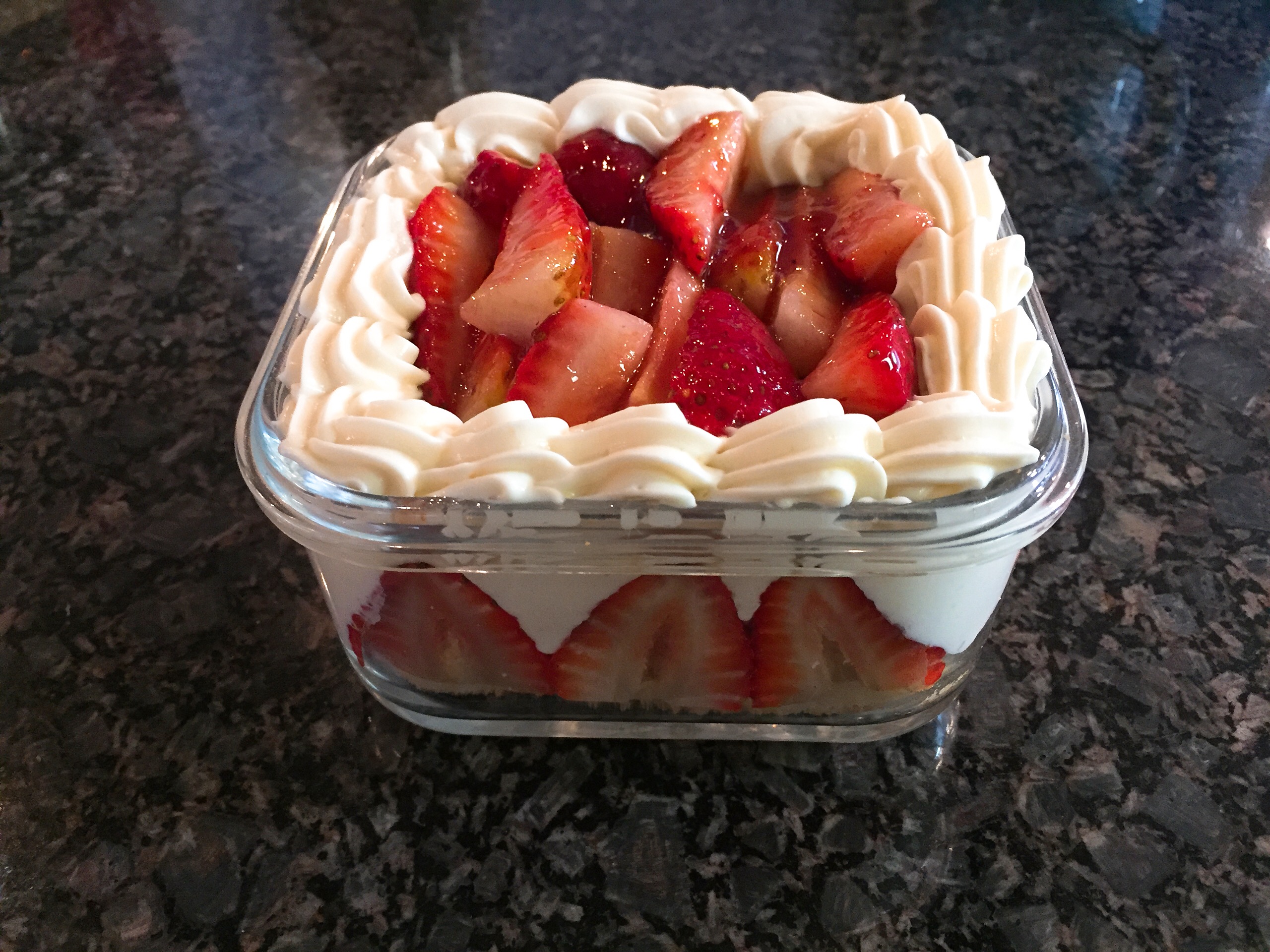 Strawberry Shortcake
Ingredients
Custard Sauce
180

g

milk

40

g

egg yolks

35

g

sugar

12

g

cake flour

(Low protein flour)

5

g

corn flour

1

tsp

vanilla extract

3

g

gelatine
Mascapone cream sauce
30

g

mascapone

100

g

cream

10

g

icing sugar
Chiffon Cake
2

eggs

30

g

canola oil

30

g

sugar

45

g

milk

40

g

cake flour

(Low protein flour)
Strawberry Sauce
50

g

strawberry jam

25

g

water

2

g

gelatine
Others
500

g

Strawberries

(1.6 lbs)
Instructions
Custard sauce
Soften the gelatin in a little bit of water.

Pour the milk into a pan and heat the milk begins to scald, remove from heat.

Take a large bowl and mix together the egg yolks, bread flour, corn flour, and the sugar. Slowly add warm milk, whisking as pour, until added all the milk.

Sift the mixture and transfer into a pan or pot. Stir with low heat and whisk constantly, then add the gelatin. Once the mixture begins to thicken, remove from heat and refrigerate it until you need to use.

Now, let's do mascarpone sauce, carefully beat together the sugar, mascarpone, and cream just until blended. Then refrigerate it.

Beat the mascarpone sauce at medium speed with an electric mixer until stiff peaks form, and whisk the custard mixture until soft. Then mix the mascarpone sauce and custard mixture together.
Chiffon cake
Preheat the oven to 340°F (170°C).

Add the milk and the oil to melt together (on low heat), then sift the cake flour, add the flour and the egg yolks into the milk mixture beat together until smooth, and place aside.

Beat the egg whites with a whisk in a bowl until frothy, and add the sugar on low speed until sugar is completely mixed and shiny.

Take 1/3 of the egg whites mixture and fold it into the batter, then repeat with the remaining egg whites mixture until the batter is smoothly combined.

Line the bottom and slide with parchment paper in the prepared baking tray, then pour the batter into the tray and tap the tray to release air bubbles.

Bake in the preheated oven 340°F (170°C) for 10~12 mins, remove from oven and take out from the tray. Then peel the paper around sides and the bottom paper carefully, and place aside.
Strawberry sauce
Add the strawberry jam, the sugar, and water to a saucepan. Cook over medium heat until it begins to boil, add the gelatine, stirring occasionally. Allow the sauce to boil, then remove from heat and place aside to cool.
Strawberry shortcake
After everything has cooled, layer everything in the trifle bowl, add a layer of cake on the bottom, then about half of the chopped strawberries, about half of the strawberry sauce, then about half of the custard sauce.

Add a second layer of cake, strawberries and strawberry sauce, then pipe the remaining custard sauce on top in swirls. Add a few additional strawberries on top as decoration.

Finish and enjoy your time.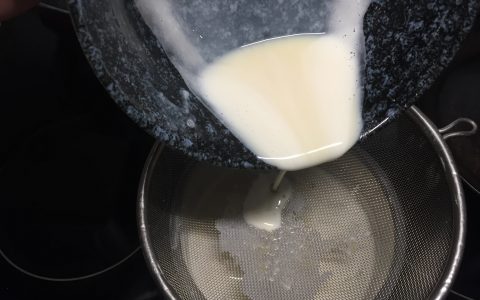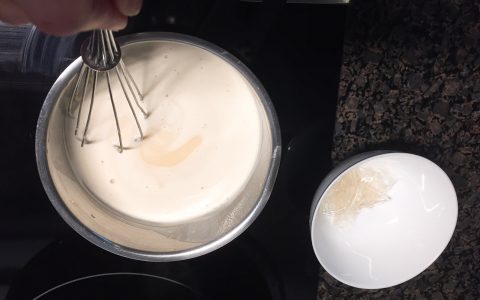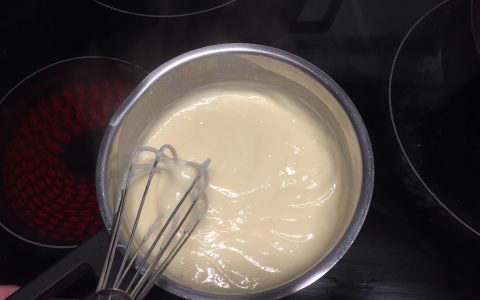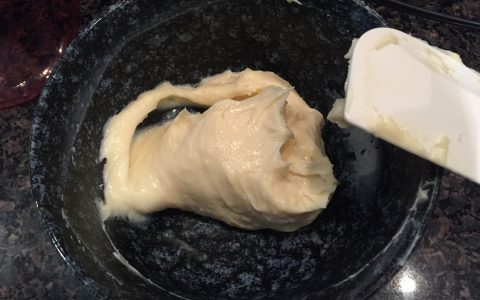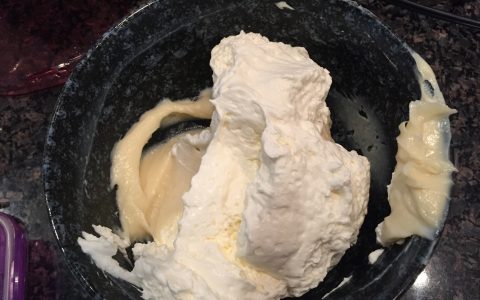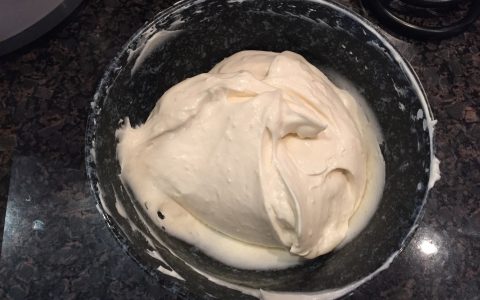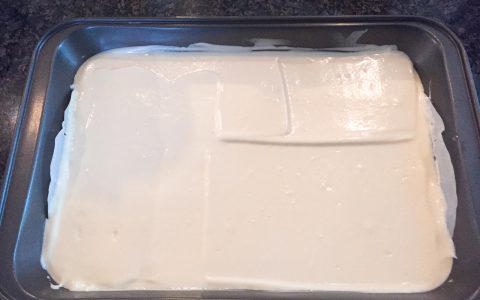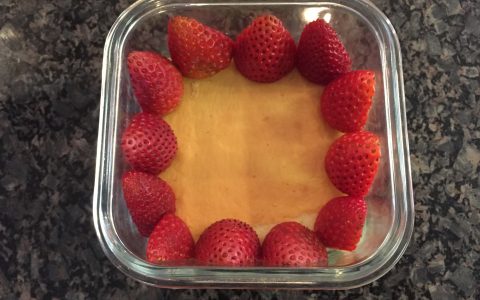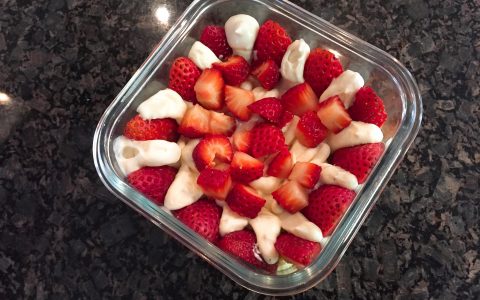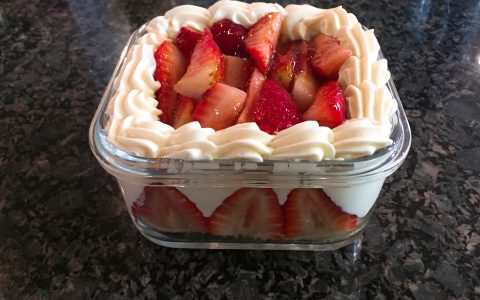 Tools & equipment you may need