A cookware set will equip you with all kinds of cooking, from delicate foods like pancakes and eggs to searing meats. The Le Creuset cookware set is made with an aluminum core and a double stainless steel layer for durability. The pieces are induction safe and can be popped into a dishwasher for easy cleanup. But it's the convenient handles that make the set comfortable to use and carry from the cooker to the counter.
We have looked into this 6-piece cookware set that's ideal for individuals and young couples. Read on to learn why it has a 5-star review rating and whether it's suitable for you. The manufacturer offers a massive discount on the set as well, so it's worth considering.
This set contains:
8" Fry Pan
10" Fry Pan
25 qt. Saute Pan with Lid
3 qt. Saucepan with Lid
Triple Reinforced Surface
The core of the Le Creuset pan is constructed using encapsulated aluminum and combined with stainless steel, which makes it durable. Also, many users love this set because it's well-made using a 4x stronger triple-reinforced coating that releases all food residue and won't warp.
Le Creuset says the material has been reinforced three times to prevent peeling and rusting. However, the manufacturer still recommends wood-based spoons to stir food when using the set to prolong the lifespan of the coating. Avoid using metal instruments on these pans.
Textured interior
The textured interior ensures your steak gets the delicious browning and searing with less or no oil so that your food comes out perfect. The interior is also non-stick, so food comes out easily, and cleaning is not needed every time.
Stay-cool handles
Like with all other sets from Le Creuset, the handles of the PRO set are ergonomic, allowing for easy and quick movement. Interestingly, the handles are empty inside, meaning they stay cool during cooking. The handle is riveted to the pan to make it solid and safe to carry pots full of food.
Compatible with all cooktops
Le Creuset designed this set induction ready by designing the base with magnetic stainless steel to distribute heat evenly regardless of the stovetop. Besides, there's an aluminum core that extends to the sides of the pan to provide a tough base that's induction compatible. Apart from the impressive compatibility, the set is oven-safe up to 5000F, but the tempered glass lids should not exceed 4250F.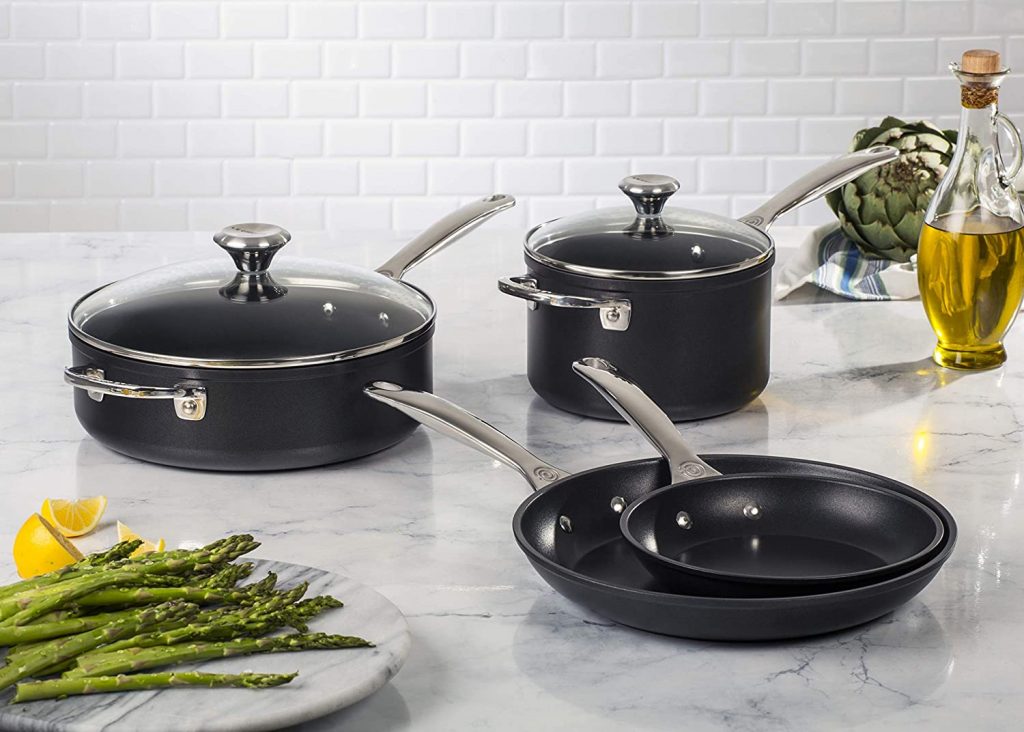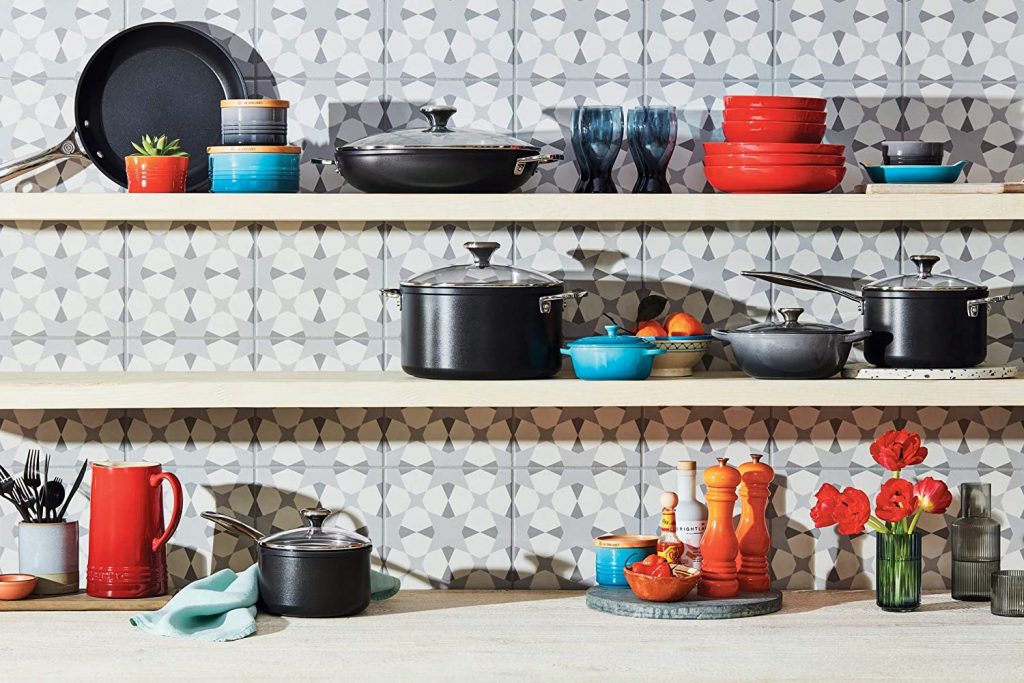 The set is well-built using aluminum and toughened non-stick coating
The base is tough and magnetic to make it induction compatible
The stainless steel handles stay cool when cooking
It's easy to clean because it's non-stick and dishwasher-safe
Its long handles make it awkward to store
If there's a name you can trust in the cookware industry, it's none other than Le Creuset. The toughened non-stick set is built to last and can be used on any stovetop, including induction. The price is high, but the quality of the time is up there if you have the funds. Honestly, if you have been looking for a high-quality set to diversify your cooking, we recommend the Le Creuset 6-Piece Pro Set.