The concept of pressure cooking has been around for many years. But electric pressure cookers took the internet and the cooking world by storm. A modern Electric pressure cooker or more efficiently referred to as an electric multicooker has surpassed the traditional pressure cookers because it can perform a variety of cooking functions. From pressure cooking, slow cooking, air frying, sauté, steam, an electric pressure cooker gets the food ready quickly and without a hassle.
Instant Pot, one of the most popular manufacturers of modern electric pressure cookers, is best known for its consistency in delivering value and performance. If you are looking for a multipurpose electric cooker that guarantees to deliver precisely what it promises? You should check out the Instant Pot 6qt Pro 10-in-1 Electric Pressure Cooker by Instant Pot.
Besides speedy cooking, this pressure cooker has a capacity that can comfortably prepare meals for a medium-sized family of up to six members without a fuss. Moreover, it offers outstanding performance at a pocket-friendly price and features a tried-and-true design that is easy to use.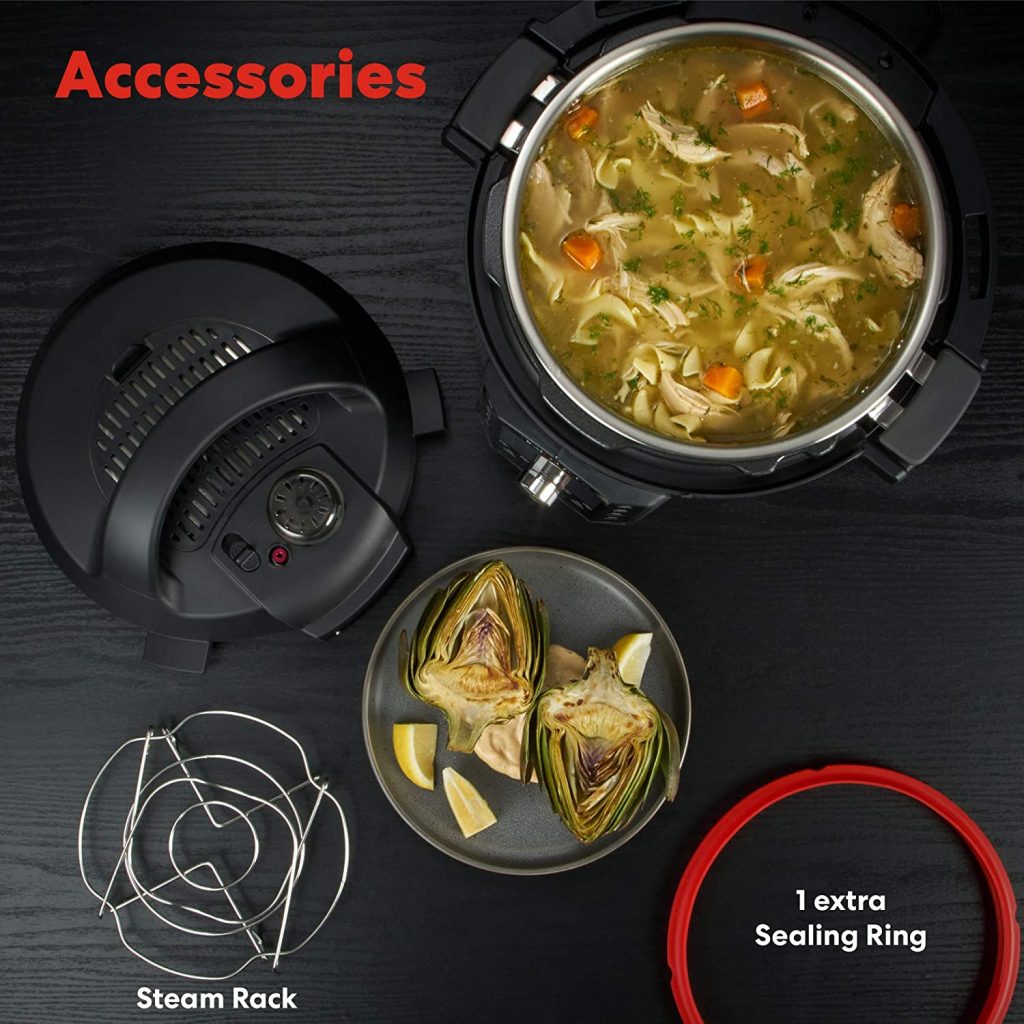 Read on to find out why this should be your prime choice for your culinary needs
Highly Versatile
This pressure cooker boasts of performing up to 10 cooking functions that would have instead required ten different cooking appliances. It can act as a slow cooker, pressure cooker, rice or porridge cooker, baker, warmer, cake maker, steamer, sterilizer, and searing/sauté. From stews and braises to soups, this cooker allows you to prepare various dishes in just a matter of minutes.
Easy to use programmable settings
These controls and straightforward to use even for a beginner. All you need to do select the clearly labeled buttons for your choice's cooking function press the start knob and the cancel button when done. This allows you to navigate through a wide range of settings available with ease.
Capacity
With a six-portion capacity, this cooker can easily hold and cook enough food to feed a medium-sized family of up to 6 members of a small in-house party in a short time. Even for a single-person meal, this cooker will comfortably serve your cooking needs without compromising your food's taste and texture.
More than 11 safety features
Electric cookers can be quite dangerous. But with this multipurpose cooker, you can have peace of mind. The 11 ETL certified safety features allow for safer handling. These features include altitude adjustment, a new steam release button, and a cooking indicator. More features include the innovative auto sealing lid, overheat protection, and gentle steam release with 5 to 10 minutes of reminder to reduce noise and splash on the countertop.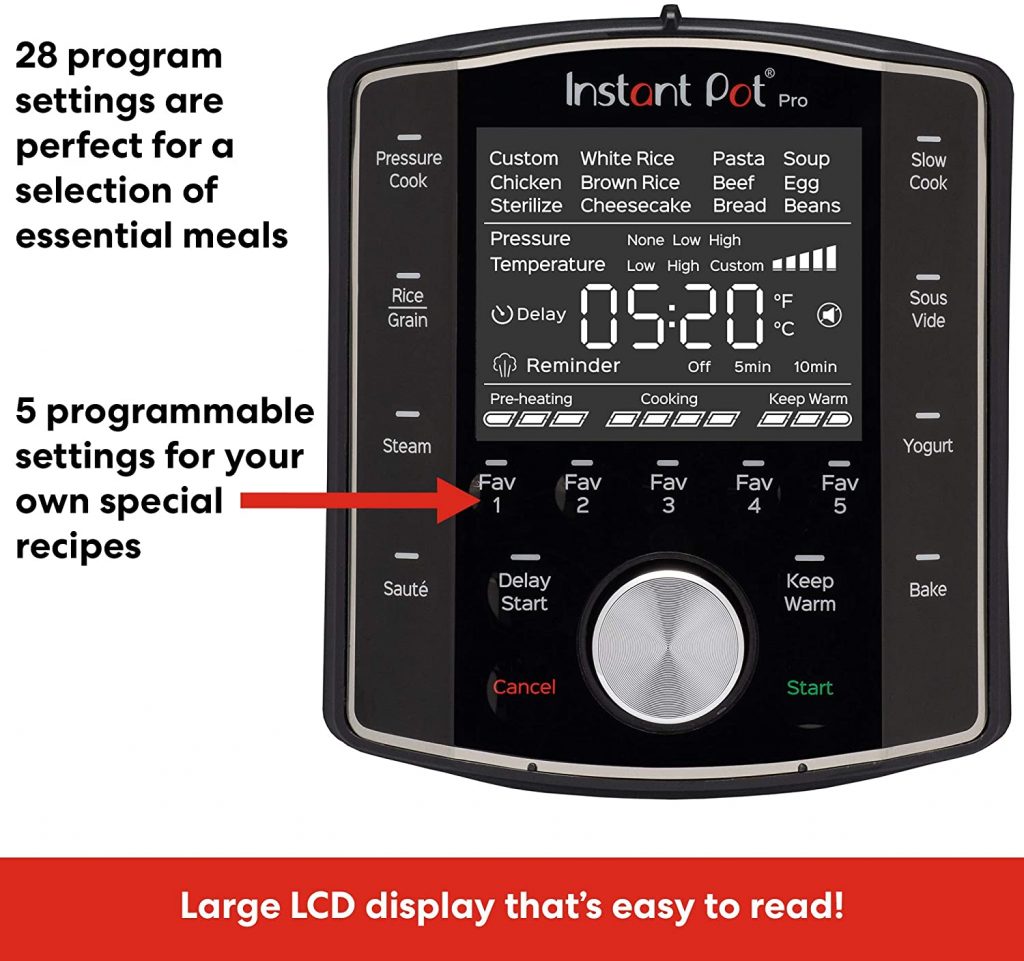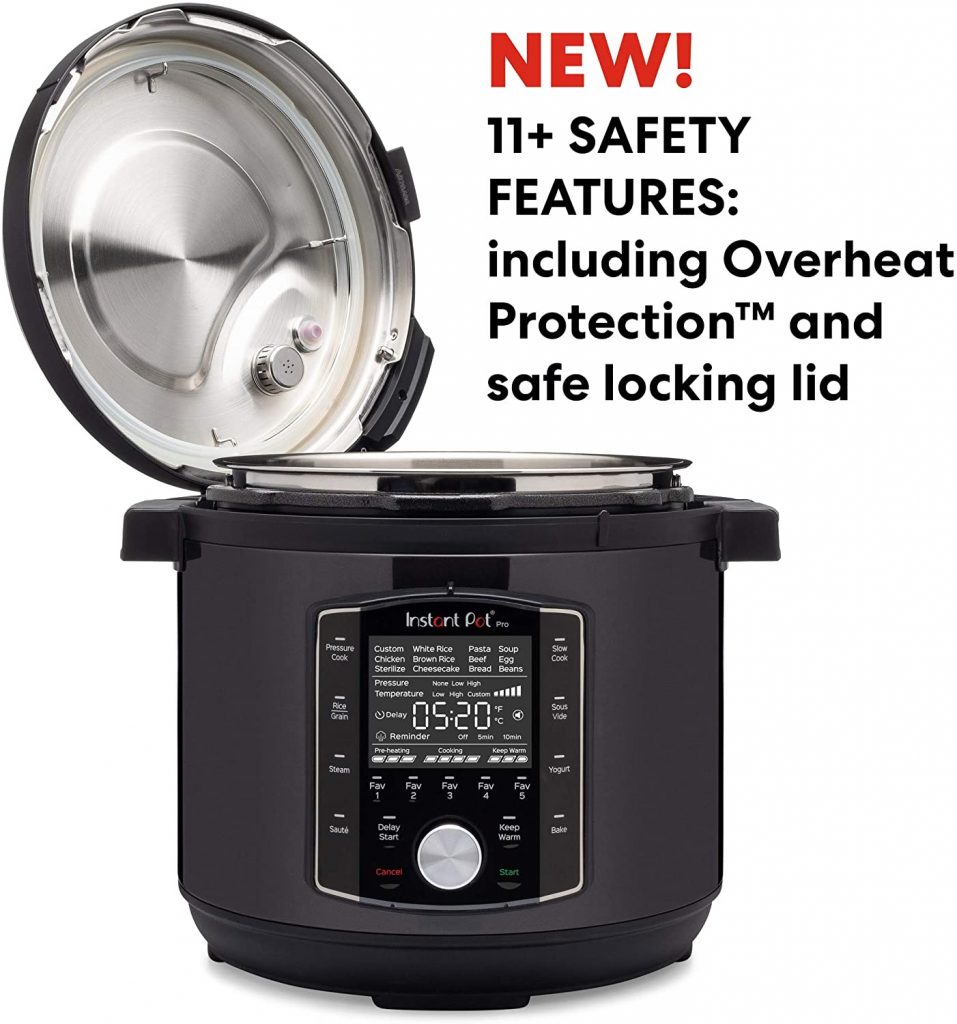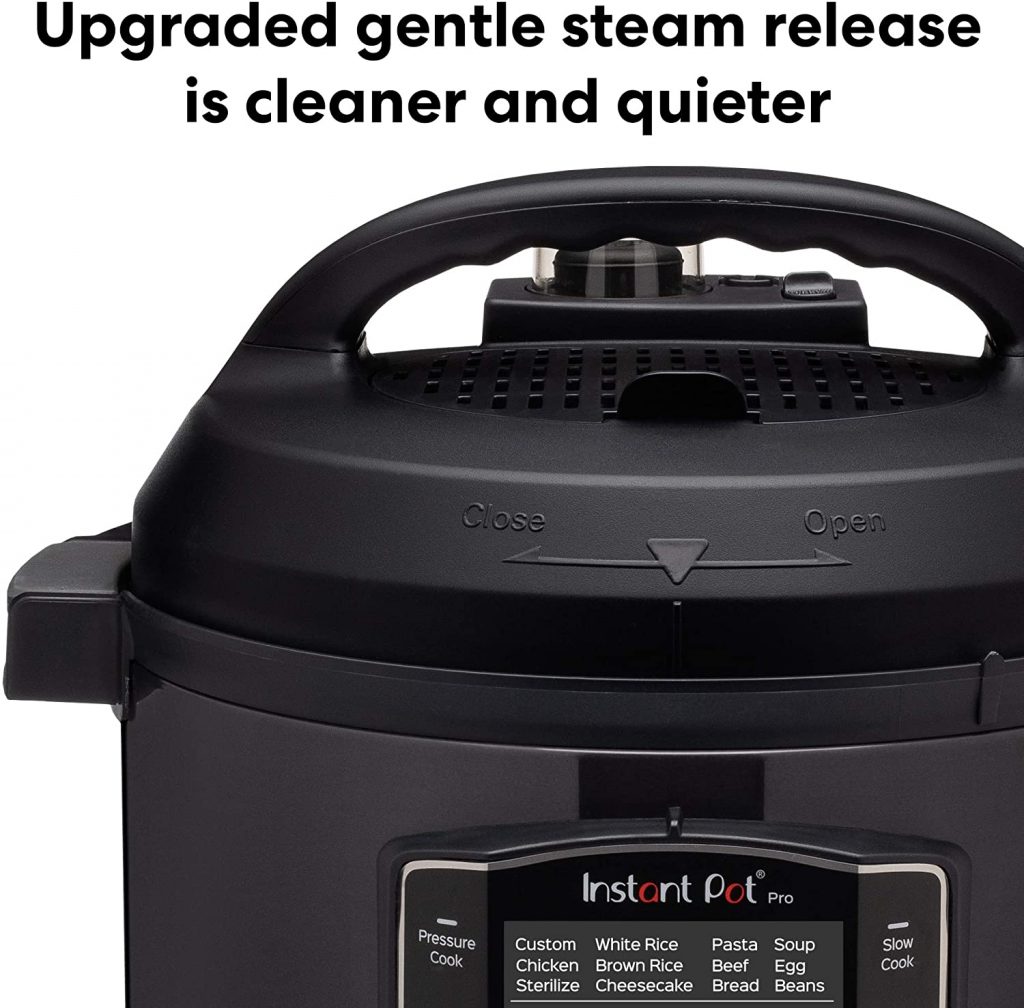 Easy to use the touchscreen
Easy to clean
Wide range of cooking functions
It comes with a free recipe booklet
Larger in size, thus needs more storage space
You will fall right in love with the Instant Pot 6qt Pro 10-in-1 Electric Pressure Cooker once you lay your hands on it. From the user interface, the wide-ranging safety features, up to 11 cooking functions, this electric pressure cooker serves to satisfy all your cooking fantasies. I would genuinely recommend one to get this cooker for a customizable and stimulating cooking experience.