If you are a passionate cook and like making sandwiches, then the Breville BGR700BSS might be the best sandwich maker grill for you. It's sizeable for families and can cook multiple dishes, especially steak dishes.
When you own this stainless steel indoor electric grill, you can cook your meats on the non-stick surface, and you won't have to worry about cleaning it too much afterward. The only deal-breaker is that it's on the bulky side, so you should find an open spot in your kitchen where you can place it.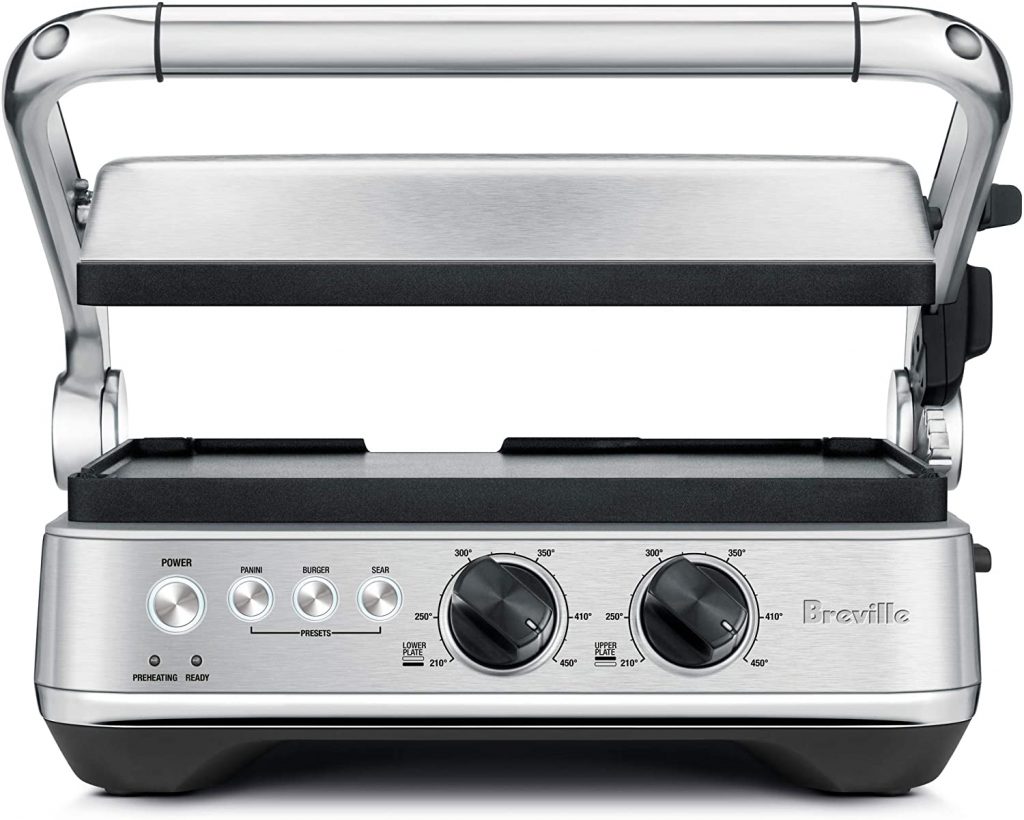 Keep reading the Breville Sear and Press Grill features to learn everything you need to know about the machine and whether it would fit your culinary needs.
Open Flat to BBQ mode
The BGR700BSS is designed in a way that it opens up to the point where it's flat, making it the ideal choice for barbeques. In other words, you can grill and griddle at the same time. When open, the cooking area increases to 260 square inches, which offers more cooking space for burgers and seafood. The surface can also accommodate at least steaks simultaneously and can cook eggs and pancakes to perfection.
Independent plate temperature control
The model lets you adjust the temperature on each plate. The dial on the side allows you to make changes to temperature depending on the type of dish you want to prepare. When operating on BBQ mode, you can cook a variety of foods at an independent temperature, which is a great way to save time. It also comes with a switch that shows whether the temperature is in Fahrenheit or Celsius. With an independent temperature feature, you can cook endless food combinations in the morning, noon, and night.
Panini, Burger, and Sear
This smart grill offers you three different cooking settings for versatility. When using the Panini mode, you need to place your food on the surface and press both the bottom and top of the appliance together to close. This mode lets you choose the plate you want, whether flat or ribbed. This is ideal for sandwiches. You also get one-touch presets for Burger and Sear functionalities for the perfect results.
Waffle Plates Compatible
Although the package does not include waffle plates, this grill allows for more versatility thanks to non-stick coating waffle plates usability. The no-mess design feature prevents spills onto your counter when using them.
Easy to clean
The truth of the matter is that we love cooking but cleaning. This appliance comes with PFOA free non-stick plates that ensure easy clean-up by hand. Better yet, you can just pop the plates out and place them in a dishwasher for convenience.
It's highly versatile
Easy to clean
Cooks food fast
It offers a large cooking surface
The grill lacks an electronic display
As stated by happy users, the Breville BGR700BSS Sear and Press Grill is miles ahead of the competition. The grill is famous for its efficiency and will last long with normal to frequent use. Most users also love that you can prepare a range of dishes from something light like a sandwich to meats like steak and chicken. Above all, it's easy to clean the appliance manually or use a dishwasher.
Don't wait any longer and get the Breville BGR700BSS.