Do you wish you could have great-tasting coffee at any time at home? Check out this coffee maker from Mueller that's affordable at under 50 dollars. The Mueller Ultra programmable coffee maker lets you brew a full pot of coffee using your favorite grounds, and you can brew them to whatever strength you like.
This 12-cup coffee machine comes with numerous exciting features that you can dream of at such an affordable price tag. In this Mueller Ultra Coffee Maker review, we will delve into what makes the machine so popular. Read on to find out.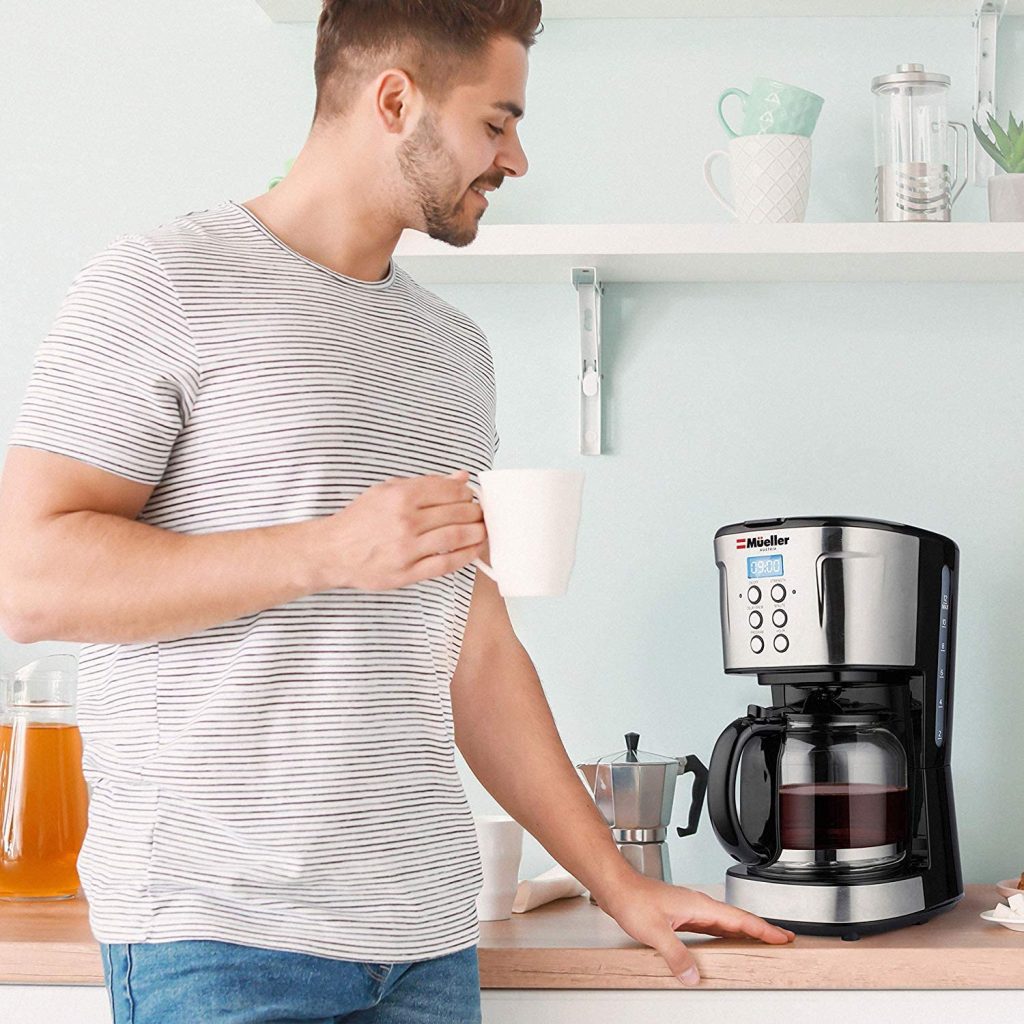 Programmable
Because the Mueller coffee maker has a 24-hour programmable option, you can set it to make coffee in the morning so that you can start your day with a hot beverage, or whenever you want. The modern and minimalist design of the unit's clock is easy to use, and you can rely on it as your best friend. In case you leave to work in a hurry and forget to switch off the appliance, you can rest assured with the automatic shutoff option.
Automatic pause and serve
As aforementioned, the machine has a 12-cup capacity, which would mean that you have to wait for some time before the brewing cycle is finished. Not with the Mueller Ultra Coffee machine that offers you the option to pause the brew halfway so that you can satisfy your coffee craving or during those "can't wait" moments. Just pause, remove the glass carafe and serve then put it back to its position, and the cycle resumes.
Easy to use
Even for novices, this machine should be easy to operate, thanks to the LED digital display that comes with easy-to-read buttons. When adding water, the appliance allows you to add from the front, meaning you can place the machine wherever is more convenient for you. Remove the lid of the machine and fill up with water (up to 60 ounces) in the non-removable reservoir and you are ready to go.
Two brew strength options
What most users like about this coffee maker is that you can control the strength of your brew. Choose between Regular and Bold options as you please. The bold option provides you with a robust flavor that should open your eyes in the morning. On the other hand, Regular is a perfect choice for a lazy afternoon coffee.
Permanent filter
On top of its affordable price, you don't have to worry about spending extra on replaceable paper filters. The coffee maker features a permanent mesh coffee filter that doesn't need a replacement. Still, you could actually use a paper filter for some grinds of coffee to eliminate oils that the permanent filter alone would remove. Cleaning the filter is easy as you just soak in a vinegar solution to remove the oils and stains.
Offers great-tasting coffee
Easy to fill the water reservoir
Comes with a permanent coffee filter
The pause and serve function is convenient
Cleaning the non-removable water reservoir is a bit of a challenge
This is a fantastic coffee maker at a fantastic price point. The fact that it's programmable means that you don't have to miss a cup of coffee when you need it. It has a modern and sleek design and can fit on most kitchen countertops without taking a lot of space. If you love a strong cup of coffee, this could be the machine for you!