If you love to cook, a food processor can help you do that more, in less time. One of the most important features to look for in the best food processors is a high volume to prepare more food quicker. Moreover, a food processor with a wide mouth makes it easier to add ingredients without cutting into smaller pieces.
With this in mind, it's hard to beat the Aicok 12-cup food processor that has a powerful motor and wide feed tubes that make it quicker. Besides, it has two chopping blades that do the cutting job perfectly. Read on this Aicok 12-cup food processor review to learn more about the machine.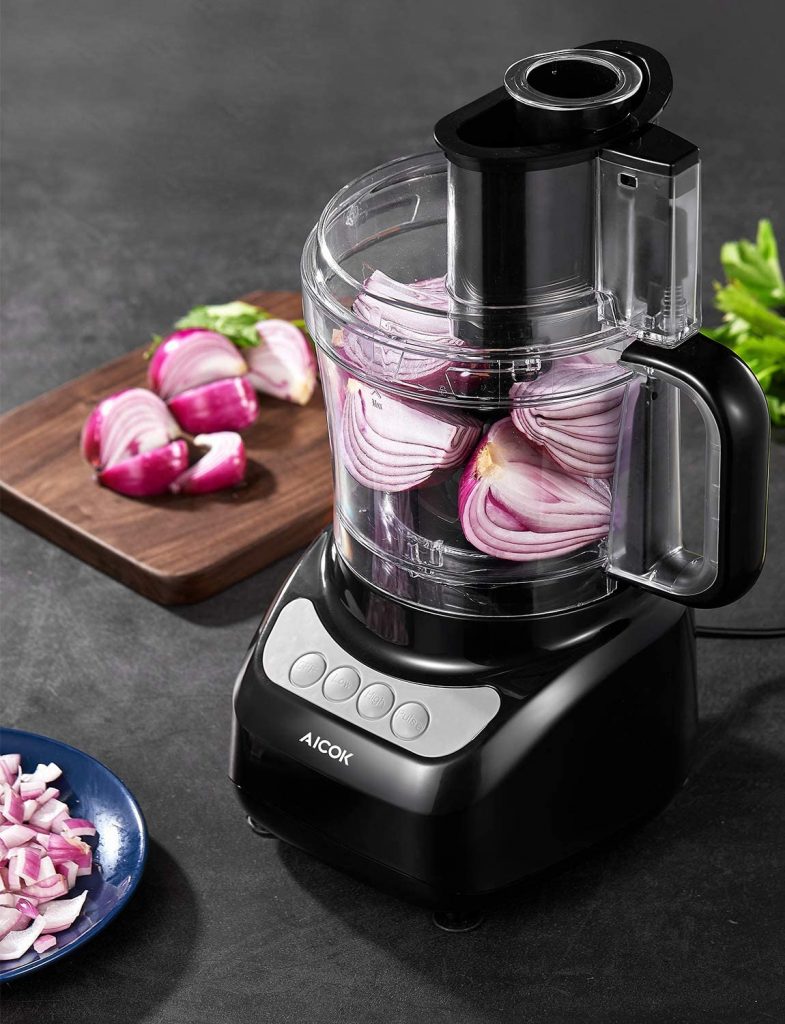 Wide mouth chute
This Aicok food processor is ideal for busy kitchens, thanks to the 2-in-1 wide feed chute that allows you to add large pieces of ingredients without pre-cutting them inside a bowl. This not only makes your work easier but also reduces prep time. Just put your fruits in whole, push a button, and get what you want.
Large capacity
Do you intend to prepare large batches of food at once? This 12-cup food processor allows you to prepare a huge amount for big dinner parties within no time. This is even made possible by the 500-watt motor that makes it easy to cut vegies and other heavy jobs. What's even makes it outstanding is the compact design that makes it ideal for family-sized tasks.
Easy operation
Aicok is known for its products that are easy to adjust and operate. The unit functions with four buttons, including the low speed for dough press and high speed for grinding and chopping ingredients. The pulse button offers small bursts of power, which you need when you need to kneading dough or rough chopping. The other button is for on and off.
4 attachments
This amazing food processor comes with four different attachments to slice, shred, knead, and puree. Having all these in the same processor is advantageous because you don't need to get other separate gadgets to carry out these tasks.
Stainless steel blades
The Aicok food processor comes with three types of blades, all made of strong stainless steel. The S-blade is great for chopping items into small pieces, e.g., onions, tomatoes, and even steak. The blade is also used to puree all sorts of food, such as tomatoes to tomato sauce. You can also puree soups to get your preferred smoothness using this blade.
The slicing blade is used to slice carrots, cucumbers, zucchini, and other veggies. It's also useful when preparing desserts, especially when slicing apples to get apple pies. The shredding discs are located on the top of the bowl so that it shreds food before it falls into the bowl of the processor. It's useful for shredding carrots, cabbage, and broccoli.
Versatile food processor
Has stainless steel blades to perform heavy tasks
Easy to operate
Safe to use
Although the locking mechanism is safe, the unlock process can take time.
The Aicok 12-cup food processor is an excellent machine that can replace other small appliances in the kitchen – it can chop, mix, puree, slice, shred, and knead. It houses a powerful motor that's perfect for heavy tasks. You also get a 2-year warranty for a reputable brand so you can call the helpline for any problems.
It's worth it!